Instead of the normal who's-been-doing-what locally and nationally in CCM music, this month I have something a little different. I recently talked to Susan Ashton about her upcoming tour and new release, A Distant Call, and in Grace Notes this month, I'll share a little of that conversation with you.
Since July, when I received a pre-release of A Distant Call, I had been wondering about the dedication "to the kids at Big Oak Ranch" on the song "Body and Soul." So, this being the perfect opportunity to get all those nagging questions I've had about Susan Ashton answered, I asked her about it.
Big Oak Ranch is a ranch for abused and abandoned kids between the ages of 5-20 in Gadsden, Alabama, Ashton said. An employee of the ranch who is also a fan of her music contacted Susan and, after telling her about the ranch, asked her if she would like to get involved with its ministry.
She went out to Gadsden for a visit and "I fell in love with the kids and the place," she confessed. She went on to co-write "Body and Soul" with Wayne Kirkpatrick "to say something about those kids."
As soon as she mentioned songwriting, I knew I had my chance to ask her what it was like to work with such excellent songwriters as Wayne Kirkpatrick and Gordon Kennedy, as well as getting to introduce songs by Pierce Pettis, Sheryl Crow, Amy Grant and Michael W. Smith to a new audience for the first time. As I began to rattle on in awestruck reverie about the work of these songwriters, she admitted "I feel the same way you do about these songwriters - it's a tremendous honor to be working with them."
I mentioned how much I liked the first song on the new album, "You Move Me," and she exclaimed "I'm so glad you like that song - that has to be my favorite on the album."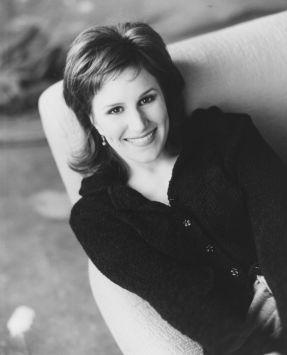 Susan Ashton
"I don't consider myself first and foremost to be a songwriter," she said, although she has taken on more co-writing duties on later projects. She doesn't write all the time but only "when I feel I really have something to talk about," she explained. "I have a long way to go," she said, "but I feel I have more to offer now [than when she first started in 1991]."
While Ashton has a hard time with the label "songwriter," she also has a hard time with the appellation "vocalist," because so often people discount singers as merely performers and not musicians. Nevertheless, "vocalist" is the term she is most comfortable with, and her vocal stylings prove that she has an understanding of the music that would be seriously ill-served by calling her "just a vocalist."
I asked her what it was like working with Alison Krauss and Union Station (who helped on background vocals and music on the album's last track).
"Amazing," she said. "Alison is a perfectionist and very funny. It was a wonderful experience working with her."
And what about life on the road, I wondered? Her husband, J.D. Cunningham, tours with her as background vocalist, guitarist and a little-bit-of-everything, but what about her home, and her three cats and three dogs? Was it hard to leave them behind for the tour?
"Well, that's three cats and four dogs now," she laughed, assuring me that was going to be it as far as pets go. "But I do miss them when I'm on the road."
The tour for A Distant Call (which is coming to Northeast Christian Church this month) is only going out on the weekends, she told me, so she will have a little more time at home. She confessed that a few years back, when her kitten Sam was sick and needed daily medication, he accompanied them on tour. On another tour, another cat and one of her dogs went along as well, proving her to be a woman after my own heart.
I asked her to do a little retrospective for me - to talk about how this album had changed stylistically and musically from her previous work, and if she felt she had changed as a singer and musician since 1991.
"Every album I've done is reflective of where I am at that particular time of my life, and I think the same goes for this album. I try to pick songs that say something, but I also try to pick songs that are just fun . . . this album is possibly more slick, has more of an edge than previous projects."
She mentioned the "learning experience" of working with a different producer for the first time in her music career (previous projects were produced solely by Wayne Kirkpatrick, who shared production responsibilities this time out with Brown Bannister).
"I guess the best way to describe it is 'educational,'" she said, explaining that different producers have different ways of hearing the music, and therefore different ways of producing it. "It was fun, though," she concluded.
I was left even more impressed with Ashton's music and with the woman herself (hey, she does have three cats, after all). Fans of her music will get plenty more of what they love with A Distant Call and, having seen her perform on the Along the Road tour with Margaret Becker and Christine Dente, I can promise her concert will feature a very gracious performer with a drop-dead-gorgeous voice. I hope to see you there.
Though I had planned to end my column there as of today, September 22, I discovered that I could not. I heard earlier that 41-year old CCM musician and songwriter Rich Mullins was killed in a car accident on September 19.
It is hard for me to express the emotions that I felt when I heard the news, hard for me to explain to my co-workers why after hearing of his death I sat and cried. Though I had never met Rich, his music and his ministry have been so much a part of my life that hearing about his death made me feel that I was losing a very dear, very old friend. He was probably best known for his praise-and-worship standard "Our God Is An Awesome God," although knowing the little I do know of the man, I doubt that he would want to be remembered for that alone (At his last concert in the Louisville area he thanked his audience for NOT requesting that particular song). The things I will remember most about him are the same things that have made his music such an important part of my life over the past several years: songs that embraced the human struggle to know God, songs that rang with the joy of creation, songs touched by the sheer beauty of Rich's dulcimer and poignant lyrics.
The Christian music industry has lost one of its finest songwriters and most honest performers. The world is a little poorer without this man who lived out the evidence of God's love and compassion through his music and actions - and Heaven is that much richer.
On the same day I was sent word of the tragedy, one of my friends posted these lyrics over the Internet. I thought it would be fitting to share some of them with you.
The Jordan is waiting for me to cross through my heart is aging, I can tell
So Lord, I'm begging for one last favor from you
here's my heart - take it where you will.
This life has shown me how we're mended and how we're torn
how it's okay to be lonely as long as you're free
sometimes my ground was stony
and sometimes covered up with thorns
and only you could make it what it had to be
and now that it's done
if they dressed me like a pauper
or if they dined me like a prince
if they lay me with my fathers
or if my ashes scatter in the wind
I don't care
when I go I want to go out like Elijah
with a whirlwind to fuel my chariot of fire
and when I look back on the stars
it'll be like a candle light in Central Park
and it won't break my heart to say good-bye.
from "Elijah"
by Rich Mullins
Good-bye, Rich. We'll miss you down here.