NQC Celebrates 40 Years
Records were set - and sold . . . also CDs, cassettes and videos
By Lois Raymer
The National Quartet Convention, Louisville's third-largest, celebrated its fortieth year and showcased the elite of gospel singing at Freedom Hall Sept. 8-13.
Among a multitude of highlights, J.D. Sumner & the Stamps brought down the house with "The Trilogy" (yes, the same one performed many times with Elvis), and the Cathedrals, gospel music's No. 1 quartet, brought the crowd to its feet with a display of exuberance and talent.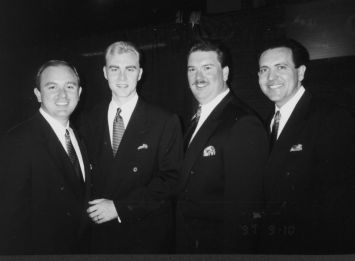 Kentucky-based The Crossmen
Another audience favorite, the Bill Gaither Vocal Band, won song of the year with "Yes, I Know," written by Gaither and his wife Gloria. The audience roared its appreciation for the Band's rendition of "The Old Rugged Cross Made the Difference," featuring lead singer Guy Penrod (described by the group's resident comedian, Mark Lowry, as "Moses-looking.")
Also well-received was The Reggie Saddler Family, whose namesake has performed with the likes of Bill Cosby, Jerry Lee Lewis, the Platters, Patti Page and Redd Foxx.
A Kentucky group, The Crossmen, provided an impressive performance, made all the more remarkable considering they do some 150 performances a year while holding down full-time day jobs.
Record-breaking crowds (both the Friday- and Saturday-night concerts were sold out) appreciated the facility, which has apparently been embraced as the NQC's permanent home. The East Wing contained more than 400 exhibits and displays for participating groups and they did record-breaking business in videos, CDs, cassettes, songbooks and other memorabilia.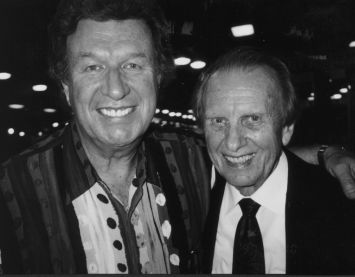 Bill Gaither and James Blackwood. Photo by Lois Raymer
Any notion that gospel music is strictly dull and serious can be quickly dispelled by attending next year's NQC gathering, scheduled for Sept. 21-26 at Freedom Hall. Reservations are already being accepted.