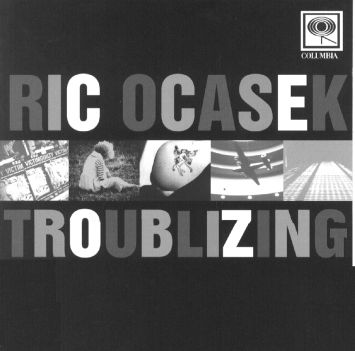 Troublizing (Columbia)
Ric Ocasek
By Bob Bahr
If you are a fan of Panorama-era Cars, this update from Ric Ocasek will score a direct hit with you. It's odd, guitar riff-driven rock, with elliptical lyrics and Ocasek's truly unique voice. The keyboard sounds from former Cars keyboardist Greg Hawkes shows up here and there, and while Cars alum Elliot Easton isn't around, his spirit -- or the ghost of the chemistry between him and Ocasek -- is present. Just listen to those familiar-sounding riffs. It's 1978 again!
New to the mix: earthy backing vocals and bass from Hole member Melissa Auf der Maur, chunky guitar and production work on half the songs from Billy Corgan (plus a few vocal cameos), razor-sharp guitar sheets from Bad Religion's Brian Baker, and drumming from Nada Surf member Ira Elliott.
Highlights include the title track, "Not Shocked," "The Next Right Moment," "Situation," "Fix on You" and "Here We Go." Oops, that's most of the album. Well, the only bad track is "Society Trance," a spoken word and wandering music black hole that has neither musical nor lyrical value.
Nothing truly fires up and becomes undeniable on Troublizing. Cars fans will lap it up anyway, and they are not misguided. The rest of the world will smile at the AM-style mix (lots of high-end, guitars and vocals slugging it out while the snare drum battles through in the back) and accept this keeper of a consolation prize from one of power-pop's greatest figures.