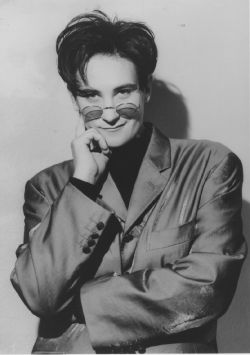 k. d. lang
Upcoming in October
Americana/Acoustic
Rounder Records artist Ellis Paul seems to have found his Louisville home at the Rudyard Kipling. The WFPK staff favorite will bring his box of CDs and a guitar to the Rud on Oct. 25.
Tix and info: 636-1311
Texas singer/songwriter Jack Ingram will play the Phoenix Hill on October 2. With him will be country newcomer Joy Lynn White. Both have new CDs they're willing to sell to you.
Tix and info: 589-4957
At the Twice Told Coffeehouse this month, the furious flood of touring AAA artists that went on all summer seems to have abated slightly, leaving a little room for some other events, including a benefit and some homegrown jazz. However, a couple of out-of-town artists merit a comment.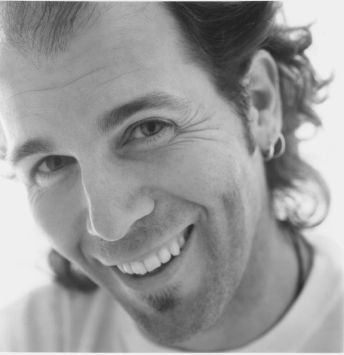 Brooks Williams
Maia Sharp, who gets a lot of airplay in "World Cafe," plays a Sunday show on Oct. 12. Green Linnet artist Brooks Williams comes to town for the first time on Oct. 11. Laura Shine will open. The October Songwriter Showcase, Oct. 28, will feature The Joliets, Dan Gediman, Bryan Hurst, Chaz, Greg Sander and Lorie O'Connor.
Tanya Savory has organized a benefit for the Louisville Chapter of the Leukemia Society, set for Sunday, October 26, 2-6 p.m. at the Twice Told Coffeehouse. The all-day concert will feature these performers: Tanya Savory, Shannon Lawson, Tim Krekel, Wall of Jules, Wishing Chair, The Java Men, L-Woo and Dan Gediman and the Mindreels. Some line-up, eh?
The Twice Told Coffeehouse is co-sponsoring a concert/seminar with G. E. Smith, telling a few tales of his life in big time with Dylan and SNL., followed by a concert. His wife, Taylor Barton. will also perform. At the Guitar Emporium, Oct. 14. Admission is $10.
Tix and info: 456-0507
Bluegrass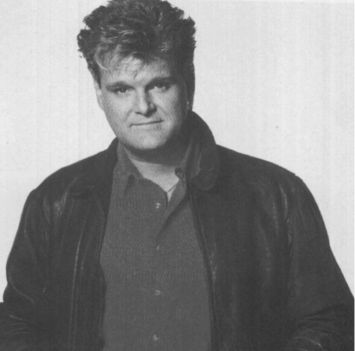 Ricky Skaggs will host the IBMA Awards Show on Oct. 18 at the Galt House
The International Bluegrass Music Association Trade Show and Fan Fest '97 is the cat's meow for this month. The Fan Fest line-up is in a sidebar in the calendar section. Read Kevin Gibson's cover story for more info about the event.
Blues
The Garvin Gate Blues Festival will be held on Theatre Square at 4th and Broadway on October 10, 11 and 12. The Palace Theatre is organizing and staging the event and the headliners on each day are: Friday, Mike Henderson and the Bluebloods; Saturday, Debbie Davies; Sunday, Clarence Spady. Of course, there will be many local and regional acts playing. On Friday, music starts at 6:30 p.m. and goes until 11 p.m. Saturday, things rock from 3 p.m. until 11 p.m. Sunday, get there at 1 p.m. and hang until 6 p.m. or so.
There will be plenty to do, see, eat and hear, as always. Admission to the event will be $2 and partial proceeds will benefit Kosair Charities.
Tix and info: 583-5555
Fans of Curtis and the Kicks will want to sign up to hear an unplugged version of C&tK at the Twice Told on Oct. 16. Curtis is living in L.A. these days and you can prolly get him to tell you how wonderful the music scene is there if you ask him politely.
Eddie "The Chief" Clearwater returns to Stevie Rays for a Wednesday show on Oct. 1.
Red Beans & Rice plays a couple of reunion shows at Stevie Ray's on Oct. 31 and Nov. 1.
Tix and info: 582-9945
Celtic
Michael Flatley's "Lord of the Dance," set for October 11 at Freedom Hall, is sold out. Sorry.
You can get a sample of West Coast Celtic when Palo Alto, California Trad Celt act Four Shillings Short appears at the Twice Told on Oct. 4.
Tix and info: 456-0507
Chamber Music
Quartetto Gelato will bend the rules of chamber music when they perform at the first "Thursday Session" at the Kentucky Center for the Arts at 8 p.m. on October 16. The Canadian group won National Public Radio's "Performance Today" program's 1996 "Debut Artist of the Year" Award. They mix all manner of music and instruments together in virtuoso performances that have led to sold-out shows all over North America.
Tix and info: 584-7777
Contemporary Christian
• Grammy and Dove Award winner Susan Ashton will be in concert on October 8 at Northeast Christian Church. Ashton is touring in support of her latest CD, A Distant Call.
Tix and info: 426-6668
• "The Big Voice Tour" stops at the Valley View Baptist Church on Oct. 23, bringing Bryan Duncan, Anointed and Crystal Lewis plus special guest Israel.
Tix and info: 935-5142
Country
Don't get caught in the stampede for tickets to see the re-incarnated Patsy Cline, a.k.a. k. d. lang, in a Bank One Lonesome Pine Special extra concert at the Kentucky Center for the Arts on October 22. What a drag that will be - that being the title of lang's latest album, which is about smoking, not cross-dressing.
Tix and info: 584-7777
Down in Nashville, the idea that the music that Freakwater makes could be called "country" would send the hat acts into paroxysms of laughter. However, they're wrong and Freakwater is right. Like the Carter Family, Freakwater is an acquired taste, as Catherine Irwin and Janet Beveridge Bean sing what now-a-days would be called alterna-country and what a few years ago would have been called retro-mountain music. Whatever label you might apply to their music, they have several albums of it and you can hear them in person at the Butchertown Pub on October 2. Drifting Luke, Sean Garrison's (Ratt of Kinghorse) country outfit, will open.
Tix and info: 583-2242
Keith Whitley's brother Dwight will present two shows at Renfro Valley on October 4. He will be singing several songs that Keith had written but never recorded.
Tix and info: 800-765-7464
WAMZ will offer its first Fall Free Concert on Oct. 9, featuring Michael Peterson, who's "Drink, Swear, Steal & Lie" made to #3 on Billboard.
How about a "Hillbilly Rave?" Betcha can't get any ecstasy but you can get pretty excited listening to Goose Creek Symphony and The Ranch for free, courtesy of Miller Beer. At Coyote's Oct. 14.
John Berry does a make-up concert at Coyote's on Oct. 16, to cover for a show he had to reschedule from last month. Those tix are still good.
The band that caused Louisville country act BlackHawke Xpress to change its name from BlackHawk will be at Coyote's on Oct. 23.
Tix and info: 589-3866
Musical
The Broadway Series is bringing in Faye Dunaway in "Master Class," a play about Maria Callas, for a one-week run, October 7- 12.
Tix and info: 584-7777
Opera
The Kentucky Opera kicks off their 46th season with a production of Verdi's "La Traviata" on October 24 in Whitney Hall, KCA. There will be two performances, Friday, October 24 at 8 p.m. and Sunday, October 26 at 2 p.m.
Tix and info: 584-7777
Ragtime
If swing has returned, can ragtime be far behind? Local music historians will no doubt note that there have been claims made that ragtime music actually originated in Louisville's old Walnut Street section before achieving great acclaim in Kansas City. Whatever the truth, ragtimers The Blue Rags will open for New Otani Hotel at the Butchertown Pub on October 9.
Tix and info: 583-2242
Pop
Elton John will unquestionably sing his revised version of "Candle in the Wind" at Freedom Hall on October 18, when his suddenly scheduled tour arrives in Louisville for an 8 o'clock show. So what if he hasn't had a hit in years, all the tickets sold out it about 48 minutes.
Rock
Up on the Phoenix Hill in the Tavern, several shows of note are scheduled in October.
Vapor Records' quirky singer/songwriter Jonathan Richman will be at the PHT on Oct. 10.
Moxy Fruvous hits the Hill on Oct. 14. Really.
Delbert McClinton returns to town for a show at Coyote's on the October 28. He must be doing better, he's playing larger rooms.
Tix and info: 589-3866
WQMF is sponsoring a Free Classic Rock Show, featuring April Wine, at Coyote's on Oct. 8 The Velcro Pygmies will open.
Tix and info: 589-3866
Nashville's The Floating Men wash up (sorry) at the Butchertown Pub on Oct. 4.
German rockers Dumbell will be at the Butchertown Pub on October 15. Chapel Hill-based The Slobs will open. Talk about yer contrarianisms.
Tix and info: 583-2242
Queercore purveyors The Pansy Division will swish and prance into Sparks on October 16. Please to note that The Pansy Division is an overtly homosexual band (you should see the CD insert), so 'swish' and 'prance' are accurate descriptions, not stereotypical descriptions.
Tix and info: 587-8566
Swing
Swing has returned with a vengeance and here's to it! The Mighty Blue Kings from Chicago will swing into the Phoenix Hill Tavern on October 8.
Tix and info: 589-4957