I've Got A Mind To Ramble
Cleveland Fats
When Cleveland Fats (AKA Mark Hahn) played at Stevie Ray's on August 6, I was especially eager to ask him about Cleveland, Ohio's blues scene.
They used to call my hometown "The Mistake By the Lake" but I've always had fond memories of growing up in Cleveland. I used to walk down Prospect Avenue and check out the latest R&B release at he Record Rendezvous Shop. Like many record stores, the Record Rendezvous Shop had listening booths. You selected a stack of 78s or 45s and gave them a spin them on the turntable before you made your purchase.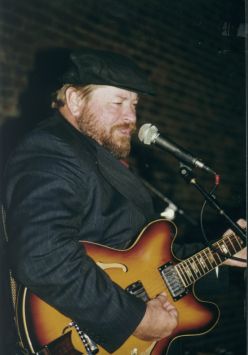 Cleveland Fats. Photo by Keith Clements
Those were also the days before Alan Freed, the D. J., left Cleveland for the bright lights, big city aura of New York City (and eventually the payola scandal). Freed promoted several big Rock 'n' Roll Parties at the Cleveland Arena while reaching a wide audience over WJW radio, promoting his Mood Dog cult.
If I ever return to Cleveland, there will be two things I will have to do: 1.) visit the Rock & Roll Museum and 2.) see Robert Jr. Lockwood perform in a club setting.
That was the other thing I wanted to ask Fats about. Fats played with Robert Jr. for seventeen years and recorded with him on Robert Jr. Lockwood Does 12 and What's the Score? He could certainly fill me in.
He said there is no blues society but the city doe have a blues festival, held at the Berea Fairgrounds, that has grown to year to a three-day event, August 15-17. Fats was headliner on the opening night along with Lonnie Brooks and Deborah Coleman.
He has been out on the road promoting his recent self-produced CD The Other Side of Midnight. On that record, he is joined by Eugene Schwartz on bass, who has accompanied Robert Jr. even longer than Fats.
East Side Pete (Peter Schmidt) played harmonica on both the CD and in Fats' traveling band. Pete did several vocals in each set and demonstrated his masterful harpsmanship, using several instruments that included an unusual chromatic harp that looked like a long, black box.
Fats and Pete got into a cool groove with "Shake Your Moneymaker" and "Sadie," with Fats playing slide on his vintage 1967 Epiphone. This excellent, no-nonsense band played straight ahead blues with a strong 50s influence, offered many original tunes, including the CD title cut, "The Other Side of Midnight." A haunting slow blues that showed the influence of Albert King, Fats put is personal stamp when he sang about "finding all the answers in a bottle of Jim Beam."
Fats demonstrated a rich diversity of blues guitar styles during the two sets I was there. He said he occasionally performs solo, doing Robert Johnson songs.
The next day, the band was on its way, touring through the Midwest and eventually to Texas. Fats will be in England later this summer at the United Kingdom Blues Festival.
Thanks to Stevie Ray's for bringing another class act to town.
Blues To the Point
It's time again for the Two Rivers Blues Festival in Carrollton, Ky., held where the Kentucky River flows into the Ohio. This will be the third year and the talent is better than ever. Friday, Sept. 5, the featured acts will be Rory Block, who has won several W. C. Handy Female Performer Awards, and Kenny Neal, the second generation Louisiana bluemane, whose multi-instrumental talent is amazing.
There will be an open stage on Saturday, Sept. 6, from noon to 2:30 p.m., followed by Oldham County's Jessie Buntyn. Lonnie Mack's keyboard player, Dumpy Rice, who has a group of dentists billed as the Doctors, will follow Buntyn.
Saturday night's headliners will be Alvin Youngblood Hart, this year's W. C. Handy Best New Blues Artist, and the Queen of the Blues, Koko Taylor and Her Blues Machine.
Fifth Annual Amateur Blues Contest
If you don't get enough blues at Carrollton that weekend, then come on by the Kyana Blues Society's Amateur Blues Contest the following day, Sunday, Sept. 7. Stevie Ray's will be the host club for this year's interesting mix of bands and solo acts. The distinguished panel of judges include Pen Bogert and Paul McNeal from the KBS; Tomcat Tomlinson from the Cincinnati Blues Society; Marvin Maxwell, CEO of Mom's Musician's General Store and musician and songwriter Rusty Ends.
Competition will start at 6:30 p.m., depending on the final number of entries.
So Long, Luther
When a famous bluesman passes on, I clip the obituary out of the paper and put it in my "Blues Who's Who's" book as a final postscript to their biography. It was really tough to do that for Luther Allison, who died of cancer in Madison, Wisconsin on August 14.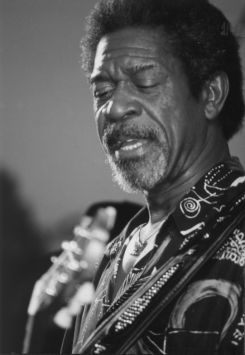 Luther Allison. Photo By Keith Clements
I'll never forget his supercharged performances at the 1996 Chicago Blues Festival and at last summer's Hot August Blues Festival at Kenlake State Park.