Cowboy Corner
31st Annual CMA Nominees
Pikeville, Kentucky's Patty Loveless, Bryan White, and Clint Black were all on hand at the Grand Ole Opry Courtyard last month to announce the final nominees for the 31st Annual CMA Awards to be handed out Wednesday, September 24. Topping the list with five nominations each were veteran George Strait and hot newcomer Deana Carter. Alan Jackson, Tim McGraw, Faith Hill, LeAnn Rimes, and Pam Tillis followed with three nominations each. Here is a list of the nominees:
Entertainer of the Year: Brooks & Dunn, Garth Brooks, Vince Gill, Alan Jackson, & George Strait; Female Vocalist of the Year: Deana Carter, Patty Loveless, LeAnn Rimes, Pam Tillis, & Trisha Yearwood; and Male Vocalist of the Year: Vince Gill, Alan Jackson, Collin Raye, George Strait, & Bryan White.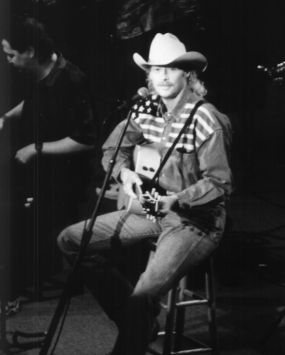 Alan Jackson at Fan Fair '96. Photo By Letha Marshall
Vocal Group of the Year: Alabama, Diamond Rio, The Mavericks, Ricochet, & Sawyer Brown; Vocal Duo of the Year: The Bellamy Brothers, Brooks & Dunn, The Raybon Brothers, Thrasher Shiver, and John & Audrey Wiggins; and Horizon Award: Trace Adkins, Deana Carter, Terri Clark, LeAnn Rimes, & Lee Ann Womack.
Album of the Year: Deana Carter's Did I Shave My Legs For This?, Alan Jackson's Everything I Love, LeAnn Rimes' Blue, George Strait's Carrying Your Love With Me, & Trisha Yearwood's Everybody Knows; Song of the Year (Songwriter Award): "All The Good Ones Are Gone," "Blue," "Butterfly Kisses," "Strawberry Wine," & "Time Marches On."; and Single of the Year: Deana Carter's "Strawberry Wine," Tim McGraw & Faith Hill's "It's Your Love," George Strait's "Carried Away" and "One Night At A Time," & Pam Tillis' "All The Good Ones Are Gone."
Video of the Year: Trace Adkins' "Every Light In The House," Deana Carter's "Strawberry Wine," Kathy Mattea's "455 Rocket," Tim McGraw & Faith Hill's "It's Your Love," & Pam Tillis' "All The Good Ones Are Gone."; Vocal Event of the Year: The Charlie Daniels Band with guests John Berry and Hal Ketchum on "Long Haired Country Boy," Clint Black & Martina McBride's "Still Holding On," George Jones & Kathy Mattea's "You've Got A Friend In Me," Lee Roy Parnell & The Fairfield Four's "John The Revelator," and Tim McGraw & Faith Hill's "It's Your Love,"; and Musician of the Year: Eddie Bayers, Paul Franklin, Brent Mason, Matt Rollings, & Brent Rowan.
Billy Ray Cyrus Gives Honor Away
When the Air Force Sergeants Association presented Billy Ray Cyrus the Americanism Award for his patriotic and humanitarian contributions during a recent ceremony in Arlington, Virginia, he immediately gave the plaque away. Billy Ray surprised a group of Veterans from Cincinnati, Ohio with the honor bestowed upon him in recognition of Vietnam veterans. Not only did he present these vets with this honor, but he had also bussed them from Cincinnati to Arlington and furnished hotel rooms for the group.
Flatwoods, Kentucky's Billy Ray met this group of veterans at a recent concert in Cincinnati. He later attempted to visit the Veterans Hospital where the vets worked, but was unable to due to time constraints. Since he was unable to visit, Billy Ray called and talked to hospital personnel, to invite the vets to the black-tie, invitation-only event and to express his desire to present the award to them for display in their hospital.
Mindy McCready Dates Superman
The hot new belly-button donning Mindy McCready, known for hits like "A Girl's Gotta Do (What A Girl's Gotta Do)," "Ten Thousand Angels," and "Guys Do It All The Time," has a hot new romance. Mindy has reportedly been dating the hot new Superman, Dean Cain of the television series Lois & Clark: The New Adventures of Superman, for a few months now.
This puts to rest the recent rumor that Mindy and Bryan White were an item and were even engaged to be married. Unlike Mindy, Bryan's love life is currently on hold as he claims he has no time for a relationship as he is busy touring with Vince Gill on the Kraft Country Tour '97, which rolled into Louisville for the Kentucky State Fair, and he is putting the finishing touches on his third album, entitled The Right Place, which hits stores Sept. 23..
Artists Added To Opryland's Starwalk
Grammy Award-winners Brooks & Dunn, Bluegrass legend Earl Scruggs, and instrumentalist and songwriter Randy Scruggs were honored July 29th at a special ceremony at which each were inducted into Starwalk, a National Academy of Recording Arts & Sciences, Inc. (NARAS) exhibit at Nashville's country music theme-park, Opryland. The highlight of the event occurred when each inductee personalized Starwalk concrete plaques with hand prints, signatures, and memorabilia. The plaques have now joined those of more than 75 fellow singers and songwriters in the Opry Plaza.
Brooks & Dunn, the reigning CMA and ACM Entertainers of the Year were honored for their 1993 Grammy for "Hard Working Man" and their 1997 Grammy for "My Maria." Banjo player extraordinaire and member of the late Bill Monroe's Blue Grass Boys Band, Earl Scruggs was inducted for his 1968 Grammy for his performance of "Foggy Mountain Breakdown." And Randy Scruggs, Earl's son who wrote Deana Carter's recent hit "We Danced Anyway," was inducted for his 1989 Grammy for Best Country Instrumental Performance for "Amazing Grace" from the album Will The Circle Be Unbroken, Vol. 2.
John Michael Montgomery Goes Out On A Limb
Nicholasville, Kentucky's John Michael Montgomery has gone out on a limb with his hot new single, "How Was I To Know," by singing falsetto. In speaking about the song and his falsetto singing, John Michael recently told TNN, "It may not go #1, or Top 10, or whatever, but I like to try to change up a little bit and not do the same ole thing over and over again if I can help it. I don't want to try to fix anything if it ain't broke either."
John Michael's chances are paying off as "How Was I To Know" has reached the Top 10 on the country charts.
Boxcar Willie Comes Home To The Opry
Country music's favorite hobo, Boxcar Willie, returned to the legendary Grand Ole Opry last month for the first time since being diagnosed with leukemia. Boxcar was welcomed home with a standing ovation and he thanked the enthusiastic audience for their love and support. He said, "I came out here to thank you for all your wonderful cards and letters--over 6,000 of 'em in a 10 month period from all over the world and on prayer-lists from countries that I couldn't even pronounce. And I thank you very, very much. You don't know what it means when you're laying there in that hospital bed and they got eight of those chemo bottles hooked up to ya and here comes the nurse with a stack of letters.... It's just like a breath of spring. God bless you. Thank you very much, I appreciate it."
New Dolly Parton Musical
International superstar Dolly Parton's Smoky Mountain theme-park Dollywood is currently working on a major new signature show about Dolly herself to premiere next season during Grand Opening Weekend in late April. This major original production is being created by Dolly along with the Dollywood Entertainment Team and will present a "Broadway quality" presentation of Dolly's life, her dreams, and her inspirations as told through the words of her songs.
Dolly sums up the show's story line by saying, "My songs tell the story of my life, one chapter at a time, so most people hear the story in bits and pieces--one song at a time. So I thought I'd put it all together in a show. Of course, I don't know if it's a masterpiece or a cheap novel!"
Mark Collie Celebrity Race Grand Marshals Announced
Country legend Loretta Lynn, who was born and raised in Butcher Hollow, Ky., and NASCAR legend Bill Elliott have been announced as the Grand Marshals for the 4th Annual Mark Collie Celebrity Race for Diabetes Cure to be held October 8th at the Nashville Speedway U.S.A. Mark Collie, known for hits such as "Even The Man In The Moon Is Cryin'" and "Born To Love You," has been a diabetic since the age of 17 and spearheads this race which has raised over $1 million in funds for diabetes research.
This star-studded event will feature more than 60 country music and racing celebrities. Some of the celebrities confirmed to race include: Mark Collie, Brooks & Dunn, Tim McGraw, Faith Hill, Gary Chapman, Marty Roe, Tracy Lawrence, The Oak Ridge Boys, Aaron Tippin, Bobby Allison, Dick Brooks, Mike Alexander, Coo Coo Marlin, and Richard Childress.
Tickets can be purchased at any Ticketmaster outlet or by calling (615) 255-9600. For more information on this charity race, call the Mark Collie Celebrity Race Hotline at (615) 354-0532.
Mandrell Family News
Superstar Barbara Mandrell, who played a recurring role in Aaron Spelling's latest daytime soap opera Sunset Beach throughout June and July, is headed back to the beach. Although Barbara's character was due to die of cancer, fans' response to the character has urged Barbara to reprise her role as Alexandra Mitchum on the soap come October.
In addition, Get To The Heart: The Barbara Mandrell Story, an all new made-for-television movie starring The Brady Bunch's Marsha Brady, Maureen McCormick, in the title role, will be broadcast on CBS on Sunday, September 28th at 9:00 PM EDT. The movie, based on her best-selling autobiography, chronicles the true story of Barbara's incredible climb to country music fame and the head-on automobile collision that almost destroyed her life and everything she had worked for. Superstars Dolly Parton, Kenny Rogers, and Barbara herself all make cameo appearances as themselves in the film.
While big sister Barbara is headed to the small screen and the beach, younger sister Louise Mandrell is headed East to the hills. Louise will open her very own music theater in Pigeon Forge on September 12. She chose this location due to the surrounding attractions such as Dollywood, Lee Greenwood's theater, Alabama's very own restaurant, the Music Mansion, and Alan Jackson's upcoming eatery, not to mention the splendor of the great Smoky Mountains.
HBO to Rebroadcast Garth Brooks Show
If you missed mega-star Garth Brooks' free concert in New York City's Central Park on August 7th, then you're in luck. HBO will re-air the one-hour and 45-minute concert on Saturday, September 13th. Per Garth's request, HBO will de-scramble their signal this one time so all cable and satellite subscribers can enjoy the record-breaking show which drew a quarter of a million fans to Central Park. The next most popular concert ever held in the park was Paul Simon, who drew a mere 125,000 fans.
Lorrie Morgan Tells Her Story
Country songstress Lorrie Morgan talks about the highs and lows in her life in her upcoming autobiography, titled Forever Yours, Faithfully, which is to be released in October. In the book, Lorrie talks about her family life with her father, Grand Ole Opry star George Morgan, her mother Anna, and her three sisters and one brother. She also speaks candidly about her marriages, most notably her marriage to Keith Whitley. She says, "There has been so much speculation and rumor about what happened with Keith. The harsh cold truth is that he was an alcoholic. He was an alcoholic before I met him, while I was with him, and ultimately it was alcohol that killed him. I loved him with all my heart, we have a wonderful son together who reminds me of Keith every day, but it was too big a problem for anyone to try and handle alone."
Upcoming Live Country
Reba McEntire and Brooks & Dunn's mega-concert will roll into Freedom Hall on Thurs., Sept. 25. The two acts will co-headline, as well as perform a number of songs together. This is the concert of the year that country fans won't want to miss.
John Berry and David Allan Coe will each appear at Coyote's this month, on Sept. 11 and Sept. 30 respectively. And Louisville country radio listeners just might get the chance to see the likes of Collin Raye for free come Sept. 21 at the Louisville Motor Speedway. Keep your ears open for more details.
Well, that's it for now. Always remember: Keep your boots shined up and your hat on straight, 'cause country music is comin' your way.