Learn to Play the Pipes!
Have you ever yearned to play the great Highland bagpipes? Free instruction is available with the Louisville Pipe Band.
The cost of materials is nominal. No experience necessary nor do you have to be able to read music (these will certainly advance your playing but are not required). You can also learn pipe band style drumming.
You will learn from people who really know what they are doing. Piping instruction is available from trained pipers and music professionals, i.e. Anne Marie DeZeuw, Professor of Music Theory at the University of Louisville; Dr. Robert Caudill, a piper for over 30 years and psychiatrist by day and also the musical leader (pipe major) of the band; Rick Mattingly, professional journalist and former editor of "Modern Drummer Magazine" and currently President of the Percussion Arts Society of America; Rick McKenzie, biologist, reserve Air Force pilot and pipe band drummer for 30 years, beginning with the old mega pipe bands at the University of Iowa.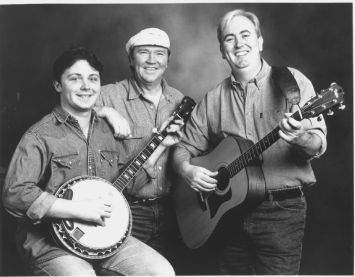 The Clancys and Robbie O'Connell
All ages, genders, religions, races are welcome and currently participating in the band, so no one can feel left out.
The band performs at festivals and parades as well as the Highland Games competitions, so every skill level player has an opportunity to perform. Check it out. Don't be fooled by imitations, the Louisville Pipe Band is the real McCoy.
Classes begin Sunday, September 28. Show up at 5 p.m. at St. Andrews Church on Woodbourne Avenue for orientation. If you can't make it that day, call 254-3963 for further information. That is the usual band rehearsal time. The will be NO rehearsal on October 4, as the band will be at the Heart of Tennessee Highland Games in Murfreesboro, TN.
The Louisville Irish Family Fest
Celebrating its eighth year, the Louisville Irish Family Fest continues a tradition of quality on September 19–21. The Friday night kick-off concert (8 p.m.) features Clancy, O'Connell & Clancy. This is not a law firm but rather a sure-to-please mixture of echoes of the old Clancy Brothers, balladeering with the new top flight original songwriting and vigorous instrumentals in Louisville Irish Family Fest's tried-and-true format of a cabaret-style show. Seats are selling briskly ($10@), so you had better remove yourself to The Celtic Centre, 149 Chenoweth Lane or call 897-9050.
"The Spirit of Ireland" is this year's theme. The weekend features international and regional musical groups, ethnic food and beverage, a shopping village, music workshops and jam sessions, Irish language lessons, Irish dancing, cultural exhibits, Irish dog breeds and herding demonstrations, medieval knights in combat, piping, harping, a tea room and – believe it or not – a pub!
Saturday's full day of events starts with The Louisville Pipe Band at noon, followed by The Bluegrass Irish Dancers, The Rashers, Inisheer (Ohio's top trad band), Kimble Howard (harper), Colin Grant-Adams (Scottish balladeer), Bob Rosenthal (for the kids), Cloigheann, John Sherman (celtic guitarist) and Dervish (from Sligo, this is one of the hottest traditional Irish bands today).
The Saturday night Ceili (pronounced: "KAY-lee," meaning dance party) features the Richens-Timm Academy of Irish Dance from Dayton, Ohio plus country and ceili dancing to the music of Louisville's own Ten Penny Bit .
Sunday's musical entertainment starts off at noon with Galloglas, followed by the Bluegrass Irish Dancers, The Riverfront Ramblers, Pat Kirtley (national finger-style guitar champion), Richens-Timm Academy of Irish Dance, Fannigan's Isle, Kimble, Ten Penny Bit and Stockton's Wing (a household name among Irish music lovers).
The Celtic Puppet Show and the Scottish Pirate will be there for the kids (you can watch, too). The Society for Creative Anachronism and a new group called "The Ring Tribe" will be there to provide a blast from the past with ancient celtic and medieval crafts, clothing and personae.
This is a rain or shine event with ample space indoors. A special hotel rate ($50) is available at the Ramada Plaza Hotel at Bishops Lane and Newburg Road (must ask for "Irish Fest Special Rate"). For more information call 245-6676.
I'll see you somehwhere near the stage!!!
October will be Huge!!
Solas, Lord of the Dance, and more. Watch this space!
Slan