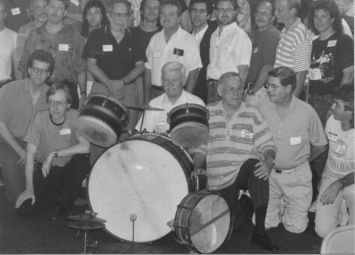 John Roy posed with other drummers, including several former students, at a drummers' gathering at the Musician's Union in 1992. Photo by Jean Metcalfe
Front & Center: John Roy
By Danny O'Bryan
John Roy and I recently did a bit of time travel. When the 68-year-old veteran Louisville percussionist arrived at my studio for our interview, I was playing a recording of "Bernie's Tune" on my phonograph. The musicians on the 1969 date, recorded at the old Port O' Call Gallery on Zane Street, were guitarist Jimmy Raney, tenor saxophonist Bobby Jones, pianist Bobby Lam, bassist Jack Brengle and Roy on drums. Tragically, all the musicians featured in that concert are deceased today excepting Roy and Brengle.
Even back then, Roy was keeping the best of musical company. Raney, one of the world's finest jazz guitarists, had returned to his hometown from New York City and was being showcased along with some of Louisville's finest. Bobby Jones had already proved his musical worth in the bands of Tex Beneke and Woody Herman and would soon become the featured saxophonist with jazz bassist Charles Mingus' band.
Bobby Lam was soon to move to New York City and even Brengle, who normally liked to stay in one place, would venture on the road with the Buddy Rich Orchestra.
Roy instead chose to spend most of his time in Louisville playing and teaching drums. "I started raising a family when I was still in my 20s. I had a wife and four children and I didn't want to leave town on a permanent basis."
Despite his lack of wanderlust, Roy managed to become one of the city's most respected musicians, playing for everyone from the Glenn Miller Band to the Louisville Orchestra and backing up stars like Bob Hope and Eartha Kitt, plus spending nine years as President of the Musicians Union, Local I1-637.
How did it all start?
"I was born in the inner-city around Shelby Park. When I was real young, my parents moved to the South End. From the time I was about three years old, I would always ask for a toy drum for Christmas," Roy recalled.
Finally, when I was six, they bought a real field drum at Durlauf s Music Store. When I was nine, they got me into a drum and bugle choir. We wound up playing at the World's Fair in New York City."
When he entered the old Louisville Junior High School, his drumming career really took off. He played drums in the junior high band but also was chosen to play with the Louisville Girl's High School Orchestra, which was in the same building.
"It was a great experience. For three years I got to play everyday with the band and the orchestra," Roy noted.
When he transferred to Manual High School, he got a scholarship to a summer band program at Eastern State University.
"Kids came there from all over the country. We played music eight hours a day for five weeks during the summer, with about three concerts a week. That was a great experience for me."
When he was 17, Roy joined the Musicians Union and began substituting with the Louisville Orchestra and playing weekend jobs with dance bands. During the 1950s he worked industrial shows for big companies like Zenith Appliances and Ford.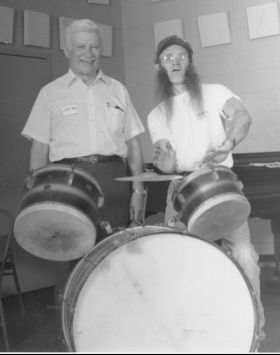 Roy with Fred Young of the Kentucky Headhunters. Photo by Bill Van Hook.
"They would put together a musical show to enhance their product for dealers. It's something you don't see that much today, " he observed.
Roy was also a regular on local television. For fifteen years he was the drummer in pianist Johnny Schrader's band, which backed up performers on WHAS television's teenage variety show "High Varieties." Joining him in that band over the years were bassist Ralph Lampton, saxophonist and clarinetist Mel Owen and guitarist Gene Klingman.
Roy, who was divorced from his first wife, met his current wife, singer June Kelly, on that show.
"She was 16 and I was about 32 at the time. Years later we met again and got together," Roy said.
During the early 1970s, Roy played on the WAVE "Morning Show" with pianist Bob Millard and bassist Neil Burris.
At about the same time, after years of teaching drums at Durlauf s Music Store, Roy decided to open his own drum shop in St. Matthews. Some of Roy's favorite drummers are his former students.
"Terry O'Mahoney is wonderful. I just had lunch with him the other day. He just finished a three-month touring show in Japan. I also taught Marvin Maxwell, Bruce Morrow and Mike Hyman.
Roy's favorite drummer of all time was Buddy Rich.
"The first time I heard Rich, I was eight or nine years old and he was 19 or 20. He was terrific then. I saw him again at least twenty times and he always seemed to get better."
During his years of playing, Roy had to contend with some strange personalities.
"I once played with trombonist Buddy Morrow, who was fronting the Tommy Dorsey Orchestra. He had a unique way of calling up tunes. He would call one chart at a time and while you were playing it, he would walk around the band and call the next chart. Everybody in the horn section had a little break to get it up but the rhythm section didn't. So when we finished, he'd kick off the next tune and we'd be scrambling. The first time I worked with him, I was sight reading the book and it was all new to me. But he wouldn't waste time; you either got it up or had to wing it," he laughed.
Another time Roy played with the Glenn Miller Orchestra that was being led by drummer Ray McKinley. McKinley, who had played with the original Miller Orchestra, was only featuring himself a few times a night.
"When that happened, I'd get up off my drum set and he'd be the star. He told me when I started the job that he wouldn't bother my drums but as the evening went on, he would keep lowering my cymbals or changing the angle on my tom toms until pretty soon I felt like I wasn't working on my set. Finally I told him I didn't want him to change anything, so he left it alone."
Since 1994 Roy has suffered a number of physical setbacks. That year he had an aneurysm of the aorta and in 1995 he under went triple heart by-pass surgery. This spring he was operated on for cancer of the esophagus.
Despite these traumas, Roy continues to perform with the Ovation Orchestra, which features his wife June Kelly Roy as vocalist. He also leads a jazz quartet that regularly performs on Sunday Nights at Bobby J's nightclub. Like all of Roy's bands, it features some of the best musicians in town, which includes pianist Todd Hildreth, trumpeter Charlie Niehoff and saxophonist and flutist Dick Hiller.
A modest man, Roy calls himself not necessarily a jazz drummer but instead a drummer who likes to play jazz.
"When students used to ask me what was the most important thing about playing drums, I'd tell them if you can get from beat two to three at the same distance that you got from beat one to two, you'd be a winner. Because that's called keeping good time."
And no matter what rhythm you play on each beat, no matter what style your playing, the evenness from beat to beat is the most important thing a drummer does. The licks that you play are the icing on the cake. But if you can't put it together in a steady flowing manner, then you're not a drummer, you're just a person playing a set of drums," Roy said.
After 40 years of teaching drums, what are Roy's thoughts on the current state of the art?
"The printed material today is unbelievable. If a drummer wants to learn how to play rock, funk or jazz the instructional material is just endless. All they have to do is practice and listen and they can be proficient on their instrument," Roy said.