1997 Kentucky State Fair: Gone Country!
By Michael W. Stout
Teenage country music sensation LeAnn Rimes and superstar Alan Jackson jump-started the 1997 Kentucky State Fair on Thursday evening, Aug. 14 as the two raised the temperature inside Freedom Hall to match that of the blistering heat on the midway. LeAnn kicked her first-ever performance in the Commonwealth off with her recent hit "One Way Ticket," proving to concert-goers that they had purchased the right ticket. She continued to charm the crowd with hits such as "The Light In Your Eyes" and her smash debut single, "Blue," as well as a new tune she co-wrote with her band, titled "Right On Time," which will appear on her new country album due out early next year.
Although the remainder of her set list read like a karaoke catalog, LeAnn broke vocal boundaries on tunes such as "Blue Moon Of Kentucky," "You're No Good," "Unchained Melody," "How Do I Live," "I Wanna Be A Cowboy's Sweetheart," and the everlasting Dolly Parton-penned classic, "I Will Always Love You."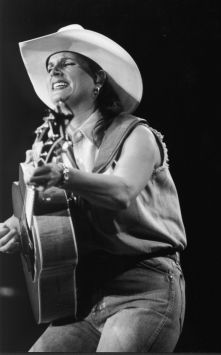 Terry Clark. Photo by Letha Marshall
As always, long-legged Newnan, Georgia boy Alan Jackson delivered a near-perfect performance to fair-goers. He and his incredible band, The Strayhorns, hit the stage with his recent smash hit "Little Bitty," which was written by Kentucky's own Tom T. Hall. Alan continued to roll out crowd-pleasers such as "I Don't Even Know Your Name," "Tall, Tall Trees," "Summertime Blues," "Gone Country," "Home," "Don't Rock The Jukebox," and "Who's Cheatin' Who" for the next 1-hour and 45-minutes.
Although Jackson's chart-topping "Chattahoochee" was once again the biggest highlight of the evening, causing the sold-out crowd to leap to its feet and scream the lyrics at the top of its lungs, one of the more memorable moments was his haunting acoustic rendition of the late Kentucky native Keith Whitley's "Don't Close Your Eyes." Alan Jackson is as country and down-home as they come, making him one of country music's finest singers and songwriters alike.
The Kraft Country Tour '97, starring Oklahoma natives and country heart-throbs Vince Gill and Bryan White, stopped by the fair on Saturday evening, August 16 for an unforgettable show full of surprises. Bryan stole the heart of every young lady in the audience, as well as that of her older friends and family who accompanied her to the show, during his solid 50-minute performance, which was unfortunately 30-minutes too short.
Camera flashes lit Freedom Hall up like an alfalfa field full of lightning bugs as Bryan offered "Someone Else's Star," the tender "Rebecca Lynn," "Sittin' On Go," "I'm Not Supposed To Love Me Anymore," "So Much For Pretending," and his brand new release, "Love Is The Right Place." Bryan and his band, Pearl River, made their guitars talk as they jammed through "Southern Nights" and were joined by a surprise guest, Bryan's musical idol and pal, guitarist extraordinaire Steve Wariner, on their last performance, "You Were Wonderful Tonight."
Vince Gill, during his 1-hour and 50-minute performance, proved that he is the ultimate all-around country entertainer: an accomplished country crooner, a master songwriting craftsman, and an instrumentalist extraordinaire. He took to the stage, donned with a desert town complete with a Route 66 service station, High Lonesome Motel, and OK Border Cafe, belting out "When Will I Be Loved." Vince caused the near sell-out crowd to swoon with his trademark ballads "Pocket Full Of Gold," "Look At Us," "Pretty Little Adriana," "Take Your Memory With You," "When I Call Your Name," "I Still Believe In You," and his current single, "You And You Alone."
He shared his love for Louisville with the audience, explaining how he moved to the home of the Kentucky State Fair right out of high school, the city in which he learned to love music, girls, and Krispy Kreme doughnuts. Gill's show was full of surprises as former Fleetwood Mac member Bekka Bramlett, of the new country duo Bekka & Billy, offered very complimentary harmony vocals and 23-year-old tour-mate Bryan White joined him on a duet of "Liza Jane."
The hands-down highlight of the evening was Vince's delivery of his self-penned award-winning "Go Rest High On That Mountain," on which he displayed his mandolin skills.
The Primestar Four Star Blowout Tour starring Clay Walker with special guest Terri Clark was just that as it blew into Cardinal Stadium on Friday evening, Aug. 22. Clark, Canada's latest and hottest country music export, warmed up the crowd with her zany, witty, energetic and personable delivery of crowd-pleasers like "Poor, Poor Pitiful Me," "Better Things To Do," "When Boy Meets Girl," "Emotional Girl," "Twang Thang," and "Just The Same." Although Terri sang her heart out, her entire performance was brought down by a mere 45-minute time allotment and a horribly loud, muffled, and echoed sound system.
Unlike the sound quality during Clark's opening set, Clay Walker couldn't have sounded better as he hit the stage running with "Rumor Has It," "Live Until I Die," and his current hit, "One, Two, I Love You." An obvious student of the George Strait school of country music, Clay is a perfect gentleman onstage who adds a little dance-step here and there. His feel-good songs. loaded with ingenious hooks, rope fans into singing along with every syllable.
Clay continued to keep fans on their feet with "Hypnotize The Moon," "Dreamin' With My Eyes Wide Open," "If I Could Make A Livin'," "Where Do I Fit In The Picture," and "This Woman And This Man." He also offered treats such as "Louie, Louie," "My Brown-Eyed Girl," and an emotionally-stirring rendition of "Amazing Grace."
The 1997 Kentucky State Fair ended on a high note with Nicholasville, Kentucky's own John Michael Montgomery and hot new group Ricochet. The six members of the 1996 Academy of Country Music Top New Vocal Group, Ricochet, paved the way for Kentucky boy John Michael with a powerful, yet extremely loud set which included the hits "Daddy's Money," "What Do I Know," "Love Is Stronger Than Pride," "He Left A Lot To Be Desired," and their new single, "Blink Of An Eye."
Traveling under the logo of BC Powder, John Michael Montgomery turned in probably his best Louisville performance ever, unfortunately to an embarrassingly small crowd which barely filled half of Freedom Hall. John Michael was in top form as he declared, "It's good to be back home" as he tore into "Be My Baby Tonight," "Life's A Dance," "I Can Love You Like That," "Cowboy Love," "Friends," "Sold (The Grundy County Auction Incident)," "How Was I To Know," and his signature tune, "I Swear." He dedicated his next single, "Angel In My Eyes," to his wife Crystal and their daughter Madison Caroline, who were present for the show. This tender sure-to-be-a-hit is the only new cut on John Michael's upcoming 14-song greatest hits album.
One of the numerous highlights of the show was John Michael's sentimental memorial to his late father Harold Montgomery (who passed away three years ago on the exact date of this concert), titled "I Miss You A Little." John Michael displayed his guitar skills as he closed out this year's state fair with a rousing, 14-minute rendition of "Sweet Home Alabama," which sent the audience into a frenzy despite the fact it could have been cut in half.