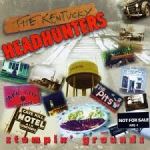 ?
Stompin' Grounds (BNA Records)
The Kentucky HeadHunters
By Paul Moffett
The Kentucky HeadHunters have said that they always considered themselves to be a rock band a la Led Zeppelin rather than a country act. It was just that they, well, sounded like hillbillies, just like Robert Plant sounded, you know, British.
Perhaps they recognized that there was no point in trying to get away their raisin', because on their new CD, Stompin' Grounds, they come home with a vengeance. With the wandering Doug Phelps back in the fold, Glasgow's finest come as near to reproducing the sound that launched "Dumas Walker" to the top of the charts as they have at any point since.
As writers, they mined Central and Southern Kentucky for the language of their songs: "See Rock City," "Kentucky Wildcat" and "Farmer's Daughter" are all as stuffed as Thanksgiving turkeys with allusions to, puns on and stories from Kentucky. "Kentucky Wildcat" is in particularly, aimed at every Kentucky fan in the world. All that's missing is the UK stamp of approval. "Mr. Know-It-All" is a curiously titled gospel tune
Their choice for Venerable Old Song for this CD, the Fifties hit "Singing the Blues," fares well in their hands (as well as on the charts.) It makes it easy for all those other bands to put it back in the repertoire and thus boost sales of the HeadHunters.
All-in-all, this is vintage Kentucky HeadHunters, easy to leave on the player, just the thing for rowdy sing-a-longs and dancing the line in the clubs. Go buy one and help bring money and fame back to the state.
The CD insert merits a note. Four of the eight liner pages are devoted to thank-you's from the HeadHunters, individually and as a group. Anyone who has dealt with them knows this is precisely their habit and guitarist Greg Martin in particular is noted for spreading around his thanks.
So here's a new "Connections" game for Kentuckians. Count your points this way: score ten for being listed on the CD; score one point for each of the people listed that you know personally. You get half-a-point for knowing who someone is. Scores lower than forty or fifty probably won't be in contention.
Make your list (on the honor system) and send it to: Louisville Music News, P. O. Box 148, Pewee Valley, Ky. 40056. High score gets a free year's subscription.