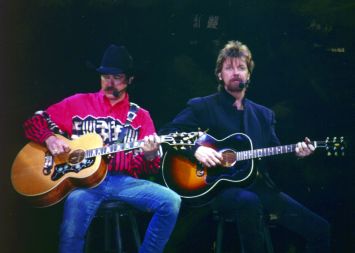 Kix Brooks And Ronnie. Photo By Letha Marshall
Upcoming Live Music In September
Acoustic
Canadian singer-songwriter Garnett Rogers will present a concert at the Urban Goatwalker on Friday, Sept. 5, at 8 p.m. Rogers is touring in support of his seventh album Night Drive.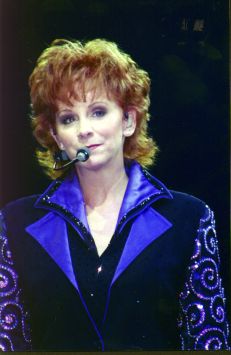 Reba McEntire
Tix and info: 502-636-0707
The Twice Told Coffeehouse has Michael Jerling on Friday, Sept. 5. Tanya Savory is scheduled for Sept. 20.
The Harvest Showcase will run two nights this year, Friday and Saturday, Sept. 26 & 27 at the Butchertown Pub. The event will feature some thirty acts, all for $5 plus five canned goods for the Kentucky Harvest.
Gospel
The National Quartet Convention is the big dog on the local music scene for September,. taking over large chunks of the Fairgrounds and hotel rooms around town when the 20,000 or so conventioneers arrive.
Tix and info:
The 1997 version of The Kingston Trio will be at the Ogle Center on Sunday, September 6. Bob Shane and Nick Reynolds, two of the three original members, plus George Grove, will recreate the sound that put "Tom Dooley" at the top of the charts. They will perform at 2 p.m. and 8 p.m.
Tix and info:
Ballet
The Louisville Ballet will offer an evening of dance at the Iroquois Amphitheater on Saturday, Sept. 6 at 8:30 p.m. There will be three featured ballets of highlights from the 96-97 season and excerpts from the upcoming season.
Tix and info: 584-7777
Bluegrass
Even though the summer festival season is winding down, there's still time for the Strictly Bluegrass Festival September 12 & 13 at Iroquois Amphitheatre. Gary Brewer of Gary Brewer and the Kentucky Ramblers is the driving force behind this festival and will be performing. Since it's also FREE, there's no reason for you not to go.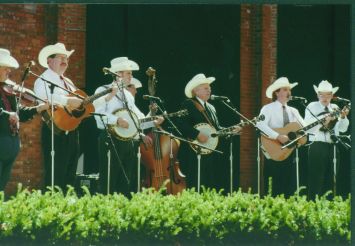 Ralph Stanley & the Clinch Mountain Boys
There will be workshops and lots of children's activities. Highlights of the line-up look like this:
Friday, the festival runs from 5 p.m. until 11 a.m. Scheduled to play are (not in order):
Larry Fuller; Bill Grant & Delia Bell; Tommy Brown & County Line Grass; Wendy Smith & Blue Velvet; David Parmley, Scott Vestal and Continental Divide; Gary Brewer and the Kentucky Ramblers plus Gary Wayne Brewer Jr.
On Saturday, the festivities start at 11 a.m. and run until 10 p.m. Scheduled to play (not in order) are:
Dr. Ralph Stanley and the Clinch Mountain Boys; James Monroe; The Goins Brothers; Bill Grant and Delia Bell; Tommy Brown & County Line Grass; Robertt White and the Candy Mtn Express; Wendy Smith & Blue Velvet; David Parmley, Scott Vestal and Continental Divide; Gary Brewer and the Kentucky Ramblers plus Gary Wayne Brewer Jr.
You can also catch a few bluegrass licks at the Bluegrass Blast in Owensboro '97 on September 26-28. The event is set in English Park on the Riverfront. The featured bands on Saturday will be Rarely Herd and Gary Brewer & the Kentucky Ramblers.
Tix and info: 1-800-489-1131
Blues
The Blues to the Point / Two Rivers Blues Festival in Carrolton is set for Septmber 5 & 6. Featured on Friday night will be Alligator Records artist Kenny Neal and on Saturday, KoKo Taylor. Other performers include Rory Block, Crestwood's Jesse Buntyn and Jimmy Roberts and the Triple Crown Blues Band.
Tix and info: 1-800-325-4290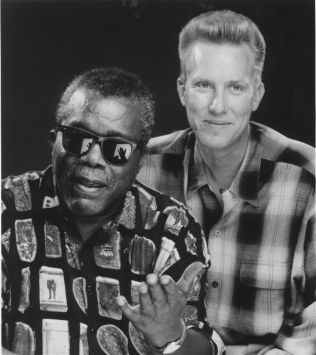 Anson Funderburgh and Sam Myers
Downtown at Stevie Ray's, Anson Funderburgh and the Rockets featuring Sam Myers will blast in on Sept. 17. On the 25th the Nighthawks will swoop by.
Contemporary Christian
Where There is Faith" will be 4 Him, at least with respect to their #1 hit song, at the Ogle Center on Friday, September 5. The quartet has achieved considerable success in the five years that they have been together, including winning three successive Dove Awards for Group of the Year. Proceeds will benefit Bridgepointe Goodwill Industries and the Easter Seals Society.
Tix and info: 584-7777
Seven Day Jesus, with special guests The Reveres will be in concert at Northside Christian Church, New Albany on September 25 for a 7 p.m. show.
Tix and info: 502-935-4756
The Smalltown Poets will offer a concert at Hurstbourne Baptist Church
The Derby Dinner Playhouse is staging "I Shall Not Be Moved," described as a Christian musical comedy. The musical is set for an eight-week run, beginning August 12 and running until October 5.
Tix and info: 812-288-8281
Country
If you haven't heard enough country music at the Fair, then aim your go-mobile at Renfro Valley on September 5 and hear Kitty Wells, the first "Queen of Country Music." She'll do "It Wasn't God Who Made Honky Tonk Angels" as well as all her other hits at two shows at 7 and 9 p.m.
Tix and info: 800-765-7464
The prime candidate for killer country show in September is the twin bill of Reba McEntire and Brooks and Dunn in Freedom Hall on Sept 25. Both acts took a beating in Laurence Leamer's recent book Three Chords and the Truth, but real fans will ignore the cheap backside shots and go to see what made both major acts.
At the Louisville Motor Speedway, Collin Raye will show you "What the Heart Wants" and other stuff on Sept. 21.
Later in the month, Renfro Valley will bring in Olive Hill's favorite son, Tom T. Hall. Hall is a great long string of hit tunes, recorded by himself and others. He'll be plugging his latest album, Song From Sopchoppy, released in 1996. He'll be doing shows at 7 & 9 p.m.
Tix and info: 800-765-7464
Big Band
The big band unit of the United States Air Force Band of the Rockies, The Falconaires, will give a concert of music from the Glenn Miller era. Dressed in vintage World War II uniforms, the 18-piece "Count Basie" style swing band will play at the Youth Performing Arts School. The event is sponsored by the Louisville Jazz Society and, while admission is FREE, you must get a ticket in advance. Send an SASE to: YPAS, Attn: Curtis Essig, 1517 S. 2nd. St, Louisville, KY 40208.
Marching Band
The Louisville Classic Male Marching Band Competition is set for Saturday, September 6, at 2:oo p.m. There will be high school bands from all over the state competing, so if John Phillip Sousa is your idea of America's greatest composer, then get on out there. Admission is $4 for adults, $2 for students.
Orchestral
The Louisville Orchestra's September offerings include Viva España — Fanfara on September 13 in Whitney Hall. Angel Romero will be the featured guitarist with Max Bragado-Darman conducting.
On September 25, at 10:30 a.m. Uriel Segal will conduct and Lee Luvisi will perform on the piano for the CoffeeConcert of Birth, Life and Death of Romanticism The MasterWorks presentation of the same program will be on September 26 at 8 p.m. in Whitney Hall.
Tix and info: 584-7777
Opera
For a mere $10, you can attend a morning of "Fall Fashions and Favorite Arias" at Jacobson's in the Oxmoor Center on September 18, at 10:30 p.m., sponsored by The Kentucky Opera Guild and Jacobsons. Reservations are required.
Tix and info: 502-584-4500.
Classic Popular Music
All of you Gershwin fans (and who isn't?) can hear some of the Gershwin's less-familiar material at "The Gershwins Rediscovered: A George and Ira Gershwin Centennial Celebration Concert" in the Bomhard Theater at the KCA on September 6, 1997 at 8 p.m. Jeff Harnar will be the featured vocalist, Robert Bernhardt will conduct and pianist Leon Bates will accompany Harnar. The Blue Monday Chamber Ensemble, plus other guests ensembles and artists will also perform.
Tix and info: 502-584-7777.
Rock and Etc.
An early note for Fleetwood Mac fans. The reunited band (M. Fleetwood, C. McView, J. McVie S. Nicks and L. Buckingham) will be in concert at Deer Creek Music Center on October 5. For $30, you can sit in the grass on the lawn. Tickets which get you seats are $50 and $75. At those prices, you can be sure that they won't be coming to Louisville.
Tix and info: 317-239-5151
At the Toy Tiger, the Misfits and Piston will team up to offer an angry concert on September 6.