Cowboy Corner
Country Grammy Winners
The Grammy Awards were handed out in New York at the end of February, and as usual, there were some surprising announcements when the envelopes were opened. Possibly the most surprising was the Country Album award, which went to a legendary country artist who is basically extinct from country radio these days. The "Man in Black," Johnny Cash, captured this award for his critically acclaimed Unchained disc.
LeAnn Rimes and Trisha Yearwood were both nominated for Female Country Vocal Performance for the same song, "How Do I Live," but Trisha was the one to take home the award. Trisha took home a second trophy for Country Vocal Collaboration along with pal Garth Brooks for "In Another's Eyes." It was definitely the night for Alison Krauss & Union Station as they took home a whopping three trophies.
The entire list of winners is as follows:
Female Country Vocal Performance: Trisha Yearwood's "How Do I Live"
Male Country Vocal Performance: Vince Gill's "Pretty Little Adriana"
Group Country Vocal Performance: Alison Krauss & Union Station's "Looking In The Eyes of Love"
Country Vocal Collaboration: Trisha Yearwood and Garth Brooks' "In Another's Eyes"
Country Song: "Butterfly Kisses" written by Bob Carlisle and Randy Thomas
Country Album: Johnny Cash's Unchained
Country Instrumental Performance: Alison Krauss & Union Station's "Little Liza Jane"
Gospel Album: Amazing Grace 2: A Country Salute To Gospel
Bluegrass Album: Alison Krauss & Union Station's So Long So Wrong
John Michael Montgomery Golfs For Charity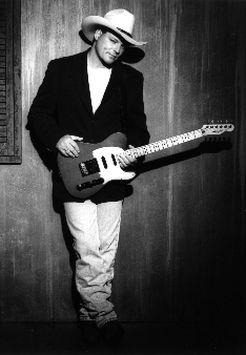 John Michael Montgomery
Nicholasville, Ky.'s favorite son and hometown country superstar John Michael Montgomery has announced plans to host his annual John Michael's Celebration charity golf tournament and music festival on May 18 and 19 in Lexington. Proceeds from the benefit, which is already scheduled to include Tracy Byrd, Bill Engvall, Restless Heart's Larry Stewart and Mark Wills, will benefit the McDowell Cancer Foundation.
Blockbuster Award Winners
Country music was even included in last month's Blockbuster video and music awards program. Garth Brooks was named Male Country Artist of the Year, while 15-year-old country princess LeAnn Rimes captured the title of Female Country Artist of the Year.
Congratulations to LeAnn and Garth, and keep the music coming.
Grandpa Jones: 1913 - 1998
Country music has come to the end of an era with the passing of the legendary Grandpa Jones. Grandpa passed away February 19 after suffering a stroke. He complained of dizziness during his January 3 performance on the Grand Ole Opry and was rushed to the hospital following his final performance. Little did his Opry family know that Grandpa would never return home to his wife of 51 years, Ramona, and he would never return to the Opry stage.
The famous Grand Ole Opry star and long-time fixture on the country comedy television series Hee Haw was born Louis Marshall Jones on Oct. 20, 1913 in Niagra, Ky. Grandpa made his first appearance on radio when he was a mere 15 years old, strumming the guitar an older brother had bought him for 75 cents. Grandpa always sounded older than he really was and soon became known as "The Young Singer of Old Songs," which led to his legendary "Grandpa" persona. Grandpa became a member of the Grand Ole Opry in 1947, and he was inducted into the Country Music Hall of Fame in 1978.
Grandpa, you will be greatly missed! And by the way, tell Minnie Pearl "Hi."
Country Music Family Updates
Hot country songstress Pam Tillis, whose hits include "Mi Vida Loca (My Crazy Life)," "Maybe It Was Memphis," "All The Good Ones Are Gone" and "Spilled Perfume," was recently divorced from her famed songwriting husband, Bob DiPiero. The divorce was a mutual agreement and sources say that it was an amicable split. Pam, who is also the daughter of country legend Mel Tillis, co-wrote her humorous "Cleopatra, Queen of Denial" with Bob. And while we're on the subject of Pam Tillis, fans will be glad to know that she will make guest appearances on CBS television's Diagnosis Murder and Promised Land on April 23. She also has a new album slated to hit stores next month.
On a much happier note, Travis Tritt and his wife Theresa Nelson are the proud parents of a brand new baby girl. The happy couple recently welcomed 7-pound, 14-ounce Tyler Reese Tritt into the world. Needless to say, Travis is rightfully feeling "10 Feet Tall And Bulletproof" these days.
Academy of Country Music Nominees
The 33rd Annual Academy of Country Music Awards will be handed out April 22 at the Universal Amphitheatre in California, while country fans around the world will be witnessing the occasion live on CBS television. When the nominations were announced recently, "turbo-tonkin'" Tim McGraw led the pack of nominees with a whopping seven nominations. Following with four nominations each were Tim's bride Faith Hill, George Strait and Trisha Yearwood. Garth Brooks, Diamond Rio, Louisville's own Patty Loveless and LeAnn Rimes each received three nods.
And the nominees are: Entertainer of the Year: Garth Brooks, Brooks & Dunn, Reba McEntire, Tim McGraw and George Strait; Top Male Vocalist: Alan Jackson, Tim McGraw, Collin Raye, George Strait and Bryan White; Top Female Vocalist: Deana Carter, Patty Loveless, Martina McBride, LeAnn Rimes and Trisha Yearwood.
Top Vocal Duet or Group: Alabama, Brooks & Dunn, Diamond Rio, Lonestar and Sawyer Brown; Top New Male Vocalist: Rhett Akins, Kenny Chesney and Michael Peterson; Top New Female Vocalist: Sara Evans, Lila McCann and Lee Ann Womack; Top New Vocal Duet or Group: Big House, The Kinleys and The Lynns.
Album of the Year: George Strait's Carrying Your Love With Me, Shania Twain's Come On Over, Tim McGraw's Everywhere, Patty Loveless' Long Stretch of Lonesome and Garth Brooks' Sevens; Single Record of the Year: George Strait's "Carrying Your Love With Me," LeAnn Rimes' "How Do I Live," Trisha Yearwood's "How Do I Live," Diamond Rio's "How Your Love Makes Me Feel," and Tim McGraw & Faith Hill's "It's Your Love."
Top Vocal Event of the Year: Toby Keith & Sting's "I'm So Happy," Garth Brooks & Trisha Yearwood's "In Another's Eyes," Tim McGraw & Faith Hill's "It's Your Love," Anita Cochran & Steve Wariner's "What If I Said," and Patty Loveless & George Jones' "You Don't Seem To Miss Me"; Song of the Year: "All The Good Ones Are Gone," "How Do I Live," "It's Your Love," "Something That We Do," and "The Fool"; Country Video of the Year: Kathy Mattea's "455 Rocket," Martina McBride's "A Broken Wing," Deana Carter's "Did I Shave My Legs For This," Tim McGraw & Faith Hill's "It's Your Love," and Diamond Rio's "How Your Love Makes Me Feel."
Naomi Judd Healed
Ashland, Ky.'s hometown sweetheart Naomi Judd, who made up the enormously popular country music duo The Judds along with her superstar daughter Wynonna, claims that she has been completely healed from the life-threatening disease that cost her the career that she held so dear to her heart. As Naomi and Wynonna closed their very last concert with "Love Can Build A Bridge" back in Dec. 1991, Naomi never dreamed that she would one day say that she was cured from hepatitis C, the deadly disease she contracted while working as a registered nurse. After undergoing various treatments and performing extensive research on "complementary" medicine, Naomi says that her doctors can no longer find any trace of hepatitis in her body.
With Naomi's good news, one must wonder if that means that The Judds will hit the road together once again real soon. Well, no one can predict the future, so we will just have to sit back and wait and see and hope! Music career or no, Naomi is plenty busy these days. Besides speaking at public seminars, Naomi recently released her second book, titled Naomi's Home Companion, a collection of her family's favorite recipes and witty, homespun advice from the "Lucille Ball of Country Music."
Diamond Rio To Join The Opry
Hot country group Diamond Rio received what is possibly the highest honor in country music last month. Grand Ole Opry President and General Manager Bob Whittaker invited the band to become the 71st members of the legendary Opry, as they performed on the sacred stage. Needless to say, the band jumped at the invitation and will be officially inducted in the near future. Diamond Rio will be the first group to be inducted to the Opry since The Whites joined 15 years ago.
Garth Brooks Box Set
For all of you Garth Brooks fans that just can't get enough of the "G-man," you'll be in hog heaven next month. Garth is scheduled to release his first-ever box set sometime in May. This collection of 66 songs will include his first six albums, plus one extra song from the era of each of the albums. Garth's goal is to include a brand new song which sounds like it could have been included on each album throughout the progression of his music career.
In the meantime, Garth's latest album, titled Sevens continues to top the album sales charts and his new single, "Two Pina Coladas" is destined to hit the top of the charts. And speaking of Sevens, Garth appeared on The Oprah Winfrey Show just last month and vowed to donate the profit from three-weeks of sales of this album to Oprah's Angel Network. The Angel Network benefits the needy and helps send high school graduates to college. It's refreshing to see that someone with Garth's celebrity status is so concerned about and generous to others.
Upcoming Live Country Music
Spring is here and April showers are coming down, meaning only one thing–the Kentucky Derby is just around the corner. And to celebrate this landmark event, Philip Morris will once again host their long-running Philip Morris Festival of Stars country concert to be held in Freedom Hall at the Kentucky Fair & Exposition Center on Thursday evening, April 30. This year's show will include Texas native Clay Walker, as well as Lee Ann Womack. This free concert is bound to be a show you won't want to miss. After all, you can't beat the price.
August may seem a long way off, but believe it or not, it will be here before you know it, and so will the Kentucky State Fair. Our friends at the KFEC and Triangle Talent are working really hard to please us country fans, and it looks like they are doing another superb job. As well as I can tell, Bryan White and LeAnn Rimes will share the stage at the fair on Aug. 20, hometown girl Patty Loveless will team up with crooner Vince Gill on Aug. 22, and The Oak Ridge Boys will make their annual state fair appearance on Aug. 23. The Charlie Daniels Band will perform on Aug. 26, and closing out the fair this year will be country music's most energetic band, Sawyer Brown, along with Ashland, Ky.'s own Wynonna. Start saving your pennies now for these shows, as tickets generally go on sale in mid-June. They are always a pretty hot commodity.
And for all of you Garth Brooks fans, it looks like the mega-star will be stopping off in our hometown. No official word yet, but keep your eyes and ears open for this show I know you won't want to miss. I'll pass along more details as I receive them.
Well, that's it for now. Always remember: "Keep your boots shined up and your hat on straight, 'cause country music is comin' your way."