To quote my heroes in Monty Python, "And now for something completely different!" Okay, maybe it's not completely different – it's still within the realm of Christian music. Recently, I had a chance to talk with Mark Stuart, the lead singer of Contemporary Christian mega-band Audio Adrenaline, which is something peon-type CCM reviewers like myself don't get to do every day. I've been an Audio Adrenaline fan for quite a while and have had their newest release, Some Kind of Zombie, in rotation on my CD player since it came out, so this was one interview I was looking forward to doing!
Of course, the best part of interviewing is that you get to find out the truth behind the rumors floating around about the person you're interviewing. So my first question to Mark was: Is it true that Audio Adrenaline has a bit of Kentucky blood running through its veins?
According to Stuart, Audio Adrenaline is first and foremost a Midwest band (which shouldn't come as any great surprise to the band's longtime listeners) with its members hailing from Missouri, Ohio and Kentucky. Owensboro native Stuart admitted to being the only Kentuckian. The band met and formed at Kentucky Christian College in Grayson, where all the then-band members were students in the early 1990's.
Having cleared up that little rumor, I moved on to the next one: that the songs on Some Kind of Zombie were full of the early musical influences these guys heard while growing up.
"Yeah, it's a mesh of everything we grew up listening to," Stuart responded, citing the influences of REM, U2 and the Police as examples. Former Audio Adrenaline guitarist Barry Blair served as producer on this project as well and added his own flair to the new album.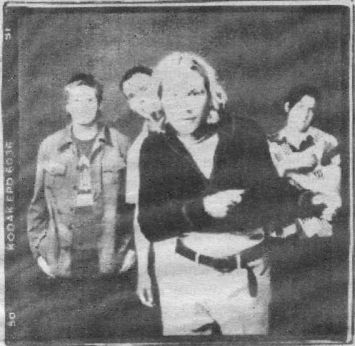 Audio Adrenaline
"He was a big influence on the album guitar-wise," Stuart explained. He then added his own take on Some Kind of Zombie: "This was not a simple album. This is definitely my favorite record [of those] we've done. It's more mature, more challenging. When Barry left the band, [guitarist] Tyler [Burkum] and [drummer] Ben Cissel used that as a springboard to jump into a whole new sound, and I think they were pretty successful."
Stuart described the album's sound as "quirky...it feels a lot more experimental [than other albums]. But the tongue-in-cheek lyrics are still there." Some of the new, more sophisticated twists Stuart cited were touches of Eighties' techno and experimentation with drum loops. "On Bloom, the sound was stripped down, and we placed a lot of limits on ourselves. On this album, we technically went for a lot of things."
Along with a new album, Audio Adrenaline released a video documentary and book chronicling an unusual experiment the band conducted in conjunction with the album's release. The band took seven children from diverse backgrounds and geographical locations on the road with them. A photographer and videographer went along and recorded the kids backstage with the band, discussing tough life issues and basically being kids. The result is sort of a Christian "Real World" in which the kids – and the band members – learned a lot about each other and the world they live in.
"The kids were all from different backgrounds. It was a really cool experience," Stuart remembered. "The discussions could become very heated at times, but they were very healing, too." He expressed his hope that the video and book, both entitled Some Kind of Journey: On The Road With Audio Adrenaline, would be a tool for youth leaders and ministers to start discussions on important life issues with the teens and young adults with whom they work.
As we talked about the band's current success, I questioned Stuart about the crossover potential for their music. Their first single from the album, "Chevette," is receiving airplay on MT2 and as the band headlines their own tour for the first time, the buzz around the band and its music is growing. Is the band searching for crossover success?
"We don't go into the studio thinking 'Who's this record for?'," responded Stuart. "We don't go in saying 'Can Christian kids relate to this?' Our music can relate to a wide spectrum of listeners. It can relate even to non-Christians. Songs like "Original Species" will challenge them, or "Chevette," which is about materialism."
"It's a Biblical truth, yes, but it is also a simple, moral truth as well. I'd like to see "Chevette" get on college radio, but we try to make records that are born from our experiences, and as we do, God is expanding our listening base."
And as the Christian and secular fan base grows, it seems to become easier to blur the lines between "rock star" and "minister" for a CCM artist. I asked Stuart if this was an issue the band had struggled with in the past or were dealing with now.
"Of course, we really dealt with that," Stuart admitted, "that's what Bloom was all about, you know? 'Never gonna be as big as Jesus.' We are still struggling with this. It's an issue all Christian artists deal with."
Audio Adrenaline is currently on a grueling 65-city tour that started January 28 and will continue until May 10. Stuart said that headlining the tour was more responsibility than the band had dealt with before, but added "I've never felt more blessed and fulfilled." He went on to add that the tour, with openers Jennifer Knapp and the Supertones, was going extremely well.
"We were really feeling the stress and pressure during rehearsals," he confessed, "but the tour's going great. I can't imagine it being better. There is such a unity and focus among the band, and we've had very successful venues with unbelievable turnouts."
Now, if you're wondering whether or not Stuart has left behind his Kentucky roots, rest assured they're as strong as ever.
"Louisville is always a rockin' show," he enthused about the band's March 12 date at the Gardens. "And so much of my family [was] there it [felt] like a big reunion!"
So there you have it: the whole scoop on Audio Adrenaline's newest release and the book and video projects that accompany it. If you haven't had a chance yet, be sure to check out Some Kind of Zombie. See you next month--same channel, same station!