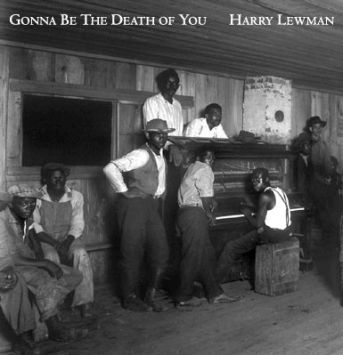 Gonna Be the Death of You
Harry Lewman
By Paul Moffett
Harry Lewman is a serious fan of Huddie Ledbetter, a.k.a. Lead Belly, the musician most famous for writing "Goodnight, Irene," a hit for the Weavers in the late Forties. Leadbelly was known as a folk musician then, although in retrospect, he was clearly in the blues line running from Robert Johnson to Muddy Waters.
Lewman recently completed a songbook of Ledbetter's songs. This CD project is a parallel work, though not a complete Lead Belly tribute, as several of the tunes are by other writers, including Lewman's friend Will Cary of Will Cary and the Nightcrawlers. Lewman also wrote additional lyrics for several of the songs. In Ledbetter's days, this was called the "folk process."
What is central to this album is the twelve-string guitar, played in the style of Leadbelly, with a heavy, right thumb-driven bass line, with some of Lead Belly's odd tunings. Lewman worked those tunings out while researching his book and incorporated them into his playing.
Lewman's playing and singing ranges in the direction of authentic but doesn't quite get there. This is not a failure of ability but of circumstance. Ledbetter was a large, black man from the South who had been in prison, been shot in the derriere (hence the nickname) and generally lived the lifestyle of a bluesman, all of which showed up in his music. Lewman is a slight Louisvillian with a real estate business. That vocal quality, fashioned from lifelong desperation, is missing in Lewman's voice.
That doesn't matter, finally. Lewman's work is a labor of love and the CD is a valuable sampler of the works of those 12-string players from the South. They've been too long ignored and now might be the time for the musical community to rediscover Lead Belly, Willie McTell and the twelve-string guitar.
Gonna Be the Death of You is available in Louisville at ear X-tacy Records, Hawley-Cooke Booksellers and Disc Jockey Records. Lewman can be reached at www.hlmusic.com.