I've Got A Mind To Ramble
Smokin' on Main Street
Main Street is becoming the blues strip in Louisville. In addition to Stevie Ray's and Zena's, the Main Street Smokehouse opened at 530 W. Main St. in February. The building was formerly occupied by Charley's and B. J. Knockers. The Smokehouse features local blues bands every Friday and Saturday night.
Proprietors Don and Peggy Lane want to tap into the rejuvenated life of West Main Street and the ongoing activities at the Kentucky Center for the Arts. Don Lane got his restaurant experience working at Gib's and running Zena's kitchen for several months. He smokes his own meat and has a 'down-home' recipe for barbecue sauce. During the day, Peggy Lane has an orthopedic medical practice.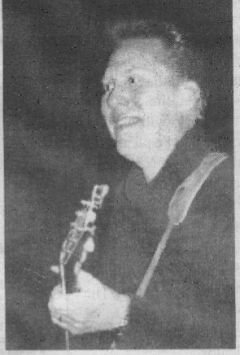 Anso Funderburgh found something amusing in the audience at Stevie Ray\'s on March 11. Photo by Keith Clements
Presently, they are leasing just the first floor, but for special events like Derby Week, they will open the upstairs for larger crowds. They hope to have bands performing both up and down stairs, like the Slippery Noodle in Indianapolis.
Incidentally, Marcus Tharpe, who currently sings with Spoonful of Blues and Blue Collar, is the daytime cook at the Smokehouse.
The music will run from 9 p.m. until 1 a.m. This month, they have scheduled the Dennis Ervin Band for April 3 & 4, Sharon & the Boogie Boys on April 10 & 11, Spoonful of Blues for April 17. On Thunder Night, it will be The Walnut Street Blues Band.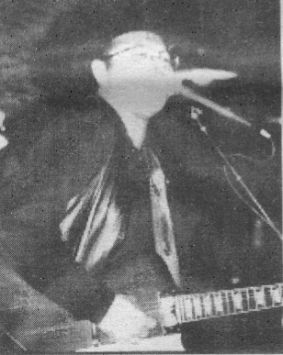 Larry Gardner entertained at Stevie Ray\'s on March 11. Photo by Keith Clements
A new blues group, Blue Collar, will close out the month on April 24 & 25. during Derby Week, the Smokehouse will have music Wednesday through Saturday, with a double bill of Spoonful of Blues and Robbie Bartlett & Company on May 1 & 2.
Beginning in April, the Kyana Blues Society will be having their monthly board meetings there, on the first Wednesday of each month at 6:30 p.m. You are welcome to join us on April Fool's Day.
Chicago, Here I Come
The 15th Annual Chicago blues Festival is scheduled for Thursday, June 4, through Sunday, June 7. If you are planning to attend, you will need to make reservations immediately, as the Windy City is booked up well in advance for this event.
Two Golden Anniversaries will be celebrated at this year's festival: the 1948 introduction by Columbia Records of the long-playing record, which allowed artists much more time to record their material. Also in 1948, Atlantic Records began recording classic rhythm and blues. To commemorate the Atlantic anniversary, Ruth Brown and Texas Johnny Brown, both of who played on several of Atlantic's early releases, will be featured in the Petrillo Band Shell on Saturday, June 6.
Other headliners include the smooth crooning piano blues of Charles Brown and the intense guitarist Otis Rush. Jimmy Dawkins, who appeared at the 1996 Garvin Gate Blues Festival, and Carey Bell, one of Chicago's best harp men, will also be performing. Tyrone Davis will stir up some mellow soul, along with a younger generation of blues musicians, including Chico Banks, Carl Weathersby, Joe Louis Walker, Shemekia Copeland (Johnny's daughter), Toni Lynn Washington and Kelly Joe Phelps. I am counting on Michael Frank, the owner of Earwig Records, to have some extracurricular blues festival activities planned for the south or west side of Chicago.
Keep on Singing the Blues at Stevie Ray's
Stevie Ray's has a new illuminated sign on the front of their building. It makes it easier to spot when you're blues cruising down Main St.
Stevie Ray's had a packed house of Larry Gardner & the Boogaloo Blues Band from Louisiana and Anson Funderburgh & the Rockets featuring Sam Myers on March 11 for their Wednesday Nite Blues Concert Series. Larry Gardner was a pleasant surprise. I had missed hearing him at last year's King Biscuit Festival. His lyrics are timely and on target with "Get Back on the Road of Life" and "Keep on Singing the Blues." Larry's harp player, Wally, was in sync with the band with some wailing solos.
Anson has always been a treat to hear, going way back to the Budweiser tent at State Fair time for his annual one week stands. Anson and Sam are true blues brothers, complimenting each other's talents on guitar, harp and vocals. Their latest CD, That's What They Want, is one of their best collaborations. Its spontaneous, funky feel is similar to their first release in 1986, My Love Is Here To Stay.
Rob Pickett, the Mudcats guitarist, was in the audience that night. He said that the Mudcats Blues Band would continue, even though Jim Rosen was gone. Rob has a whole stack of lyrics he is working on. It will be interesting to see which direction the Mudcats take during the post-Rosen years.