Stick It.
By Paul Moffett
Jim Steilberg's music shop was comfortably full on March 8, in spite of the beautiful, warm late-Winter Sunday beckoning just outside. Stick Master Greg Howard commented that he'd like to be outside, too, just before providing the reason that all the musicians in the room were there: "Stick" music by a master player.
The Stick was invented by Emmett Chapman in the early Seventies. It's played by tapping on the ten (or twelve) strings with the fingers of both hands. Half are bass strings and are tuned in fifths; half are treble and are tuned in fourths. The stereo pickup splits the signal and sends one from each set to a different amplifier or sound processor. The practical effect is that the Stick sounds like two separate, sometimes very different, instruments being played simultaneously.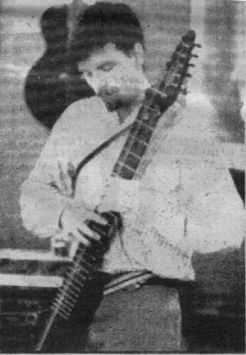 Greg Howard at Steilberg's
Or, as Howard commented while maintaining a bass line with his left hand and tuning with his right: "You've always got a hand free to tune with."
The Stick, he said, is suitable for any music style, including backing singer/songwriters, but its potential is best realized with complex material, in particular, jazz and experimental music. Howard's albums include Shapes, Stick Figures and Code Magenta with saxophonist LeRoi Moore (of the Dave Matthews Band) and singer Dawn Thompson.
He played impressive original material from several of the albums, with percussion from Ray Rizzo of the Java Men. Comparisons are difficult, if not impossible, to make, as Howard is one of two (or so) Stick players who gig full time with the instrument. Simply watching him perform could send ordinary string musicians into fits of depression; piano players might well wonder how he manages the different tunings. Even guitar wizard Craig Wagner of the Java Men, who owns a Stick, was there taking notes.
The instrument is also suitable as a MIDI controller, although that seems a tad redundant, as the Stick has so many features on its own.
Steilberg might not have sold any Sticks on that day, but the bug was planted: musicians crowded around during the break to talk to Howard about the costly instrument and several were eager to lay their hands on it. Howard was friendly and answered every question patiently, even though he has no doubt answered all of them many times in his career with Stick Enterprises, Inc.
The Stick and the Grand Stick are available through Steilberg String Instruments, as are Greg Howard's Cds. Superior hand coordination is recommended.