"We did what we could."
By Jean Metcalfe
In the crowded streets of Addis Ababa, Vince Emmett saw "people living naked on the street . . . people dead in the street . . . just total wreckage and devastation."
Emmett returned to Louisville in early March from a two-week trip to Ethiopia with members of Southeast Christian Church. Their mission – mostly accomplished, despite some tense moments at the airport – was to deliver eyeglasses, medicines, music and hope to the impoverished people of that country.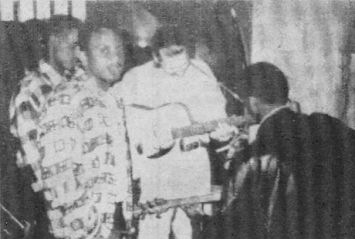 Shortly after his return, Emmett, a musician and owner of Melody Hill Farm recording studio, spoke with me about his "pretty wild musical adventure."
He explained that Ethiopia has a musical heritage – the orthodox sound – that goes back several thousand years, yet "they're encouraging young people to not play instruments, I guess because they think musicians are wild. But their musical heritage is gorgeous. When you do hear some of their music it's really beautiful. They're wanting to learn our stuff and we're wanting to learn their stuff."
In Addis Ababa, Emmett helped conduct a music seminar, and 60 people showed up for guitar lessons. "They're starved for music over there," he said. To relieve their hunger, Emmett will work in conjunction with two Ethiopian churches to help start a music school in the capital city. "The kids would just flock to it," he said, "There would be thousands."
Of his visits with tribes out in the countryside, he said, "It's unbelievable. . . . you've seen it in National Geographic, but to be there and smell it . . . it's just unbelievable."
"The people just wear animal skins . . . they're just so happy. . . . We played music with them, they killed a goat and cooked it. . . . I'll tell you what, it's an acquired taste. Not like chicken."
"We met some people that didn't know there were any other people on the Earth," he exclaimed. After a way of communicating had been developed, Emmett said, the tribesmen were asked how they explained the airplanes that flew overhead. Their response? "We thought they were really big chickens."
"The Ethiopians are the sweetest people . . . you can't compliment them . . . they want to stay very, very humble, and that just makes for a sweet group of people," Emmett said. "I fell in love with them."
For Emmett, the Ethiopian trip was a life-changing experience. He is glad to be back home but, he says, "I've gotta go back."
When commended for his efforts on behalf of the Ethiopians, Emmett responded modestly, "We did what we could."