Front and Center:
Ben Jones of Better Days Records
In every city in this country there is a patron saint of local music. Before I moved to Louisville in 1994, one of my best friends, Mike Pullig from Wilmington, Delaware, was that city's musical saint--a regular guy who devoted hours of his time and hundreds of his dollars to producing a free list of booking information for any independent act that asked. Since moving to Louisville, I have met scores of people involved in the local and regional music industry, but it was only last week that I met the man who just may be the patron saint of Louisville's music scene: Ben Jones, the owner of Better Days Records on Bardstown Road.
Meeting Ben was a bit of a surprise. I live just a block or two from Better Days, and have been there hundreds of times looking to pick up some bargain CDs or trying to find some obscure disk from five years ago that nobody carries anymore. The store seemed like just another eclectic, quirky used music shop one might find in any major city. But last Monday afternoon, I beat the rain to Better Days and got a chance to discover that it is much more than your ordinary record store, and Ben is much more than just the owner.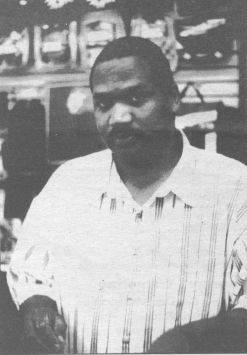 Ben Jone ponders a request.
Since the early 1980's, Ben and his staff at Better Days have provided a information clearinghouse, record label, and industry consultation with an almost religious devotion to the art and craft of music. I asked Ben how exactly how the whole thing began.
"I started my store in 1982-83," he related, "I bought it from a friend of mine who used to be my partner. The music thing is all I've ever done. From early in life I was very interested in music, and I grew up in the church singing, and by the time I graduated from high school I knew that was what I wanted to do".
While studying music business at Western Kentucky University, Ben and two of his friends started a record shop there. While working at that shop, another friend of his from Louisville contacted him and offered to sell him his used record store, an offer Ben took. That was the start of Better Days.
"We started off on Frankfort Avenue, in a little house, and it kind of grew from there," he remembered. Between 1987 and 1988 Ben moved the store to its current location on Bardstown Road.
"It was during a time when the Louisville band scene was catching on not only locally, but regionally and even with the whole United States," he explained, "and it was just one of those things where I was friends with lots of bands and I helped them out with playing, session work and that kind of thing; and I wanted to see the record store be a trendsetter to help any genre of music come alive in Louisville. I started this store to keep the scene alive".
Ben listened to his customers, and allowed them to teach him about the different genres of music in which they were interested. As a result, Better Days has a stellar collection of not only mainstream pop and rock recordings, but also jazz, rap, hip-hop, indie, straight edge, punk, dance, techno and about anything else imaginable.
As his music selection grew, so did his knowledge of distributors, record labels and the music industry.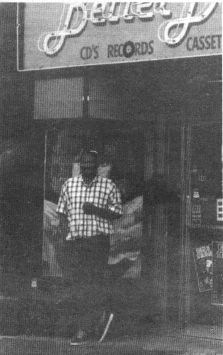 Jones in front of his Bardstown Road store.
"I had contacts with plenty of people in distribution," he recalled, "and on the distribution end they let me know the names of contacts and how to get in contact with labels and who to call and all that, so I started to share that information with Louisville and the kids all started coming to me with questions. At that time, I was just doing street promotion, I wasn't doing any producing, but as time went on I started doing that.
"By then the independent/alternative world had started getting recognition and so independent product was accepted; homemade product was accepted. When that was accepted, I knew I could start to put my two cents in on how to keep a musical genre alive. I started getting local hardcore bands and gospel groups first, knowing that they were two genres that were totally unaware that there was a market for their type of music. I found places to get things pressed, people to do the graphics [Ben himself ended up doing the artwork and is an acclaimed artist as well as musician], and places to get things manufactured, and that was how the Better Days label evolved."
Ben's first record was a recording of his church's choir. The wide acceptance of the album made him realize that he had a viable and valuable idea with the label.
"Eventually, our name was getting around to local, regional and national publications as a label, outlet and information center," he said. One of those publications was a booking and promotion guide put out by Musician magazine, which resulted in interested musicians calling from around the world.
"I always like to tell these musicians that my service won't bankrupt their mind or their pocketbook," he laughed, explaining that the large run of CD's most CD manufacturing companies require often keeps new or smaller acts from being able to record and sell their music to their fan base, especially in lesser-known genres and solo singer-songwriter acts.
"If you can't afford to get a product, if you can't afford to get your music heard, then you're bankrupting your mind. You're still very talented, you're still very useful in the community and participate in the music scene, but you can't get heard," Ben asserted.
Better Days now manufactures and produces limited-run CD's for artists for about $5.00 for 20 minutes of music or less, and around $8-10.00 for more than 20 minutes or more complex packaging. Everything from the graphics to the CD burning is done in-house. Local and regional musicians currently using Better Days services include pop/punk bands The Linwoods and Left Out, performing songwriter Kathleen Howe of Kathleen's Dream, dance/house artist DJ Skip from Chicago, and X-troi-din-aire, a new R&B act from Louisville.
Better Days also has two other locations, one in the West End of Louisville run by Lee Drane called Better Days West and another specializing in collectible dance/house music that is housed in Stonefish, a vintage clothing store across the street from the Bardstown Road location.
With his love of music and the store's active involvement in helping local bands keep their music alive in an affordable and professional way, Ben Jones and Better Days are the guardian angels of local music, the unnoticed glue that holds the scene together.
"People ask me, 'how does your store stay alive?' I tell them, 'because I'm real.' I'm wanting you to want this music. With the way computers and technology are going, there's no secrets in the music business - it's the service of information and music that matters," Ben stated. "We're commercially friendly and market-friendly, but we're service-oriented. We want you to enjoy the music."