Cowboy Corner
By Michael W. Stout Kentucky State Fair "Gone Country"
As is every year right around this time, the talk of the town is the annual Kentucky State Fair. In recent years, the fair has been overflowing with some of the biggest names in country music, and this year is absolutely no exception. This year's fair-goers will be treated to the performances of Charlie Daniels, Vince Gill, our hometown girl, Patty Loveless, Butcher Hollow, Ky.'s "Coal Miner's Daughter," Loretta Lynn, The Lynns, Tim McGraw, The Oak Ridge Boys, LeAnn Rimes, Sawyer Brown, Marty Stuart, Bryan White, and Ashland, Ky.'s own Wynonna.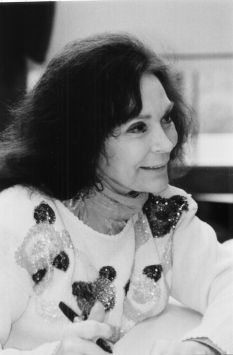 Loretta Lynn will make a rare appearance at the Kentucky State Fair on Augu. 26
This year's fair will kick off with a sure-to-please double-header on Thursday, Aug. 20 in Freedom Hall with two of country music's hottest new artists: LeAnn Rimes and Bryan White. I'm sure Patty Loveless will make her hometown crowd proud when she performs along with crooner Vince Gill on Saturday evening, Aug. 22 in Freedom Hall. Tim McGraw will heat things up in Cardinal Stadium on Friday, Aug. 28 when he brings his "turbo-tonkin'" country to the fair with a yet-to-be-announced opening act. I know you all hope the special guest is Tim's lovely wife, Faith Hill, but we're out of luck, as she will probably be recovering from giving birth to their second child, which is due in mid-Aug. And this year's state fair will go out with a bang as country music's most soulful singer, Ashland's Wynonna belts out her hits in Freedom Hall on Sunday evening, Aug. 30 along with the energetic and entertaining Sawyer Brown.
And as for free shows, this year's fair includes a stellar line-up. The Oak Ridge Boys will make their annual appearance at the fair on Sunday evening, Aug. 23. Country legend Loretta Lynn will be joined for a very special once-in-a-lifetime show by her twin daughters, Peggy and Patsy, better known as The Lynns, on Wednesday, Aug. 26. And on Thursday, Aug. 27, Cardinal Stadium will be rockin' with Marty Stuart and The Charlie Daniels Band.
I hope to see you at the fair!
Roy Rogers: 1911 - 1998
Country music came to the end of a long, yet "Happy Trail" on July 6 when the "King of the Cowboys," Roy Rogers died in his sleep of congestive heart failure in his home near Victorville, Cal. Roy's partner and best friend, his wife of 50-and-a-half years, Dale Evans, was right by his side until the end. Roy appeared in 87 Western films, 26 of those with his bride. His last public performance was last May along with Dale singing their theme song, "Happy Trails," which Dale wrote years ago.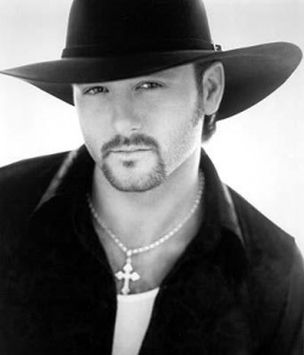 Tim McGraw will appear at the Kentucky State Fair on Augu. 28.
Roy Rogers was born Leonard Franklin Slye on Nov. 5, 1911 in Cincinnati, Ohio. He began appearing as The Slye Brothers with his cousin Stanley Slye when he was a mere teenager. After several years of touring, Roy helped form the Sons of the Pioneers in 1934. The group made country music history with songs like "Tumbling Tumbleweeds" and "Cool Water."
Roy made his movie debut along with the Sons of the Pioneers in the Gene Autry movie Tumbling Tumbleweeds. Roy was inducted into the National Cowboy Hall of Fame, earned a star on the Hollywood Walk of Fame and received two Golden Boot Awards. Roy Rogers is the only performer to be inducted into the Country Music Hall of Fame twice: once in 1980 as a member of the Sons of the Pioneers, and as a solo artist in 1989.
Roy Rogers is survived by Dale Evans, as well as three daughters, one son, 15 grandchildren and 33 great-grandchildren. The family has requested that all memorial donations be sent to the non-profit Roy Rogers-Dale Evans Museum, 15650 Seneca Road, Victorville, CA 92392.
Jimmy Driftwood: 1907 - 1998
Singer/songwriter Jimmy Driftwood, best known for writing the hits "The Battle Of New Orleans," "Soldier's Joy" and "Tom Dooley," died of a heart attack on July 12 after suffering a stroke several weeks earlier. Jimmy, who was born James Corbett Morris on June 21, 1907 in Mountain View, Arkansas, wrote more than 6,000 tunes.
Brand New Recording Contracts
Three of country music's most talented artists have landed brand-new recording contracts in the recent past. The incredibly talented Lari White has already hit the airwaves with great response with her brand new single, "Stepping Stone," the title-track to her new album, already available in your favorite record store.
The traditionally twangy Aaron Tippin not only signed his autograph for his legions of fans during the recent Fan Fair, but he also signed a new recording contract. Lyric Street Records executives joined the fans in Aaron's autograph line and surprised Aaron with the recording contract, which he hurriedly signed. And last, but certainly not least, is Reba McEntire's pal and duet partner, Linda Davis. Linda was also surprised with a recording contract at Fan Fair when DreamWorks executives presented the talented singer with a recording contract an inch thick onstage following her performance of "You And Me."
Fans can look for Aaron and Linda's new CDS to hit record stores sometime this fall.
Country Music Hall of Fame Inductees
The late, great "First Lady of Country Music," Tammy Wynette, will be among those to be honored with induction into the Country Music Hall of Fame come Sept. Tammy will be added to the Hall of Fame during the 23rd Annual Country Music Association Awards program at the Grand Ole Opry House. She will join a list that includes be the "King of Rock & Roll," Elvis Presley, the late George Morgan, known for his ever-so-popular "Candy Kisses," (as well as being the father of Lorrie Morgan) and E.W. "Bud" Wendall, the former CEO of Gaylord Entertainment.
And speaking of the 23rd Annual CMA Awards (which will air live on CBS television on Sept. 23), final nominees will be announced on Tuesday, Aug. 4. Jo Dee Messina, Neal McCoy, and Deana Carter will announce the list of nominees during a public press conference to be held in the Grand Ole Opry Courtyard.
CountryFest '98
If you didn't have the good fortune of attending the 3rd Annual CountryFest which was held in Nashville, Tenn.'s brand new Nashville Arena on June 20, then you're still in luck. CBS television has produced a two-hour special highlighting the event which will air at 9:00 pm ET on Wednesday, Aug. 5. Country superstar Reba McEntire hosted the event, which included Clint Black, The Kinleys, Chris LeDoux, Neal McCoy, Steve Wariner, (who will perform in Louisville at Strassenfest on Aug. 8) and Wynonna. The 7-hour-plus extravaganza was full of surprises and crowd-pleasing moments as Brooks & Dunn surprised fans by joining Reba on their recent smash single, "If You See Him/If You See Her." Reba and pal Linda Davis performed "Does He Love You," while Clint Black showed his fans photos of his children (his and wife Lisa Hartman-Black's dogs). Neal McCoy even offered his own rendition of Shania Twain's "Any Man Of Mine," and supergroup Alabama was added to the bill mid-show, hitting the stage just before midnight.
Divorce--Country Style
Although divorce is not nearly as common a theme in country music as it was 30 years ago, last month divorce ran rampant throughout the country music community. Two celebrity divorces were finalized on the very same day last month: Vince and Janis Gill, and Tracy and Stacie Lawrence. After a mere six-months of marriage, former Dallas Cowboys Cheerleader Stacie Drew accused husband Tracy Lawrence of physically abusing her after an argument over Tracy's gambling habits. Although Stacie and her family had filed a few different lawsuits against Tracy, they were dropped as the divorce was finalized. Terms of the divorce were not disclosed.
As for Vince and Sweetheart of the Rodeo member Janis Gill's divorce, things weren't quite so private. After nearly 18 years of marriage, the two have gone their separate ways and have joint custody of their 16-year-old daughter, Jenny. Vince's career has overshadowed that of Janis and sister Kristine Arnold's career. Vince is walking around much lighter since the divorce. In the settlement, it was ruled that Janis retain a house, their Tennessee farm, and a whopping 38% of Vince's future earnings on songs Vince has written, published, and recorded through the end of 1997. Vince fans need not worry, as that still leaves Vince with 62% of earnings from his past works, all of the profits from his current and future projects, as well as a house of his own.
And while we're on the subject of Vince, the country music superstar and avid golfer will host his very own 6th Annual Vinny golf tournament at the Golf Club of Tennessee on Aug. 3 and 4. Vince will be joined in this charity event by Suzy Bogguss, Kix Brooks, Glen Campbell, husband and wife Gary Chapman and Amy Grant, Mark Collie and Chely Wright. Mark Brooks, Bob Estes, Skip Kendall, Tom Pultzer, Loren Roberts and Lanny Wadkins will be among professional golfers to participate in this event.
Well, that's it for now. Always remember: Keep your boots shined up and your hat on straight, 'cause country music is comin' your way.