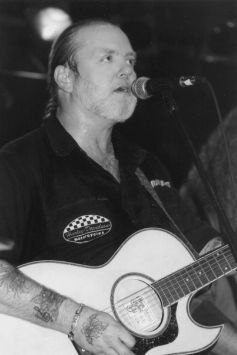 Gregg Allman. Photo by Angelina Horan-Diebold
Gregg Allman & Friends at Coyote's
By Michael Campbell
What could have been a mere rehash of Southern Rock glory turned out to be a balanced and entertaining musical revue. The relaxed, laid back, and even (sometimes) smiling Allman Brother was in good voice, treating a rabid Coyote's crowd to generous helpings from the new and the familiar. This group of "Friends" resembled a Capricorn Records reunion, including vocalist/harpist/saxophonist Jimmy Hall (of Wet Willie fame) and guitarist Don Barnes (38 Special). Allman's hit "I'm No Angel" was an authoritative kickoff to the show, quickly establishing this band's ability to rock. Their versatility shone with "House of Blues," "Dark End of the Street," and a re-arranged, almost laconic "Whipping Post," all from Gregg's latest release, Searching for Simplicity on the Sony label.
The vocal spotlight was often passed, most notably to Jimmy Hall, a talented and charismatic frontman, on the Wet Willie classic, "Keep On Smilin'," and even to percussionist Floyd Miles, who delivered straight blues renditions of "Born Under a Bad Sign" and "Back to Daytona." But the strength of Gregg's material dominated, as evidenced by the audience reactions to "Sweet Melissa" and "Midnight Rider."
The band switched musical gears between rock, R&B, and straight blues as easily as Gregg switched from the Hammond B-3 to acoustic guitar (ironically, an instrument he took up before his brother Duane did). The chemistry of this first-rate band was intriguing, in that it featured two stellar guitarists who never looked at, or interacted with each other the entire show and yet executed together right on the money. Perhaps to underscore who the Allman in the Allman Brothers really is, the band encored with the ABB classic "Statesburo Blues," accompanied by an adoring audience on vocals.
Mercury recording artist Mary Cutrufello opened the evening with relentless energy and enthusiasm, showing off some decent guitar chops along the way. Unfortunately, the similarity of her Mellencampian anthems provided a weak vehicle for her and her veteran band.