I've Got A Mind To Ramble
Tribute to Albert Washington
When I heard the sad news from 'tomcat' Tomlinson with the Greater Cincinnati Blues Society that Albert Washington had died on October 23, 1998, I had a flashback to November 4, 1993, when Washington put on a memorable KBS concert at the Bluebird Cafe. He was only 54 then but high blood pressure and diabetes had already taken a toll on him. Until he started to perform, that is. When Albert began to sing and moan in his unusual upper register voice, there was an intensity of renewed life that infused his little body.
Washington played both and guitar and piano, but he chose to use his guitar that night, with Jimmy Rogers backing him up on piano, plus three other musicians from Ohio. The show was recorded on video by Rick O'Neil, so I hope we have this important event documented.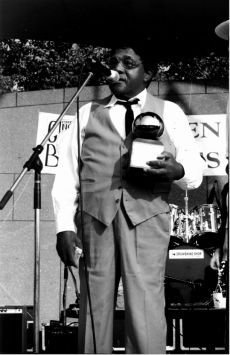 Albert Washington receiving the "Blue Ball Award" in 1996.
For those of you who have never seen Albert Washington or are unfamiliar with him, here is a little background. He was born in Rome, Georgia in 1939 into a family steeped in the Baptist Church. His family moved to Newport, Kentucky, then to Cincinnati after his father died in a tragic accident. Albert would sneak into the clubs to hear some of the R&B artists of the day, like B. B. King and Sam Cooke, but his mother Helen wanted him to stay close to the church and sing gospel. So during the Fifties, he sang and recorded with the Religious Gospelaires and then the Washington Singers, a group that included his cousin.
Finally the blues got the best of him due to financial reasons and the passing of his mother. He settled into a regular gig at Vet's Inn for sixteen years, usually backed up by Big Ed Thompson on guitar. Then Albert hooked up with Fraternity Records for several recordings in the Sixties with Lonnie Mack playing guitar.
More recordings followed in the Seventies on the Starday-King, Jewel and Eastbound labels. Washington developed a loyal following in the Cincinnati area, packing them in at the Sha-Rah. He was poised for a recording comeback in 1992 with Step It Up and Go, followed by A Brighter Day on Iris Records. He received the "Blue Ball Award" from the Greater Cincinnati Blues Society at the 1996 Queen City Blues Fest, which is their equivalent to the KBS Sylvester Weaver Award.
Washington is mentioned in Blues Who's Who and Steve Tracy devotes an entire chapter to him in his book, Going to Cincinnati. Tracy is also trying to re-release some of Washington's early Fraternity and Jewel recordings on CD.
Albert Washington straddled the sacred and the secular all his life, which infused a strong feel of gospel and soul into his blues. He's in blues heaven now, no doubt singing his classic "Wings of a Dove."
Ford Assembly Line
If you worked on an assembly line as a skid operator for 29 years, you would want to sing the blues, which is exactly what Harmonica Red is doing. Every day, he packs his harp and plays for anyone who will listen. When Bill Kellerman, the customer relations manager at the Ford Kentucky Truck Plant, first heard Red five years ago, he wanted to create a blues band with Ford employees. Thus the Kentucky Truck Plant All-Star Band was formed. Bernie the lead guitarist is a supervisor; the drummer Mike does the nightshift stock and Ray works on the line and plays bass. The band his performed on several Ford videos, including one for the new Super Duty truck.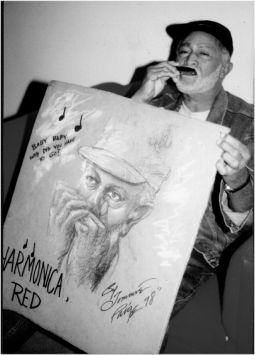 Harmonica Red (Obie Cox) displaying his self-portrait.
Born 59 years ago on a cotton farm some sixty miles south of Atlanta in Monroe, Georgia, Harmonica Red was influenced by his harmonica-playing father, F. C. Cox. The elder Cox performed solo, playing country music for parties and square dances. Red saw Chuck Berry, Jimmy Reed and Sam Cooke perform at the Harlan Theater in Athens, Georgia, which made an impression on him as a young boy. When he was eighteen, he came to Louisville with his brother and grandmother. He worked with a wrecking firm, then for a power plant in Indiana before starting at Ford in 1970. Red became friends with Fred Murphy and Henry Woodruff, who were then playing together at the Sunset Royal.
Red's real name is Obie Cox but he got his professional name by change from Smoketown Red. They were jamming together at Smoketown's home fifteen years back when Smoketown's wife called. She asked "Who's that playing with you?" Smoke replied, "That's Harmonica." She asked "Harmonica who?" and he answered "Harmonica Red." Smoke then introduced Obie to some friends who dropped by a bit later and the name stuck.
Red prefers to play songs like "Big Leg Woman" in a down-home style using his Lee Oskar harps in the key of C or D flat. He occasionally sits in with other musicians, but after he retires from Ford in a year or so, he hopes to start a new blues band with Smoketown Red.
That could be a "Red" hot combination.