Bluegrass Beat
Do you realize that by the time you read this, in about 30 days or less IT'S gone! IT, of course, being 1998. They're getting faster, picking up speed all the time. Where do they go? Besides in memory, where do they go? Into storage somewhere so that when THAT time comes we will get a review. Wow, that could be a fearsome thought. Guess we'd better watch our step a little closer from here on out.
Again, to get all things in I have to turn back a few pages. Back to October. Back to IBMA and some of the goings-on that week.
IBMA World of Bluegrass '98
SENSATIONAL! TREMENDOUS! FANTASTIC! Take your pick and any of these would not totally describe the Kruger Bros. From Switzerland. These guys border on unbelievable. For the folks who saw them at Shepherdsville on the 16th, they had a treat. For all of those that didn't, you missed it big time. The Kruger Bros. were kind enough to come to the station and be on my show [Sunday Bluegrass, WFPK 91.9FM, 8-11 p.m. Sunday nights] on the 18th. It didn't take long to realize that these brothers would be a hit at IBMA.
The group consists of Jens (pronounced Yens) on the banjo, Uwe (pronounced oo-vay), guitar, and Joel Landsberg (pronounced Joel Landsberg) on the bass. Actually, Jens and Uwe are full-time Swiss and Joel became part-time when he married a Swiss girl in New York, where he is from, and they moved to Switzerland. Their manager, Charley Early (pronounced – oh never mind), turned out to be a surprising coincidence for me. Seems Charlie is originally from Richmond, Va., about 100 miles from my home. If that weren't enough, we both went to VPI; not at the same time, however.
Getting back to IBMA, the Kruger Bros. showcased on Tuesday night. They were the first band I saw, and I think the first group to get a most enthusiastic standing ovation. Unfortunately there is no time for encores at this event or they would surely have had one or two or more. Just to put the icing on the cake, they are really wonderful people. The kind you feel comfortable with immediately. They had a most enjoyable hospitality session in their suite one night. The place was full. I must say, too, I have never seen anybody as relaxed and obviously enjoying their playing as much as these guys. If any promoter is willing to book an act that as yet is not exactly a household name, put your bets on the Krueger Bros. When they are in the states. I am looking forward to a long friendship with these folks who are truly "our kind of people."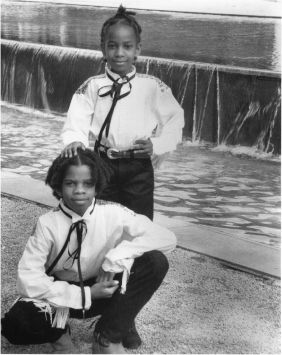 Buddy and Tina
Of course there was a lot of other excitement at IBMA. Jimmy Martin was there visiting and the like, as was Carlton Haney. Carlton was also there to be inducted into the Hall of Honor this year. He is the man credited with holding the first three-day bluegrass festival. Never one to miss an opportunity, Carlton was handing out copies of the contract for that first festival. This particular copy was the contract with Bill Monroe for Sept. 3-5, 1965. The contract was made July 2, 1965, and called for five musicians. P. Rowan was listed as booking agent, and Bill signed. In case you are wondering, no, I did not go to the first festival. Actually my travel agent at the time had other plans for me and I was doing a daily radio show on AFKN, Pusan, Korea.
Saw, met and got acquainted with a lot of other nice folks during IBMA week, as well as renewing acquaintances. Got to visit with a lot of record label representatives, and other fine folks from previous years. One of those fine folks was Barry Willis. Barry, the man who wrote America's Music, Bluegrass. An excellent history of bluegrass as told from the viewpoint of those who lived it, played it, wrote it and very definitely established it. Not just from the mouths of stars but also those very important musicians, "sidemen," without whom the stars couldn't do it. A wonderful insight and revealing look at the wonderful world of bluegrass music. If you don't have a copy you should get one; it's the last book on bluegrass you'll ever need.
I was also given one of those very special moments that can't be bought. James Alan Shelton was there, as was Ralph and all of the band, and he mentioned (believe it or not) that he had never seen or met Earl Scruggs. At the reception after the award show, I told him that I didn't know, but Earl might be there. I roamed through the crowd and did find Earl at one of the tables. Next trick, relocate James Alan. I found him and said, "I found him, come on." Went over to the table, introduced James Alan to Earl and that was a very satisfying moment. James Alan, the class act and gentleman he is, sent me a very nice letter the next week thanking me for that. A very special note from a very special friend that goes in my keepers book. Thank you, James Alan Shelton, you're an excellent guitar picker, too.
Suzanne Thomas did a showcase show featuring her new release on Rounder. A real crowd-pleaser. For a couple of numbers she was joined by "her boss," Ron Thomason, who always gets a big notice from the crowd. Ron looked a bit like Hank Williams coming up there. Tall, slender and that BIG western hat. Kinda had to look twice to be sure who it was. They did a knock-out number from the new CD, Just a Few More Days. That one really got the folks.
As has pretty much become the tradition now, the Sidemen closed the show. In the course of their rousing performance, they invited two youngsters up. Here was one of the BIG surprises of the whole week. Buddy, 12, and sister Tina, 10, African-Americans from Texas, came on bearing fiddles. Of course, everyone was waiting and probably wondering what these two were going to do. They did not have to wonder long. They showed the big boys and everybody what they could do. As they backed them up and looked on, I could see really big surprised smiles come across the face of Terry Eldridge and all of the band. These kids took them all by surprise as they brought the entire audience to its feet. Not only did they do it well, they also did it with mandolin and guitar. A letter to their parents brought me more information and pictures of these two.
A very interesting story, in brief: They got started in bluegrass visiting their 82-year-old grandmother in South Carolina. She would sit on her porch in the evenings, after supper as we would say, and sing to them. Grandma encouraged Buddy and Tina to get out their fiddles and play along. Grandmothers, God bless 'em, are like that. These two enjoyed it so much they continued to play when they returned home. Some sheet music, videos and books really worked. I mentioned in my letter to them that my wife had seen them on the news. In the words of their mother, Pat, "It's good to hear the kids were featured. Maybe one day they will be a main attraction." I'll bet they will, Pat, I'll bet they will. Somebody remind me again about how there's not any young people in bluegrass. Another reminder to any "kids" who may be reading this; it is OK to like bluegrass music. It is OK to learn to play it. It is, as you like to say, cool!
I think there was more, but I also think much of it got away before I could get it on paper. IBMA will be back next year and a couple more years after that.
PRP Fund Drive
Our Public Radio Partnership fund drive took place this last month. It was a successful drive. My many, many thanks to those of you who showed your support for Sunday Bluegrass with pledges of over $2,000 during my show. You really don't know how much it helps and what an impression it makes at the station. It is personally encouraging to me also.
New Year's Day With Hank Sr.
New Year's Day needs to be on your listening calendar. Mark it down now. I will be doing an all- Hank Williams SR. show from 3-6 p.m. New Year's Day. Don't miss it. Actually, I will be doing two shows, only one of which you will hear. I plan to tape a show in the event the weather is such that I can't get in to the station. Otherwise, I will be there as usual and the show will be done live. Be with me.
December Grass
This month at Shepherdsville: Dec. 4, Doyle Lawson & Quicksilver and guests The Sunnysiders; Dec. 11, The Boys From Middle Creek; and Dec. 18, Gary Brewer and The Kentucky Ramblers Christmas Party.
Sweet 16 for a Sweetheart
Sara Ruff (Sunnysiders) is having a birthday on the 21st. One of those very special ones. Sara will be "Sweet 16." Happy birthday, Sara, my "adopted granddaughter."
Merry Christmas!
Folks, friends, listeners and readers. My sincere best wishes for a wonderful Christmas. Remember, Christmas is for giving; that's the way it came to be in the first place. Remember the true meaning and reason for this very special time. Celebrate it that way.
County Gentleman Online
I now have an e-mail address at the station, if you care to use it: bbryant@wfpk.org.