Down On The Corner
• Attention, bluegrass pickers. Here's a chance to get in some end-of-the-year parking lot picking - indoors, yet. Gary Brewer will hold a "Christmas Pickin' Party" on Saturday, December 18 at the Shepherdsville Country Music Place. Bring your instruments and $5 to help pay the rent for the building. Brewer and the Kentucky Ramblers will do one set, then the jam begins and goes until the last dog is hung or something like that.
If you bring a $5 gift for a man or woman (depending on your gender), then you'll get a gift. Likewise for the kids, Gary says. Questions? Call Gary Brewer at 448-9107.
• From Dance-Or-Die Bob Watson's Tim Krekel fanzine comes the word that Krekel has a tune he co-wrote with Matraca Berg, "Ruby Brown," on Deana Carter's new CD. Let's hope it earns Krekel some good buck$.
• Our old buddy Steve Bowles at Pepperwood General Store in Lyndon was certainly happy to pick up first place at the recent Churchill Downs Chili Cook-Off. In addition to bragging rights, he took home $1,000. Pepperwood General Store is a stalwart supporter of the annual MERF Blues and BBQ Festival.
• From Earl Meyers comes news that the Louisville Workshop of the Nashville Songwriters' Association, International will be holding a "Songwriters Seminar" on Saturday December 12 from 1 to 4 p.m. at the Deer Park Baptist Church, 1733 Bardstown Rd. Industry panelists include Tommy Smith, writer of the Tracy Lawrence hit "Somebody Paints the Wall," as well as "Take the Keys to My Heart," cut by Garth Brooks on the Sevens album.
Also scheduled to attended will be Nashville song plugger Paul Dohlman and Jimmy Yeary, Dreamworks singer/songwriter, plus a special guest.
For information, call Earl Meyers at 502-452-1996 or Kevin Brodie at 502-267-0725.
• Bill Bartley from the band slack shop sent a note to report that the band cut six tunes with Todd Smith at Distillery Sound Studios. the plan is release a full-length CD early in 1999. There are folks who will wonder how Toddeo found the time to record anybody but the Travis of Days of the New.
• If it's December, it must CD release time – and so it is. Here are more Louisville recordings:
• The long-awaited Bryan Hurst and the Lolligaggers CD, Waiting For Favors, a thirteen-tune project that includes the biting "Serial Fiancee" and the wonderfully titled "In the Fall of the Summer of Love," has been released on ear X-tacy Records. You can get a copy at the record store of the same name.
• The Prophets CD, Happiness Dispenser, is also now available. The twelve-song CD includes "Optional Rain," a tune that has been getting airplay on Radio Louisville, a.k.a. WFPK. Catch the band at the Twice Told Coffeehouse on December 5. The CD will be distributed nationally by Valley Media. Turley Richards is assembling a three-song demo from the project to shop to bigger labels.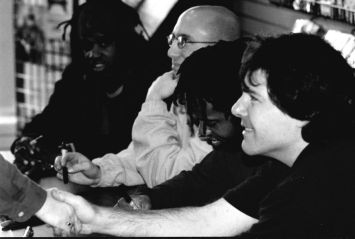 Bela Fleck and the Flecktones greeted fans at Disc Jockey Records on Shelbyville Rd. on November 18
• Frankfort singer/songwriter Scott Robinson has released Mellow Drama, produced by Dan Gediman. Read more about Robinson in Victoria Moon's Front & Center story on page 16 and Bob Totten's review of the CD in the Reviews section.
• Mom's Musician's General Store has undergone another internal renovation. In addition to moving the counter to the front of the store, the Drum Shop now occupies a two-story addition at the rear of the store. The outside of the store, however has not changed a bit.
• The Metropolitan Opera's auditions, held at the University of Louisville on November 14, yielded three local winners, who will advance to the Tri-State Regional competition, to be held at U of L on January 9.
The winners were Daniel Weeks of La Grange, a tenor and graduate student at The College-Conservatory of Music in Cincinnati; Hea Won Moon, a soprano and also a student at CCM; and Tina Milhorn of Lexington, a graduate student at the University of Kentucky.
• John Prine fans will be interested to know that his record company, Oh Boy Records, is releasing an odd compilation album, Lucky 13, which will feature three songs from Prine as well as two songs from other artists on the label, including Heather Eatman, The Bis-quits and R. B. Morris, among others. You can get more info at their website: www.ohboy.com.
• Alan Rhody sent word that a song he co-wrote with Bobby Taylor, "I Like to Drive," is the title cut on a new CD by a Chicago rocker named Bob Jares. Rhody also noted that a painting of his was used as the cover art for the posters, program and T-shirts of the Frank Brown International Songwriters Festival in Florida.
• The Louisville Ballet will present a special performance of The Nutcracker exclusively for "Bridge-the-Gap" children on December 15 in Whitney Hall. For the rest of you, The Nutcracker will be presented for the 16th time by the Louisville Ballet, with help from Brown-Forman Corporation, December 12-23. Call 584-7777 for tix or call the Louisville Ballet at 583-3150 for more information.
• The Kentucky Opera Guild will hold their Holiday Luncheons on December 8 & 9 at 12:10 p.m. in the Mary Anderson Room at the KCA. Four of the Kentucky Opera's singers will perform songs appropriate to the season. The luncheon will be catered by the Bristol Bar & Grill. Reservations can be made by calling 502-584-4500.
• Musician Magazine has released the 1999 Musicians' Guide to Touring and Promotion, which has over 4,000 contacts with venues, radio, records stores, local and national press, managers, A&R, labels, bands, websites, agents and on and on. For more on the Guide, contact Musician Magazine at 615-321-9160 or log on to their website at www.musicianmag.com.
• We were talking about Musician Magazine, weren't we? The magazine has launched their 1999 Best Unsigned Band Competition. Get an entry form at the website noted above. Deadline for entry is December 31, 1998.
• Greg Martin .sent word that the Kentucky HeadHunters have a cut on a Christmas album, Holiday Party, released by Lexington's Ace Magazine. The cut is "Run Run Rudolph."
• Patrick Moore kicked off the "Here for Good" conference bash for NORML (National Association for Reform of Marijuana Laws) in Washington on November 14. The headliners were Brewer & Shipley. Moore borrowed O. B. Bolton's (brother of Mike) guitar for the gig. You can catch Moore in concert at Berea College on December 4 at 9 p.m.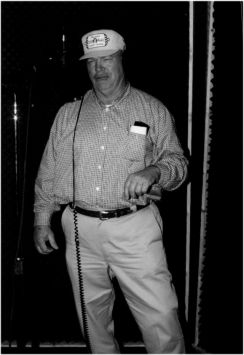 Al Purnell was at Falk Recording in mid-November to put his trademark "It's gooooood" on a recent recording of Kentucky Blue's "Purnell's Saugage" song, scheduled for an upcoming album.
• There will be a Pulsar clinic Thursday December 3 at 7 p.m. at Mom's Music in Jeffersonville. (1710 E. 10th St.) Pulsar is a PCI card made by Creamware, loaded with four 32-bit/floating point DSP chips, two lightpipes, or 16 channels both in and out in the ADAT format; two analog "Ins" and "Outs" with 20-bit converters; and S/PDIF digital I/O. A MIDI interface and several software synths are included, as well as a 32-channel automated digital mixer application. Admission is free. For more information, call Stephen Brown at (812) 283-3304
• For pickers with the urge to play out a bit, there are a couple of new places where you can do that. On Wednesdays at the Colonial Gardens, you can sit in with the band from 8 p.m. to midnight.
At Joe's "Older Than Dirt" on Preston Highway, right across the street from Trixie's, Scott Logsdon is holding forth on Wednesdays and Fridays, and you can take a turn on the mike if you ask him nicely. On a good night, redheaded bartender Robin Goomey might get up and wail a tune or two.
• The only Live audience radio show in Kentucky, "WoodSongs Old Time Radio Hour," is now available for rebroadcast. Interested radio stations can get a sample by called 606-255-5700 by sending e-mail to poetusa.poetusa.com
Ticket News.
• The Kentucky Center for the Arts decided to stay with the London-based Box Office Computer Systems (bocs) ticketing system for the next five years.
• For those of you who were hopeful that the rumored launch of a ticketing service by the promotion firm SFX Entertainment would offer some competition to Ticketmaster, break out your hankies. The firms have entered into an agreement for Ticketmaster to provide exclusive ticketing for all SFX shows, thus avoiding a Goliath-versus-Goliath showdown, which might have cost Ticketmaster some business.
From a consumer perspective, there's nothing to worry about, Marc Geiger of the ArtistDirect booking agency said. Anything that helps the consumer get tickets easier is better, he said.
"I don't think it will have any impact on the face value of tickets," Gary Bongiovanni, editor of tour-industry trade-magazine Pollstar said. "The ticket price is dictated by the artist and Ticketmaster can only set service-charge fees."
Kind of like the way banks can only set those service charge fees for using their ATMs. It's the Nineties, kiddies. competition is bad, conglomeration is good. And to think that George Orwell thought that Big Brother would be the government.
Club Changes
• Freddie's - The New Millenium has opened downtown at 306 E. Main St., which is about Floyd at Main. It's hard to miss, as the front of the building sports a large, purple neon sign with the club's name. Inside, the purple neon theme repeated, even in the large dance floor dance. The interior is borders on techno, with two floors to wander in and a restaurant soon to be installed. There are pool tables and games upstairs. Live music
Hours are 4 p.m. - 4 a.m., Wednesday through Saturday, with a happy hour, 4-8 p.m. Live music is Thursday - Saturday. The phone number is 589-3832.
• H. Lee's in Middletown has opened at 12612 Shelbyville Rd., across from the Eastgate Shopping Center. The bar is one large room, with pool a tables and games and a stage in the corner. Live music is booked Tuesdays and Thursdays through Saturdays. Hours at 11 a.m. until 1 a.m., Monday-Thursday; 11 a.m. until 2 a.m. Friday and Saturday. The phone is 245-3438.
Codas
• Charles Richard Fowler Sr., 74, died on November 21 in Louisville. He was a performing musician.