Front & Center
Scott Robinson
One From The Heart
By Victoria Moon
All in all, it was a pretty unusual interview.
First of all, it's a rare thing to find a musician not only awake at nine o'clock in the morning, but also able to string coherent sentences together. And it's just as unusual to find a songwriter as good as Robinson to be so unpretentious and even slightly surprised about garnering as much good press as his recent CD release, Mellow Drama, has received. The CD, produced with regional acoustic favorite Dan Gediman in Gediman's Milestone Studio, is the product of an Everyman-type of songwriter — the classic troubadour who has been practically everywhere, seen a little too much and yet still manages to hold on to his faith in a brighter tomorrow. It's an old and classic story, sure, but Robinson has a way of telling it that makes you believe in the power of song all over again.
It all started at the old Hearthstone Tavern on Seventh Street in Louisville. Robinson remembers Nancy Johnson from the Tavern letting him play a few songs as a teenager and telling him "well, give me a call when you're eighteen, kid, and we'll give you a job". So, when Robinson turned eighteen, the first thing he did was go back to the Tavern, where he was offered his first paying gig.
"I remember being all excited and running in to tell my folks 'hey, I got my first gig!'," Robinson recalled, "and they said, 'but that's the day of your high school graduation!' and I said 'So what? It's my first gig!' And that's where I spent my graduation night, and I've been hammering away at it ever since."
From the Tavern, Robinson moved on to play several bars in Louisville but found the scene to be changing, and singer-songwriters being replaced by the disco craze.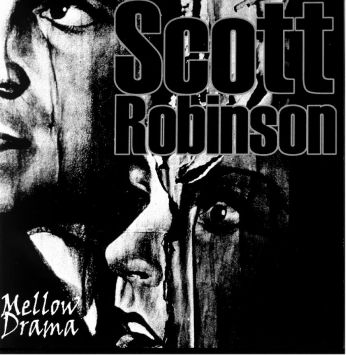 Mellow Drama
"One guy at this restaurant I was playing came in one night and showed me his new tape machine," he remembered, "and he started telling how great it was, and how he'd just be able to put a tape in and have music anytime he wanted — and suddenly I realized what he was actually telling me was that I was fired!"
After being fired from that restaurant, he landed a high-paying gig with another restaurant and with the money he earned from those shows got a passport and went to Europe.
"I'd like to tell you I played Albert Hall, but mostly it was living rooms, train stations and doing a little busking here and there," he laughed.
After spending some time in Europe, he returned to the States and hitchhiked out West, where he ended up in Flagstaff, Arizona for a while, playing gigs when he could get them and always writing songs. Then around 1978 Robinson — who said everyone is allowed major mistakes in their life — said he made all three in one fell swoop by signing up for military service.
"I joined the Navy, and I was a pacifist," he recalled ruefully. "I wanted to be a Corpsman so I wouldn't have to shoot anybody and could see the world, and ended up being assigned as a nuclear missile technician. It wasn't a very pleasant experience."
When his military service ended, Robinson continued to live the classic struggling musician's life in Frankfort, Kentucky: an endless string of day jobs and gigs at night when he could get them. Tiring of the bar scene and wishing for something more, Robinson eventually played a RANT festival in Monterey, Kentucky, where he met poet Ron Whitehead, who told Robinson to talk to Rick Towles of Twice Told Coffeehouse.
After speaking to Towles, Robinson started playing the writer's nights at Twice Told and meeting other local songwriters, including Dan Gediman. Gediman was impressed enough with Robinson's work enough to go into the studio with him and choose the best cuts from forty or fifty of Robinson's songs to be recorded for Mellow Drama. Beside Robinson, Gediman brought in musicians Steve Cooley, Virginia Tate and Ben Griffith to lay down some tracks and fill out the recorded songs. After the product was mastered, Robinson took it to Ben Jones of Better Days Records, who pressed a limited run of Robinson's debut.
"Dan Gediman, Rick Towles and Ben Jones are sort of the "holy trinity" of this CD," Robinson said. "I wouldn't have been able to do this project without those three guys."
Now that the CD is finished, Robinson has been shocked to find it selling out at shows, although critical reviews of the album show that this is no big surprise to folk music fans. Robinson's songs are often tinged with a hint of melancholy (he describes himself as seeing "the glass completely empty on the wrong day, and completely full on a good day but with the wrong stuff!"). Nonetheless, the tunes are threaded with a spirituality that also comes through clearly when talking to Robinson. He cites Bruce Cockburn, and Dave Wilcox as two songwriters he admires, along with Van Morrison ("he's kind of my spiritual guru") and Richard Thompson, for whom Robinson opened recently.
"I learned how to sing from your heart in church when I was a kid," he explained. "And I still know I'm hearing the real thing when I'm sitting in a coffeehouse, or church or listening to the radio and I hear these words come out and I get this shiver up my spine. It makes me realize how thirsty I've been for this sound — that's what music does to me…
"I'm just a conduit for the music. Songwriters who write their songs to try and get the next big hit, well, more power to them, but they're doing a whole different thing than I'm doing. I can't relate to them. I want to hear more heart and soul in songs, and less formulated stuff."
Given the enthusiastic response to Mellow Drama, Robinson certainly doesn't have to worry about being labeled a writer of "formulaic songs," and there's little doubt that he'll find a ready audience for the next batch of songs that come down the conduit to him.