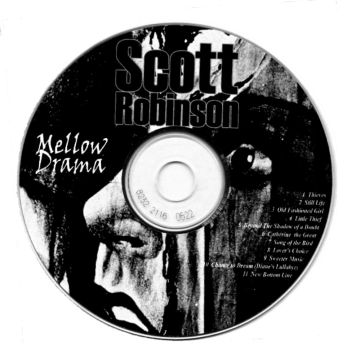 Scott Robinson - Mellow Drama
Mellow Drama (independent)
Scott Robinson
Prior to hearing this CD, I had only heard rumors about Scott Robinson. He lives in Frankfort, Ky., which has a thriving community of singer/songwriters. Robinson performs at local Frankfort venues several nights a month and occasionally in the Louisville and Lexington areas. Like so many artists, however, he does not do a very good job of promoting his music, so if you get a chance to hear this guy, it's usually by accident.
The very first sounds on this album caught my attention and I was hooked. My CD player always holds my top five favorites in regular rotation; Mellow Drama just took over the spot formerly held by Lucinda Williams.
Robinson's writing is strikingly vivid, with absolutely clear images. For instance, the opening tune, "Thieves," tells the tale of "one boy from Minnesota, one from Tennessee, two brothers from Ohio, the four of them and me." These five friends are thieves, who in the pursuit of the good life, ultimately find only betrayal and destruction. The singer laments "Like a ghost, the past it haunts me, I get no sleep, I make no plans, I just keep starin' at this cold blue piece, quiverin' like a small bird in my hand" Steel guitar by Steve Cooley and mandolin by Michael Campbell add just the right amount of tension and depth to this song.
Cut number three is also about betrayal and violence. "An Fashioned Girl" is a spoof of country music. The song opens: "She was an old fashion girl, with an old fashion love / I caught her and my best pal / getting old fashion laid." (You can probably see where this is headed.) "just an old fashion story, from an old fashion world, and I'll be swingin at sunrise / for the love of and old fashion girl."
Robinson's presentation of this tune caused continuous laughter at his recent CD release party.
The last cut is probably my favorite on the album. It begins "My watch is winding down now, my candle's burning low, / When time has robbed me of my time with you, and I've nothing left to keep / if it weren't for the chance to dream of you girl / I'd never go to sleep "
"The Chance to Dream (Diane's Lullaby)" is a gentle, loving ballad performed with solo voice and guitar.
This CD is notable for several reasons: first, the album is chock full of good songs. These tunes are real life experiences and there is not a bad song on the album. Second, Robinson has a great voice that gives his songs an emotional life of their own. There is a lot of Don Mclean in his style, using lots of transition chords to support intricate melodies.
Third, he hired Dan Gediman to produce the album. Gediman has proven once again that he is both gifted and knowledgeable and is wise and selective use of instrumentation dramatically enhanced the mood of the material.