Second Thoughts
Some Second Thoughts About Kentucky Opera's Season Opener, "Madama Butterfly."
There is something remarkably imaginative about John Hoomes casting the 6' 8" Edward Russell as "Butterfly's" irate uncle. It certainly calls for acting finesse as he denounces his niece for abandoning her Buddhist religion. But Russell is up to it and this role seems to this observer to require more acting finesse than a singing talent. There is no doubt that Russell has his share of the latter, since he has successfully portrayed one of Wagner's arch villains.
H. Charles Schmidt came up a winner with his lighting designs for in this story. The lighting complements the story's unfolding.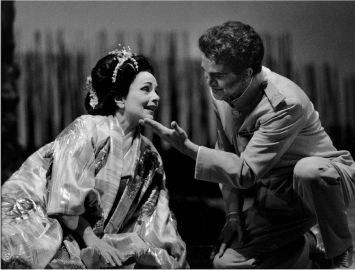 Maryanne Telese as Cio-Cio-San and Robert Brubaker as B. F. Pinkerton in the Kentucky Opera's production of Madame Butterfly
One should not underestimate the demands made by the role of Goro, the Japanese marriage broker. At one point, he is deferential, at another, haughty; Japanese culture has often favored the dominating male and Joseph Hu fills that requirement well. Sometimes a Japanese character will seem overly submissive and Hu is also up to that demand.
Maryanne Telese is making "Butterfly" her signature role. Upon learning that she has sung it more than one hundred times, this observer asked what that has done for her.
"I learn something new about it each time" she replied.
Robert Brubaker and Brian Steele complement each other as the insensitive and arrogant naval officer Pinkerton and the prudent American consul. Brubaker told a "Lunch and Listen" audience how much he enjoys this role and seeing is believing. Both men have fine voices and ample acting talents.
Maestro Mark Flint conducts with talent and ease. In private conversation and during the luncheon program, it was abundantly clear that he has done his homework.
Kentucky Opera's next presentation is Rossini's delightful and sometimes hilarious "Barber of Seville."
The Southern Seminary's Holiday Musical Event is Well-Received
Some of this community's best musical and acting talent can be found in Southern Seminary's School of Church Music and Worship and around this time of the year, there is a regular opportunity to appreciate it, as the school stages a program and welcomes the local community.
The 1998 event was titled "Ring in the Season: A Medieval and Contemporary Holiday Festival." It had two parts: the first sought to recapture something of a medieval court's celebration of Christmas; the other a more spiritual emphasis on the birth of Christ in contemporary fashion. With few exceptions, participants were students.
Capacity crowds attended both performances. This year's presentation was chosen, written, staged and directed by Mozelle Clark Sherman, Director of the Church Music Drama and Theatre. Dr. Sherman is a highly and multi-talented and dedicated professional. Her presentation was a felicitous integration of music, the spoken word, spiritual awareness, attractive theatrics and humor.
The humor was most clearly evident in the whimsical and imaginative names for court members in Part I. There one could meet "Lord Risque and Lady Propriety, Lord Cuckoo and Lady Crackbrain, Sir Cumference and Lady Girth and others." Richard Wigginton was almost omnipresent as the Court Jester; he delighted the audience, as did Marc Daniels the Juggler and Mark McClintock the Ventriloquist.
Musical selections were varied and delightful as well as thoughtful and inspirational. The variations on Christmas carols on the hammered dulcimer were a real treat; likewise for the orchestra's presentations of Shostakovich's "Festive Overture." and seldom heard piece by Respighi. The audience was treated to a taste of apple juice as it and the ensemble joined in the Wassail Song.
The second part of this program emphasized the more spiritual part of Christmas. It presented a very human Mary and Joseph and this section received an unexpected touch when a very young baby cried as the audience joined the cast at a Nativity scene outside the theater.
And so the audience departed, apparently deeply moved.