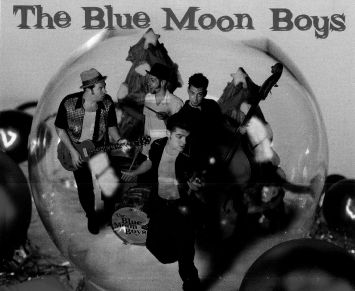 The Blue Moon Boys
Christmas Caravan (Mammoth Records)
Squirrel Nut Zippers
The Blue Moon Boys Rock and Roll Christmas Show (Beat Time Productions)
The Blue Moon Boys
By Victoria Moon
There comes a time when you've just to have a change from all those covers of "O Holy Night." When you just have to stand up against all those over-produced, overwrought Christmas albums by the Michael Boltons and Celine Dions of this world, when you long for some Christmas music that's a little hip, a little left of center, that sounds almost too cool to be Christmas.
Have I got a couple of CDs for you.
First of all, understand that I think anyone who doesn't like the Squirrel Nut Zippers is pretty much nuts. They play an almost indefinable blend of swing, bluegrass, rockabilly, blues and a little bit of everything else that makes Americana music so … American. They have quite possibly the coolest band name in existence. They're all fabulous musicians capable of creating a slightly old-fashioned yet marvelously hip ambience. So do you think I'm really going to have much bad to say about a Christmas album from these guys?
Hardly.
Christmas Caravan is a quirky, gorgeous album that offers Zippers fans eight original Christmas tunes, which I think is more original Christmas tunes than anyone's written since "White Christmas." They also offer a fun, slightly drunken version of "Sleigh Ride" and start the album with a sweet, Tin-Pan Alley-ish version of the 1940 song "Winter Weather." Vocalist and banjo player Katherine Whalen has a vocal style straight from an old 78 recording, and it fits perfectly with this sweet, old-fashioned song.
The politically incorrect original "Indian Giver" quickly moves us from the Thirties and Forties into the Fifties with some rockabilly, followed by the smooth, sexy jazz of "A Johnny Ace Christmas." It's back to the days of scratchy 78's with "My Evergreen," and then on to the Fifties with the yearning ballad "I'm Coming Home For Christmas." Throw in a little bluegrass for good measure on "The Gift of the Magi," and you have a musical feast that hits every pivotal musical style of American music.
The only problem with this CD can be summed up by my husband's comment when the last song ended. "That's it?" he asked, looking slightly alarmed. Sure, there's ten songs on the album, which should be enough for anybody, but with the Squirrel Nut Zippers you just don't want the fun to end.
You don't run into the problem of "too few" songs with the Blue Moon Boys Rock and Roll Christmas Show. The CD features 24 -count 'em - 24 Christmas songs as original as "Santabilly Boogie" to stuff as traditional as "Silent Night" and "O Little Town of Bethlehem." Okay, maybe "traditional" isn't quite the word; after all, this is a classic rock and roll album. Pure, classic rockabilly, and pretty cool rockabilly it is, too. This is a refreshing, foot-tapping alternative to all that Christmas schmaltz, bringing up fond memories of Elvis, slicked-back hair and a greaser punk wailing away on an upright bass.
Perhaps my favorite selection on this album is "God Rest Ye Merry Surfpunks," a song that takes the traditional carol "God Rest Ye Merry Gentlemen" and twists it into a fist-pumping surfer anthem, sort of Beach Boys meets the Ramones. Add in a version of "Blue Christmas" that would make Mr. Presley proud, smoking guitar solos wherever they could fit one, and the "Santa Suite," a medley of songs (including a perfect cover of "The Island of Misfit Toys") about Saint Nick that dares you to say there's no such thing as Santa. This is about as much fun as you can have at Christmas and still be legal.
So throw out all those boring pop-diva Christmas albums, and give yourself the gift of these two albums. You'll be glad you did.