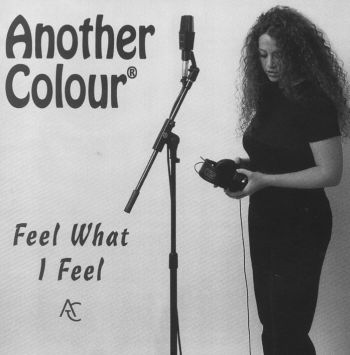 Feel What I Feel (Self-produced)
Another Colour
By Paul Moffett
When Paul Dell Aquila of Another Colour finally got the computer and musical equipment necessary to make records in his personal studio, it was solely a matter of time before he did just that. With a singer to write for - Grace Delligatti, his partner in Another Colour - he could not have asked for a better situation in which to demonstrate his songwriting and arranging skills.
The result isFeel What I Feel, a ten-song plus one spoken word piece, that is as stretched as these two must sometimes feel working in two markets, Louisville and New York City. The songs, while individually praise worthy, appear almost to be from different works and written for purposes other than going on this CD.
The title tune is a straight-ahead sad pop song about the beginning of the end of a romance, followed by "Cherokee Park," a site-specific love song apparently written for the Louisville market - and any of city with a large park called Cherokee Park.
"She's My Friend" and "My Friend Kelly," while technically lyrically suited to a female singer, would probably work better with a male voice on them. "Milestone" also seems to be the result of a commission to write a song for a graduate, one that worked so well musically that it made it to the playlist.
"Fix It," while admirable in its positive attitude, does not exhibit the depth of lyric that the other songs do, while "Back to Detroit" is another site-specific song obviously written for the college market. ("Detroit" has a lyrical glitch: an incorrect inflection necessary to make a rhyme.)
The final two tunes, "The Rest of My Days" and "Here Comes the Train Again," are pleasant love songs that take great advantage of Grace's pipes.
"Diversity of Color" is an odd piece, almost a aural collage and seems longer than it's stated time of 1:03.
As hard-working a duo as they are, Another Colour must have found it difficult to find the time to do this recording. That pace and the substance of their professional lives is reflected in the songs, as both Dell Aquila and Delligatti have put in much brain time on the best way to proceed toward their stated goal of rock stardom.
Dell Aquila's technical skills are good and he crafts his songs carefully, although once or twice on this CD, there were lyrical spots that could have used a tad more polish. With his unquestionably good musical abilities and the voice of Grace to carry his tunes, he will no doubt continue to improve.
Overall,Feel What I Feel represents the music of Another Colour for now and will make fans asking for more.