I've Got A Mind To Ramble
Don't Start Me to Talkin'
It was Jimmy Roberts of the Triple Crown Blues Band who put me on to Jesse Sellers.
Jimmy said that Sellers, a guitarist, had sat in with him at the Back Alley Bar in Evansville. During that set, Sellers mentioned that he had played with Sonny Boy Williamson. So I got Sellers' number from Roberts and called him. He told me his story.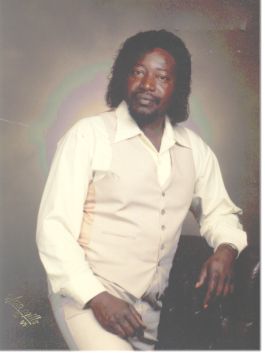 Jesse Sellers
Nowadays, Sellers mostly plays his Electra guitar with a gospel group, The Redeemers, at his church and occasionally, he sits in with Tommy Stillwell & Serious Business, but it was in 1970, when he was 26, that Sellers hooked up with Sonny Boy Williamson.
Sellers had been playing with his own show band, The Fantastic Sound Tricks, a group with horns. They played Fridays and Saturdays at Maxwell Air Force Base in Montgomery, Alabama and traveled around Florida and Georgia. After meeting Williamson, he left the group to play with him for the next two years.
They traveled in Williamson's shiny 1960 Cadillac with a U-Haul trailer on the back, playing clubs and joints throughout northern Florida, Georgia and Mississippi. The other players in the band were the Gresham brothers, with Willie playing horn, Jimmy on bass and Bob on lead guitar. Later, Willie Green was added on organ. Sellers was the rhythm guitarist and driver.
So what was it like to perform with Sonny Boy?" I asked
Sellers said he was strict with the band but fair about paying them after each gig. Since Sonny Boy was a diabetic, he didn't drink or take drugs and only ate baloney, cheese, crackers and doughnuts and drank coffee. According to Sellers, Sonny Boy had strange physical features, with a flattened forehead, large hands and shoulders, plus long arms. He was also "doubled jointed" and could turn his head and feel all around.
Sonny Boy confided to Sellers that he had traveled in the sideshow of the Ringling Bros. Circus. Once, in Panama City, Florida, he told the band "I'm going to show you why they call me Sonny Boy Williamson," then he crawled throughout the club, slithering like snake on his belly, playing the harmonic the entire time.
Williamson would get a title for his songs first and build his lyrics around it, Sellers said, often using irregular rhyming similar to Bob Dylan's. When Sellers left the band in 1971, Sonny Boy was planning to go to Pennsylvania to record.
After this conversation with Sellers, there were a few facts that didn't seem quite right, so I went for the reference material, specifically the bookBlues Who Who. In addition, I had a postcard of Sonny Boy (a.k.a. Aleck or Rice Miller) Williamson's grave in Tutwiler, Mississippi.
The Sonny Boy Williamson in question died in 1965; at least Sonny Boy Williamson II, (not to be confused with John Lee Williamson (Sonny Boy I)), did.
To try to clear up this mystery, I sent the real Sonny Boy (Rice Miller) Williamson's biographical information, together with pictures to Sellers. We talked again. Jesse said there was some resemblance but that the Sonny Boy he recalled had processed hair and wore a do-rag on his head. He thought his "Sonny Boy" was in his sixties when they played together and had heard that he died in 1972.
Sellers remembers him saying many times: "I the one who recorded 'Don't Start Me to Talkin' "
So who was this colorful blues harmonica player who toured the South passing himself off as Sonny Boy Williamson five years after the real one died? Sellers would like to get to the bottom of this mystery. He plans to travel south this year to contact some people who might know the answer, perhaps one of the Gresham brothers who still lives in Fort Walton Beach.
It is ironic that Sellers' "Sonny Boy Williamson" plagiarized the name just as Rice Miller did with John Lee Williamson.
So Long Junior Wells and Jimmy Rogers
You may have heard of the passing of Junior Wells on January 15, 1998, after a long illness suffering from lymphoma and lapsing in and out of a coma. I'll always remember his Lonesome Pine performance several years ago characterized by his sparse but poignant harmonica and vocals. He was the master of the blues understatement and could outmaneuver James Brown with his stage moves.
Wells filmed several scenes in the soon-to-released "Blues Brothers 2000" movie, plus he cut a song forPaint it Blue, a Rolling Stone tribute album.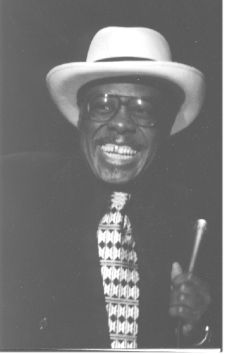 Jimmy Rogers
We will mess the "Hoodoo Man."
Actually, Jimmy Rogers (a.k.a. James Lane) was a greater influence on the development of Chicago blues than Junior Wells. Rogers died on December 19, 1997, after complication from colon cancer surgery. There was very little publicity at the time.
Rogers became an integral part of Muddy Waters' regional band that developed the Chicago sound, using amplified guitar and he was the last surviving member of that group. In recent years, Rogers played two at the Air Devils Inn and at the Back Stage Cafe on January 29, 1996, with his son Jimmy D. Lane and 'Pinetop' Perkins.
Rogers was in the process of recording for Atlantic, with guest appearances by several blues superstars. The blues world will especially miss his infectious smile and his big black Gibson guitar.