Bluegrass Beat
Quick, Henry, the Flit!
How did your new year start? Mine has been mixed. On the one hand, the flu bug-a-boo really cut me down — starting New Year's Day — for about two weeks. Don't really know how to spell a word to describe it. I did tell my wife one Tuesday morning that I would give this thing a couple more days before I started looking for an exorcist. Don't want no more of that.
Shepherdsville bluegrass helps the medicine go down.
On the other hand, however, I did manage to see some good shows at Shepherdsville. First Dr. Ralph Stanley was there on the 2nd of January. Biggest crowd I have seen there. Ralph always draws big around here, or anywhere else I see him. Then there was Dry Branch Fire Squad. They had a decent turnout. They have many good fans in this area. It is always a pleasure for me to see this band and to introduce them.
The last bluegrass we have seen up to now was IIIrd Tyme Out. They had not been here for quite a while and also drew a good turnout of fans. A friend of ours happened to be here from Virginia. He was very excited upon finding out they would be here that weekend; this was to be his first time to see them. He was looking forward to an opportunity to chat with Ray Deaton; had a few questions for Ray about his bass playing. It just happened when we got there we parked almost right beside the bus. The band members were still on the bus and graciously allowed us to come on and visit a bit before show time. Needless to say, my friend got all of his questions answered — and then some. He was very impressed with the manner of the band and the chance to visit the way we did.
Christmas Calls
Skipping back a few weeks, I made my annual "Christmas Calls" on Dec. 21. I always look forward to that show. The folks I phone up are very good about taking the calls and joining me on the show that way. I didn't get some of the folks I called this year, but I got some I have missed for a few years. Brother Oswald has been a regular for the calls, as has Dr. Ralph Stanley. Leroy Troy was on with me this year.
Rounder Records had called me to ask if I do telephone interviews. I told them about the Christmas calls. They wanted me to call IIIrd Tyme Out since the band was coming to Shepherdsville. The Rounder folks didn't know it but their timing was excellent. I told the caller I couldn't phone IIIrd Tyme Out because I didn't have a number for them. He told me he would find out who would be home and call me back. About five minutes later the call and the number came for Russell Moore. That was a good call and I hope to keep him on my list.
One call I had tried for several years finally connected this year. I felt very privileged to have Earl Scruggs on the show. Very pleasant and cordial. (Earl and all the rest — including those I may have missed mentioning here — my sincere thanks on behalf of myself and the listeners to Sunday Bluegrass for being a part of the show "live and in person."
I did not have a new number for my friend Wade Mainer for the Christmas calls. I did receive a letter, including the number, from Wade and Julia the following week. I called Wade on Sunday, the 28th. If you remember, Wade had triple bypass surgery the first part of September. It was really good to talk with him and to know that he is doing well. Of course, it will take some time for him to get fully recovered. When he gets his strength back and his voice is strong again, he is planning to record a couple of more tapes. He has had a lot of requests to do so and as of now is looking forward to it. Wade Mainer, one of the pioneers of this music business, will be 91 in April. (Our best to you, Wade, for a speedy and complete recovery. I will be looking forward to seeing you this summer, perhaps, and to hearing your new tapes.)
Another from the good guys department . . .
I mentioned DBFS earlier. Our friend and Belle crewman, Bill Ray, was at the Dry Branch show. Bill is a banjo player and was interested in Suzanne's banjo and playing. When the show was over I saw them across the room talking. Bill, with a big wide grin, was sitting there picking away on Suzanne's banjo. He called the following Sunday night and told me what a thrill it was to do that. I am sure it was.
Remembering (Fondly) Carl Perkins . . .
As I am typing this, another reminder of the bad news popped up on the late news. Carl Perkins died today (Jan. 19). Results of severe strokes he had recently. I had the distinct pleasure and privilege to interview Carl when he was in Louisville in May of '96. He was here for a book promotion tour. It was, without a doubt, the best and easiest interview I have ever done. It was that way because he made it so easy. We were able to talk about country and country performers the way it used to be. Carl Perkins was very candid about his life, just as he was in his book. We looked at old pictures and swapped stories. He broke into song a couple of times, just to make a point. He talked about his throat cancer of a few years ago and about his conversion.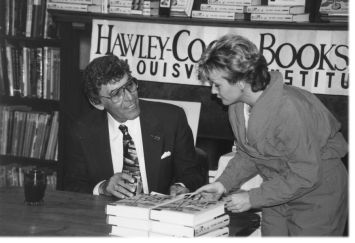 Carl Perkins autographed a book for an unidentified fan at abook signing at Hawley-Cooke Booksellers in May of 1996. Photo by Jean Metcalfe
Carl Perkins had a great impact on music, rockabilly and many performers. We all know what "Blue Suede Shoes" meant to him and Elvis. Another of his songs, in an entirely different vein — yet made a few bucks for Johnny Cash and others — was "Daddy Sang Bass." Carl Perkins loved Bill Monroe, bluegrass, and the spirituals he remembered hearing as a child growing up around the cotton fields, as well as the "happy spirituals" that Martha Carson sang. (Carl Perkins, I am glad I had the opportunity to meet you and talk with you, and I will take good care of the picture you sent me. You will be missed.)
I have already been asked about getting the interview run again. Right now I am thinking I will do so on my show this coming Sunday night (Jan. 18). That will have already happened by the time you read this. Carl's book Go Cat Go is available at Hawley-Cooke Booksellers.
Bluegrass coming your way soon . . .
At Shepherdsville: Larry Sparks, Feb. 6.
At West Point's Music Ranch USA: Josh Williams and High Gear on Feb. 13.
The Bill Stewart Family at the Opera House in Mitchell, Ind on Feb. 21.
If you want to drive a little more, the Larry Stephenson Band and the Reno Bros at Conover Hall, Franklin, Ohio, Feb. 14.
Bluegrass Open Stage
I am told there is open stage bluegrass pickin' going on Sunday nights at the Hideaway on Bardstown Road. Check it out and let me know.
Do yourself a favor.
Go see a good show and listen to Sunday Bluegrass, Sunday nights from 8-11 p.m. on WFPK, 91.9 FM. Do that, won'tcha?