Earthheart Ensemble (A Homefront and Family Reunion)
By Wally Stewart
Christmas can bring joyous (and sometimes unexpected) reunions and sad farewells. The EarthHeart Ensemble's day- after-Santa concert at Hawley-Cooke Booksellers' Glenview store brought both but let's relive the fun first.
At the Open Books Cafe, EarthHeart Ensemble percussionist Phyliss Free and singer/songwriter John Gage were aided by a reunion of Gage's sons, twenty-somethings Geoff and Eric, and ten-year-old Will. Coming from Denmark, San Antonio and Olympia, Washington respectively, Geoff and Will played electric guitars and Eric sang late in the evening.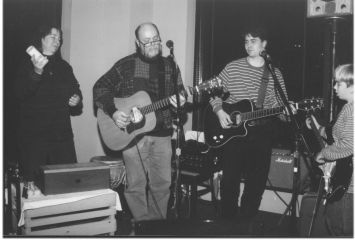 The Earthheart Ensemble, from left, Phyllis Free, John Gage, Geoff Gage and Will Owen Gage. Photo by Jeanette McDermott
Will warmed up with blues riffs that were impressive for a player his age, and helped keep the sounds flowing a few songs later when a string broke on his dad's backup ax. (John's "faithful wooden companion" is in dry dock.) After repairs, John helped back Geoff's gorgeous vocal on Lennon/McCartney's "Girl."
Enthusiastic fans filled two-thirds of the cafe; memories of the defunct Louisville Homefront shows filled all of it, as all the performers and most of audience there had ties to it. The reunion gained further steam with the arrival of Homefront board members Vern and Emily Blair. (Geoff and Eric's mom.)
A mixture of r&b, folk, swing and blues kept "the joint jumpin'" and the fun flowin'. "Chattanooga Shoeshine Boy" had high energy and the civil rights anthem "Eyes On The Prize" had driving passion. The J Gage/Jeanette McDermott collaboration "Metcalfe County" evoked autumn colors, sky and "harvest bounty."
Longtime drummer for the popular (and now defunct) Yer Girlfriend, Free showed great dexterity and experience on several instruments, keeping the beat and background going.
After Dad Gage's third broken string, hunkish Geoff soloed in Danish, playfully inviting us to join in, and turning some female heads. (Hearts?) Out of acoustic strings, John finished with Geoff's electric and stunned the house as his body language metamorphasised from folkie to cool jazz/r&b, a "plugged-in" persona unfamiliar to nearly all watching.
Eric harmonized as the night closed with Leadbelly's classic "Irene, Goodnight," appropriately bidding farewell to live Friday night music here, as this was the last concert. (They continue at other Hawley-Cooke locations.) The cafe setting put musicians "in your living room," as if friends were visiting and I'm glad I was at the reunion and farewell.