Front and Center: Robert French
By Victoria Moon
Trying to give a profile of Robert French in 1,000 words is a little like trying to sum up American history in a couple of paragraphs: pretty much impossible. French is a veritable music institution - founder and head of the Louisville Academy of Music since 1954, caretaker of one of the most extensive collections of local music memorabilia in the state of Kentucky and an accomplished musician and composer. Oh yes, and he's also a photographer.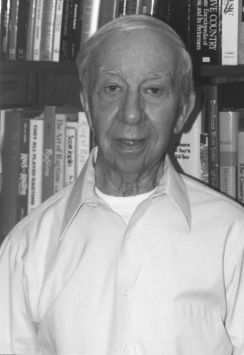 Bob French. Photo By Paul Moffett
Well, you get up in the morning and you have to dosomething," chuckled the 74-year-old dynamo during a recent conversation at the Academy, which also serves as his home. And something is right: French's home houses a collection of (at last count) 8,000 books and 14,000 records and boasts an astonishingly huge collection of original documentation of Louisville's music history.
Some of this documentation includes the meticulously kept personal papers of prominent local musicians such as Robert Crone and Roy Nolte, the entire back archives of the Kentucky Blues Society, and programs from several local arts organizations such as the Louisville Orchestra, Kentucky Opera and Actor's Theater that date back to their inception. How did such an extensive collection start? According to French, it started with an idea back in 1971.
One day...I realized [the archival] material needs to be collected or other wise it's going to get lost. It's just something where a thought comes to you, and you're not sure exactly why! So I began to think about it systematically and I drew up a questionnaire. And since in those days I was doing mimeographing."
I typed up my stencils and ran off the questionnaire and sent it to . . . over 900 people in Louisville who included everyone you could think of: public school musicians, the Louisville Orchestra, University people, etcetera. But, I have to say, the return was disappointing. People don't take the time to sit down and fill out a questionnaire unless they see something really urgent or something that will benefit them immediately. So, I took whatever came in and learned my lesson not to do that again!"
Instead, French started calling and visiting local musicians and interviewing them personally, painstakingly taking notes on each and creating a biographical profile. These profiles now take up a file cabinet or two in French's basement and are probably the most extensive profiles available on Louisville musicians anywhere which, as French pointed out to another interviewer withEncore magazine, is a very important thing.
There are thousands of people out here that make the music scene in Louisville operate on a day-to-day basis . . . and they all have memories and stories," he explains. And French doesn't limit himself to just collecting information on classical musicians and organizations, although the focus of his own work and the work of the Academy is mainly classical.
I'm interested in all types of music, whether it's classical or country or blues or rock or whatever it is because it's all part of the musical scene," he says. His varied musical interests are reflected not only in the musicians' profiles and files but also in his library of books, which are separated by musical style and stacked in floor to ceiling bookshelves outside his office.
French's collection isn't limited to simply books, papers and musical recordings either: if you take lessons at the Academy, you might get a chance to play one of French's vintage Steinways, including one from 1895. The whole Academy from basement to attic is a shrine to music in Louisville. And what does a busy archivist do in his spare time? In French's case, he runs a 48-year old music school that offers classes in just about everything ("it's easier for me to tell you what wedon't offer," he told me when I asked about the school's curriculum). The academy has presented over 1,200 programs and trained over 7,000 students, many of which have gone on to become members of major orchestras, chamber musicians, teachers and composers. There's even a rock musician or two floating around Louisville who if a former pupil of the academy. The academy focuses on classical training because French believes it is the best foundation for any musical style their students may branch into. "A number [of rock musicians] have started out on one instrument and have now gone into pop music," he relates, "if you can get the foundations of music correctly, then you can carry that into many different things".
Another aspect that has branched out of French's work as an archivist is his stint as a writer. He has written a chapter on performing arts in Kentucky for a state textbook as well as working on several articles on local music and musicians forThe Kentucky Encyclopedia and theLouisville Encyclopedia (currently in production). After reading an article in the paper about the encyclopedia, he contacted the editor who, impressed with French's knowledge of the arts, set him to work writing about topics as varied as the Louisville Youth Orchestra (which French helped found with Donald C. Murray in 1954), to the history of the "Happy Birthday" song, to the three recitals that legendary Jenny Lind sang here in Louisville in 1851. "[Jenny Lind's] promoter was P.T. Barnum," French reveals with a laugh, "so her concerts werewell-promoted!"
One might assume that with all French's work as resident musical historian, president of a busy music school, research and writing that he wouldn't have much time for the heart of his passion: the music itself. But French is an accomplished organist who has composed several classically-styled pieces as well as preparing orchestral arrangements for the Louisville Orchestra and teaching organ at the academy.
It's safe to say that Robert French is a one-man musical force in this city who has not only taken the time to establish his own musical talent but has nutured and preserved the talents of countless other musicians. He has kept a legacy that shows Louisville to be a town full of artists, composers, musicians and creativity - debunking the stereotypes so often portrayed when talking about this city. "I'm hoping to bring a lot of this [information about Louisville's musical heritage] out through [my work] because people are born and work and die and just kind of get lost in the shuffle," he says, "they're never the big names...but this is the sum of someone's life."