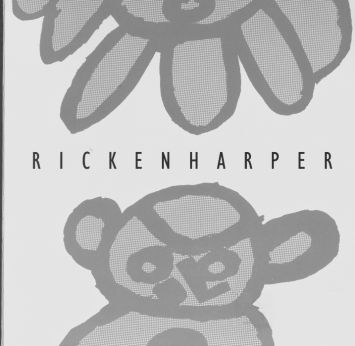 RickenHarper (Hi Variety)
Rick Harper
By Paul Moffett
This is the CD that Palace Brothers' Will Oldham might make if he lived to be forty. Finchville's Rick Harper isn't a Gen Xer but a Boomer, but that doesn't mean he can't document thezeitgeist as well as any twenty-something with a guitar and a bit of talent.
Almost everything about this CD screams "idiosyncratic," from the yellow-and-pink cover to thetwenty-five cuts on the CD; only thirteen of which are listed on the tray insert. Harper playsten instruments on this project, but still has a list of additional players who contributed to various songs, including Tim Krekel, who gets a co-writing credit on "Stumble Inn."
Nonetheless, put this one on your list of must-have Louisville projects. Harper has more than a little talent; he writes songs that can slide right onto the radio. Indeed, the infectious "When You Were," a back-handed love song, has been getting spins on the New 92. "One Too Many Lies" is a pure late Sixties pop tune with a very singable chorus and a Lennon-McCartney-esque bridge.
Harper has his share of good titles: "Knee High to a Nehi" is about working on the railroad; "Brand New Favorite Song" equates being in love and new music.
Ah, but the radio-ready tunes are just the shills. Harper is perfectly happy to reveal his past: in "Girl in the Nuthouse," Harper sings that he should've "gone for the girl I met in a nuthouse./ She was awfully pretty and, like me, not really crazy." "Cash Poor" details the consequences of an encounter with a "lawyer downtown."
Even better is "RFFR MN," a Kentucky-specific tune about the red Devil with the horns on coming into a bar and offering to make a deal: "I don't want your souls, I got billions of those. / I was told you would understand. / Just answer one question, answer one question: where can I find some RFFR, man?" The bar patrons tell him to "drink up that beer and get quick out of here, we don't know nothing 'bout no RFFR man."
He avoids the usual plight of solo performers: a deadly sameness of the music. Harper's not a one-trick pony; he mines all the pop music of the last thirty years or so for musical ideas, then twists them into shapes that are uniquely his. Echoes of tunes and bands abound, but none of them are copies. For instance, "South Florida" opens with a guitar riff, then an organ comes in underneath that evokes (without quoting outright) the Tee Set's "My Belle Ami."
Presumably, the history revealed in these tunes is autobiographical and it seems probable that he has been writing and re-writing these tunes for some time. Perhaps this CD representsall of his output. No matter: Harper has lived an American life in the second half of the Twentieth Century, and this long CD is the very respectable journal of that life. Go buy it and enjoy.