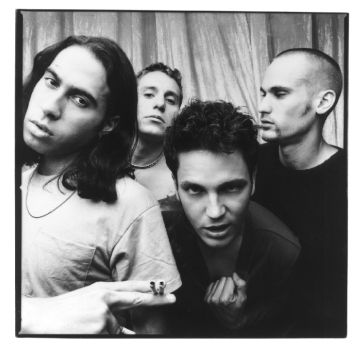 Third Eye Blind
Upcoming Live Music In February
Americana
On February 7, Rounder Records artistEllis Paul will perform at the Rudyard Kipling. No mention of any new albums, so just go and enjoy the this singer/songwriter on the way up.
Tix and info: 636-1311
Record companies use compilation CD s to show off their act.s It's an ancient idea, butGary Cornelius, owner of One Man Clapping Records, has taken the concept one step furthur: he's bringing those performers on his label to the Rudyard Kipling for a couple of Tuesdays in a row. One February 10, the lineup will beJim Roll,Brian Lillie andCornelius. The following Tuesday, February 17, it will beLisa Hunter,Chris Buhalis andJo Serrapere. All the artists have their own CDs, of course.
Tix and info: 636-1311
Rounder Records artistSlaid Cleaves will return to the Twice Told Coffeehouse on Sunday, February 8. He will be promoting his new CDNo Angel Knows, so take extra cash.
Tix and info:
Jamie Hartford, son ofJohn Harford, makes a mid-week stop at the Twice Told Coffeehouse on February 10 for an 8 p.m. show. Hartford has been making the rounds of the AAA circuit, including one recent appearance on "World Cafe."
Not-Generation-XianRick Harper will play some of the tunes from his recent CDRickenharper on Wednesday, February 11. The New 92 has been playing some of the songs. A deal at $2.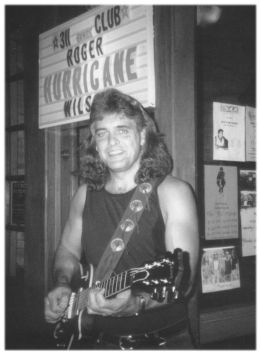 Roger "Hurricane" Wilson
Peter Mulvey must really like the TTC: he'll be back there on February 15 for a Sunday show. Who knows, he might run across Bardstown Road later and get in at the Sunday bluegrass jam at the Hideaway.
Misha Feigin is celebrating eight years in the U.S.A. This Russian singer/songwriter has a strong personal understanding of why everyone wants to come here: freedom. It shows in his songs and performances. He's not superstitious either: his show is on Friday the thirteenth at the TTC.
Chanteuse (and Louisville resident)Tanya Savory will have a CD release party at the TTC on February 20. (I'm looking forward to hearing her new CD.)
March 1 is a month out, but this is a show worth noting:Patty Griffin will give a concert at the Twice Told withStacey Earle andTroy Campbell that Sunday. And on March 7, bluegrasserPam Gadd will be there.
Choral
TheLouisville Chorus will present a Valentine dinner concert, "Unforgettable," on February 14, in the Rathskeller at the Seelbach. Reservations are required by February 11.
Tix and info: 968-6300
Christian
Plumb, the band that opened forJars of Clay in November, returns to the Kentuckiana on February 26, for a show at Northside Christian Church in New Albany. Also performing will be new actAlton Weaver andMuckala.
Tix and info: 812-945-8704
Country
After taking most of January off,Coyote's is back in the country music concert business in February with two shows. On February 5, WAMZ teams up with Coyote's to present Humble, Texas nativeDavid Kersh for free. Kersh's debut CD on Curb records isGoodnight Sweetheart; the first single from that CD has the same title.
On February 19,Sammy Kershaw will scoot on in to Coyote's. Kershaw's current Mercury Nashville CD,Labor of Love, is climbing Billboard's Country CD chart. After hitting with "Cadillac Style," Kershaw has put together a string of chart-topping hits in the country market, so the tickets for of the show will set you back $18 in advance, $20 day of show.
Tix and info: 589-3866
Pop
Tony Bennett will appear with the Louisville Orchestra for a Louisville Pops show at the Louisville Gardens on February 8.
Tix and info: 587-3800 or 587-8681
Over at Indiana University Southeast's Ogle Center, "The Ladies of the Pack" concert will feature two "Girl Groups" form the early Sixties, theMarvalettes ("Please Mr. Postman") and theShangri-las ("Leader of the Pack") on Saturday, February 7 at 2 and 8 p.m.
Tix and info: 812-941-2526
Valentine's Day Shows
TheLouisville Ballet will offer the Kentucky Fried Chicken-sponsoredShakespeare Love Fest, a collection of three ballets, February 12-14 at the Kentucky Center for the Arts. The series includesOthello, A Midsummer Night's Dream and a world premiere set to music inspired byThe Merchant of Venice.
Tix and info: 584-7777 or 583-2623.
The Midnight Ramble series will present "A Love Affair to Remember," featuring vocalistsChris Connor andFreddy Cole, younger brother ofNat Cole. Connor sang with many top groups in the '50s, including Stan Kenton's and Claude Thornhill's bands. At the former Macauley Theatre, now the Brown Theatre on February 14.
Tix and info: 584-7777
Urban
If "Urban" means black, does "suburban" mean lower than urban? Sigh. If you're talking achievement, then the inspirational groupTake 6, whose members all have darker-than-the-majority-population complexions, have to be in the running, with a total of seven Grammys, five Doves (Gospel Music Award), Downbeat's "Best Jazz Vocal Group" for four consecutive years, plus assorted other awards. The group will harmonize beautifully at the Palace on February 3.
Tix and info: 583-4555
Rock in Some of Its Forms
Todd Rundgren will demonstrate that he isNearly Human at the Brewery on February 10. Or maybe it will beTR-i, theArtist Formerly Known as Todd Rundgren. A quick check at various Rundgren websites reveals a considerably longer list of CDs than a non-Rundgren fan might have been aware of, includingOops, Wrong Planet! andWith a Twist.
Tix and info: 583-3420
Got a real need to express your anger, hostility and angst? Then see the Gainesville, Florida, band,Less Than Jake, whose music is defined as a combo of breakneck pop, punk guitars and ska-flavored horns, with hooks and whose boringly obscene song titles cannot be printed in a family magazine. At the Brewery (of course) February 7.
Then there is the Insane Clown Posse coming to the Brewery on February 4 and 5.
Tix and info: 583-3420
Edenstreet has a real, live CD out on A&M and now it's time to sell it. They'll be at the Butchertown on February 21.Gold Tooth Display opens.
Louisville'sKing King will no doubt have a beer or two before or during their show at the Bluegrass Brewing Company on February 21. Better catch them and see why it is that they have a much better reputation in other parts of the planet than in Louisville.
Tix and and info: 899-7070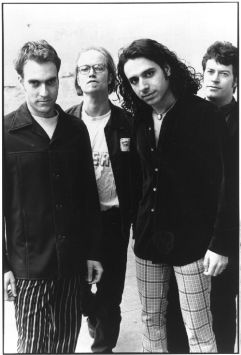 Moxy Fruvous
Moxy Fruvous has clearly decided that the Phoenix Hill Tavern is their Louisville home base, as they will be back for the second time since October on February 12.
Tix and info: 589-4957
Third Eye Blind andSmashMouth hit the Brewery on Friday, February 13. Let's see, a band whose chirpy hit song, "Semi-Charmed Life," is about sex and speed and a party band who sayFush You Mang. Hmm. Don't tell your anagrammatic parents and get your tickets early.
Tix and info: 583-3420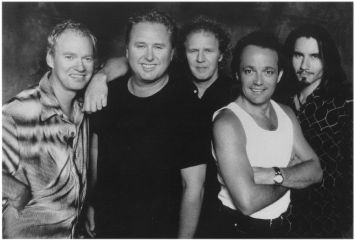 Loverboy
Downtown at Coyote's, majorLoverboy fan (and Coyoyte's publicist) Lynda Meland is thrilled that the band will return on February 10. The group even has a new CD,Six, reviewed in the January 1998 issue of LMN, so take extra money. Besdies that, they're really, really, really (almost) the original band - only one member change.
Tix and info: 589-3866
Heavy Medal demi-godsJudas Priest are kicking off a world tour with a month of warm-up dates in the U.S., including the toasty-warm Brewery on February 17. They have a new CDJugulator., to sell, so take extra cash.
Tix and info: 583-3420
Whiskeytown is one of the bands that benefited from appearing on the Rockin' at Riverpoints Festivals last summer. Their first appearance here in 1998 will be at the Phoenix Hill Tavern on February 26.
Tix and info: 589-4957
Opera
TheKentucky Opera will present Mozart's "The Magic Flute" at the Brown (Macauley) Theatre on February 7, 10, 13, &15. Read Henry C. Mayer's article on Page 13.
Tix and info: 584-7777
Swing
TheAtomic Fireballs andthe Swing Rays will redux a swing show at Jim Porter's Good Time Emporium on February 5.
Tix and info: 452-9532
Jazz
Do you like to mix jazz and fine art? Check out theSpeed Museum's After Hours at the Speed on the third Thurdays of the month, 6 p.m. until 9 p.m., featuring theJerry Tolson Trio The Museum will be open and there will be a cash bar.
The Louisville Jazz Society'sFirst Monday Series will present Kansas City'sKarrin Allyson Quartet on February 2 at the Comedy Club in the Mid-City Mall.
Tix and info: 459-5532
Jazz aficionados are in for their annual mid-winter feast in February at U of L'sJazz Week '98. Besides the assorted classes, workshops, etc.,Jazz Week '98 will present a series of concerts February 23 - February 28. Acts include theMichael Brecker Quintet, Vince DiMartino, Harry Pickens, Stanley Turrentine andDr. Billy Taylor. Dr. Billy Taylor is a frequent contributor to the CBS program,Sunday Morning, Turrentine is a legend of the tenor saxophone and the Harry Pickens concert will be a live recording session. Read Tim Roberts' column on page XXX for more information.
The Bank One Cabaret Party on February 22 will presentSteve Crews & Soundchaser in the Clark-Todd Hall at the KCA. It's an early show - 6 p.m. .
Tix and info: 584-7777
Chamber Music
The Ceruti Players will give a recital at the U of L School of Music on February 1, offering works by Beethoven, Saint-Saëns and Francis Polenc.
New Age
One word here: Yanni. Somebody you know well loves him madly. This time he has a symphony orchestra and even more spectacle. February 18 at Freedom Hall.
Tix and info: 361-3100