I've Got A Mind To Ramble
Ramblin' with Mary Ann
When we picked up Mary Ann Fisher at her current residence in the Puritan, I had no idea what musical odyssey lay ahead.
During an elegant dinner at Buck's (just around the corner in the Mayflower), we talked with Mary Ann about her recent, brief sojourn to New York City as she had her usual Scotch and milk. Larry Dexter's easy piano stylings foreshadowed an evening filled with keyboards.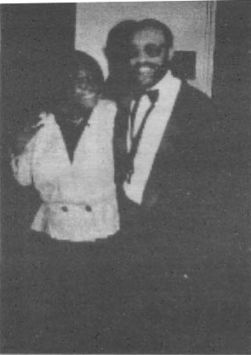 Mary Ann FIsher and Hank Crawford, backstage at the Midnight Ramble, December 6, 1997. Photo by Keith Clements
Next, we headed downtown for the "Midnight Ramble" concert with Jimmy McGriff and Hank Crawford. The theme for the evening was "Jamming at the Top Hat Club(tavern)." The Top Hat was the venue for jazz and blues during the 1950s. Walnut Street was then the heart and soul of the African-American community.
Our table was next to stage, providing for the intimacy of club like the Top Hat. Mary Ann was primed for the occasion, as she and Hank Crawford had worked together in Ray Charles' band in 1958, Fisher's last year as Charles' featured female vocalist, and they had kept in touch over the years.
Crawford started playing baritone sax with the group, then switched to alto sax, the instrument he plays today. He become Charles' music director, writing charts for the band as it grew into a big band that included David "Fat Head" Newman. During his six years on the road, the Raeletts arrived: Margie Hendrix, Darlene McRae, Pat Mosley and later Gwen Berry (Squatty Roo). All of the original Raeletts are gone, except Darlene McRae who is in the ministry in Newark, NJ.
The other headliner, Julliard-trained Jimmy McGriff, started out in Philadelphia, playing a variety of instruments. While working on the police force, he heard the organ being played in the clubs on his beat and was hooked. For the Midnight Ramble concert, McGriff played a vintage Hammond XB-2 organ, even though he usually plays a B-3.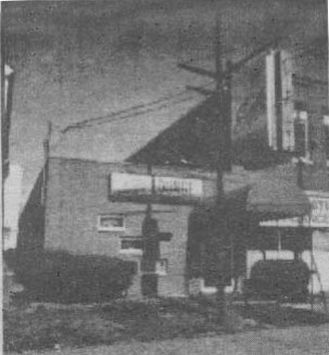 Syl's Lounge. Photo by Keith Clements
Down in front, the organ's deep resonance and driving force was more felt than heard. McGriff teased the audience with some of his wandering introductions to several of his bluesy numbers, which brought out much audience response and encouragement. Highlights of the first set included "Georgia On My Mind" and "Teach Me Tonight."
The guitarist, Wayne Boyd, was featured on several solos and some vocals like "I'm Easy Like Sunday Morning." His high-pitched voice was very effective on "Every Thing Must Change," coupled with scatting on his guitar, an Epiphone with a full tone which beautifully spanned the blues/jazz genres. Drummer Don Williams rounded on the quartet.
Early in the second set, Crawford acknowledged "Fish," Ray Charles' nickname for Mary Ann, for paying their dues together, then dedicated a number to her. Crawford can still blow and wail at 63 and he proved it on strong solos during blasts from the past like "Daddy's Home." After the show, he remarked that "I feel stronger now when I play than I ever did."
An encore included the Black National Anthem, which brought everyone to his/her feet. Ken Clay, the director of Cultural Diversity for the Center for the Arts, arranged for us to go backstage after the show so Mary Ann could meet McGriff and visit with Crawford. It was as though the hands of time had been turned back as we listened to the two of them reminiscing about their days with Ray Charles and catching up on who was still around and what they were doing. Mutual acquaintances like Al Hibbler and the recently deceased Arthur Prysock were mentioned.
As the night was still comparatively young, we drove down to Syl's Lounge at 24th and Broadway. On the way, Fisher pointed out the site of the Top Hat on Muhammad Ali between 12th and 13th Streets.
Mary Ann usually sits in with the house band, The Unit, at Syl's each Saturday and sings a few songs. The Unit that night was Curtis Watkins, organ and Bill Darden on keyboards, plus a drummer. Various singers got up and sang, including Mary Ann and John Howard.
The most unusual act of the night was a ventriloquist with his dummy "brother" Marty. Marty was about three feet tall and dressed in a zoot suit, chapeau and gold watch. With the ventriloquist kneeling next to his "brother," they sang several duets, while "Marty" did all sorts of Michael Jackson-esque gyrations.
As that was an impossible act to follow, we called it a night and went home.