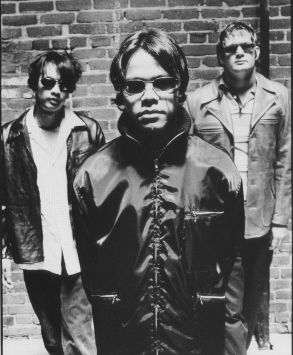 Ultraforever (BEC Recordings)
Fold Zandura
By Robert Gruber
A popular thing to do in Christian alternative music these days is to break up the band you're currently in, then reconfigure under a new name with a slightly different sound. Such is the case with Fold Zandura, who started out several years ago as the techno/industrial band Mortal. As they edged closer to more radio-friendly climes, they felt the need to re-identify themselves. Grafting elements of their aggro/techno past onto more straight-ahead pop structures, Fold Zandura has a very streamlined, 21st century stereophonic sound - pop radio for 2000 and beyond.
Jyro Xian, the architect for this new style, relies less on programming and more on electric guitar, hanging killer hooks onto the stylish battery of drummer Frank Lenz. Nevertheless, it is the atmospheric synthesized sweeps and flashes that take Fold Zandura an extra step further than mere power pop.
Lyrically, Jyro explores themes of love, friendship and God, using images of nature and space to flesh out his feelings: "Winter light folds the air and fills my eyes . . . I call on faith with arms stretched high...while the world is turning darkly, would you be the Earth beneath me?" (from "Everything"). Other songs, such as "Dark Divine" and "Jesus Eternal" explore the mystery and vastness of God, something that seems lost on lesser songwriters who seem to want to paint God into a very small box.