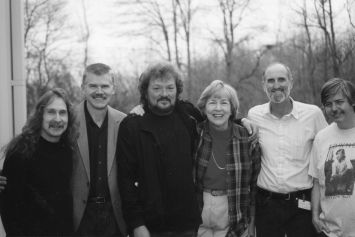 From left, Greg Martin, Early Meyers, Delaney Bramlett, Jean Metcalfe, Wally Stewart and Bill Ede
Scottsburg Puts Kids First
Delaney Bramlett, perhaps best known as half of the popular duo Delaney and Bonnie, came to Scottsburg, Indiana, on Nov. 28 to head up the entertainment for the 9th annual Kids First auction.
Performing besides Delaney were his wife Kim Carmel-Bramlett, Greg Martin (Kentucky HeadHunters), Jeff Guernsey (Vince Gill Band), Marvin Maxwell, event coordinator/MC Ed Amick, Rusty Bladen, Mike Clover, Brian Barger, and Louisville's Jimmy Brown, Bill Ede, Earl Meyers and Rachel Coogle.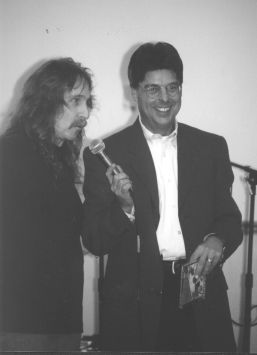 Greg Martin of the Kentucky Headhunters and MC Ed Amick
Scottsburg's Wally Stewart, who with Gardner Barger lined up the local and regional talent, was heartened by the donation of time, talent and items to be auctioned. (Shoes valued at $10,000 were provided by the Acton Company.) Stewart admitted that for him the most touching moment came when student council members from his hometown's William H. English Middle School signed to the song "Go Light Your World." The students, including Amick's daughter Sarah, were directed by Amick's sister, Lisa Morgan.
Televised live on Scottsburg's Falcon Cable TV, the benefit netted $31 thousand to buy coats and shoes for deserving children of Scott County, Indiana.
A welcome Christmas story.