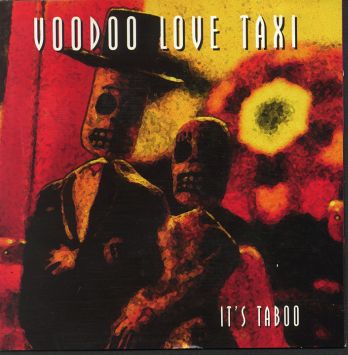 It's Taboo (Soul Gems)
Voodoo Love Taxi
By Paul Moffett
The proof that groove-heavy soul music sung by white guys has not vanished from the pop world is but a Voodoo Love Taxi ride away. With this new CD, VLT makes a strong statement that Days of the New is not the only Louisville band with national potential.
In fact, It's Taboo makes claims not only for the band but for the Louisville area as a maturing music-producing center, with Max Maxwell picking up both producing and recording credits and Big Head Productions handling the CD production. Only the final mix was handled out-of-state.
The ten tunes (plus one "bonus" track) on this disc range from R&B groove to soul rocker and back and that's just fine with this reviewer. "Who Do You Love?" kicks the CD off with sharp snare shots, rubbery bass lines, horns and the answer to the title question: "The Voodoo Love Taxi." I guess you could call it a "commercial" tune.
Love Me Down," a straight-forward love song, is in the tradition of R&B from years past: not much lyrically but infectious, particularly on the "Love me, love me, love me" refrain. "Open" is another "let's go to bed" tune, with horns. Persuasive if danced to.
On the first spin of this CD, "Wanna Sing" grabbed my attention, primarily because of an answering vocal line that instantly put me in mind of Sam "Shake" Anderson of Lovesauce and Soulbones. "Voodooface" is another commercial: "Do you do voodoo? We do?" has only one answer: grab that doll and shake it.
On "Sly Bones," the boys in the band get even sexier with their metaphors and similes and take further leave of any real sense of continuity in a lyric, wandering off instead into stream-of-consciousness. The funk keeps it all together, however, and the "Sly bones" line makes for a signature hook.
Riverbank" ever-so-slightly suggests Creedence and, though it is a good tune, is the slow spot by comparison with the rest of the material. Probably works great in the live show. "Two Nights" opens with an acoustic guitar line that flows right into the lyric, reinforced by the bass and salsa-esque percussion from Pat Watson. Kind of Nineties Carmen Miranda.
Always Wrong" and the bonus track "Jene" are more straight ahead rockers and close out the CD.
In many ways, this CD is a tribute to the early sense of rock and R&B: it's the groove that matters. The lyrics are just a reason to sing vocal parts. Although there are occasional interesting lines, you won't be singing these songs for the words, even if you could understand what they were. You'll be humming these tunes for those irresistible, hip-twitching melodies.
Because no one believes a reviewer who only praises an album, I offer this complaint: these guys should hire a proofreader next time, one who knows the difference between "your" and "you're."
Not much of a complaint, you say? That's because there's little to complain about with this album and lots to like.
Heck, some of these tunes are even getting airplay on commercial radio stations in this city. Can the millennium be that far away?