I've Got A Mind To Ramble
Nashville Sound
By the time you read this, Shannon Lawson and his bride Mandy will have made their move to Nashville in order to advance his multi-talented musical career. Shannon comes from a very musical family, all of whom play various instruments. Every time they gather, it usually turns into a jam session. Shannon's uncle, Glen, played with the bluegrass band Spectrum for many years.
Lawson has left quite an imprint on the regional musical scene with both his alternative bluegrass band The Galoots and the Shannon Lawson Blues Band. He has released three CDs with the Galoots, including the most recent Ham Days and is currently working on a demo tape with Tim Krekel.
His last performance as a Louisvillian was with his blues band at the 5th Annual MERF Blues and BBQ Cook-Off on June 14. His clear vocals and versatile guitar playing will be missed, but he still plans to divide his time between Louisville and Nashville.
Following the opening of Mike Pollard and Fred Wooten's Headliner Music Hall on July 4, Shannon will have gigs there on July 17 and September 25 and 26.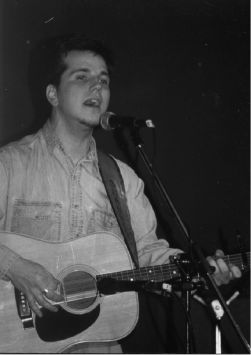 Shannon Lawson at the Coffeestop March 16, 1997
Shannon and Mandy, who used to work for Second Street Entertainment, felt that now was the time to make a career adjustment to get more involved with country music, songwriting and a solo career. Shannon plans to attend Nashville's Music Writer's Conference and will be playing at the Bluebird Cafe.
If you want to keep in touch with the Lawsons, write to them at: 4003 Murphy Rd., Nashville, TN 37209 or call 615-297-1733.
Blues on the Belle
Unfortunately, those great Friday night concerts held last year on the Waterfront, featuring the likes of James Peterson, Charlie Musselwhite, Saffire and Duke Robillard, will not take place again this summer. According to promoter John Grantz, they have been postponed until next year, due to high water and construction.
As an alternative, a series of Saturday Night Dance Blues Cruises is scheduled. Anne Jewell, publicist for the Belle, said there will be three cruises on the Belle, sponsored by the Public Radio Partnership.
The July 11 cruise will feature Steve Ferguson & the Midwest Creole Ensemble. Tim Krekel and the Groovebillies will play on August 4 and a national act to be announced will be the grand finale on September 12. The three-hour cruises will board at 7:30 p.m., with the float time from 8:30 p.m. to 11:30 p.m. Bring your dancing shoes and $12.50 for an evening of balmy breezes, hot blues and cold beer.
Melvin Taylor at Rosa's
This year's Chicago Blues Festival was one of the better festivals of its 15-year history. Since the evening shows in the Petrillo Band Shell are over around 9:30 p.m., this leaves the evenings free for going out and exploring the blues.
Rosa's, billed as Chicago's friendliest blues lounge, is located at 3420 W. Armitage. It is the home base for harmonica great Little Mack Simmons and Sugar Blue, plus guitar virtuoso Melvin Taylor. Several ears ago, I had seen Melvin at Rosa's and was just blown away. I was anxious to see and hear how his extraordinary guitar technique has developed. Melvin and his group The Slack Band had recently returned from an extended tour of Europe, where he is better known than he is in the U.S. outside of Chicago.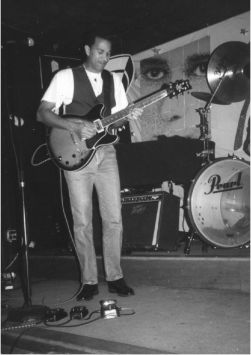 Melvin Taylor at Rosa's
Among blues and jazz guitar aficionados, he has become a phenomenon who has to be heard to be believed. During his two-hour set, his hands became a blue over the fretboard, producing more notes per second than you will ever hear from a guitar, but always under control.
There is a strong Jimi Hendrix influence in his playing, and he covered songs like "Red House." He drifted into jazzy instrumentals that sailed into the melodic stratosphere for ten minutes at a stretch before returning to earth with familiar closing chords. He transcended blues, rock and jazz in his set.
The Slack Band includes Ethan Farmer on bass and James Knowles on drums. These musicians get a physical workout keeping up with Taylor's frantic pace. Since Taylor prefers playing guitar using his array of effects pedals, Farmer covered the vocals on songs like "Cadillac Assembly Line."
Melvin Taylor's recent Evidence CD, Dirty Pool, is a keeper, but a live performance is a must if you get to Chicago.