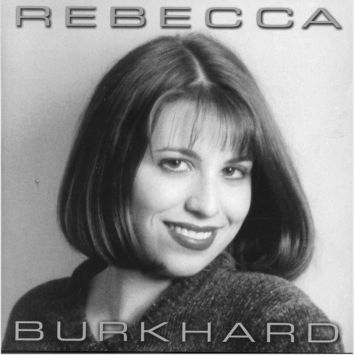 Rebecca Burkhard
Rebecca Burkhard
Rebecca Burkhard (Long Island Recording - Produced by Wil Freebody)
Recorded at Long Island Recording by Steve Nall
By Paul Moffett
This ten-song CD from Lexington/Louisville-based singer and television on-air personality Rebecca Burkhard features a mix of original tunes and pop chestnuts designed to shop this young woman to a record label. The challenge facing her is similar to the one Harry Connick Jr. confronted a while back: are smooth pop chanteuses going to succeed attitude-enhanced vocalists/songwriters like Alanis Morrissette and Ani De Franco?
Be that as it may, this is a pleasant enough listen, if your tastes run to late Streisand and middlish Nancy Wilson. Produced by Lexington-based Long Island Recording's Wil Freebody, the arrangements are not likely to offend anyone except Nelson Riddle purists. Burkhard credits her style to living down the road from Motown Studios in Detriot and a block away from Abbey Road Studios in London, although it's hard to hear the influences of either place, at least with respect to their most famous recordings. Mostly what comes through by the way of influences are mid-Fifties and early Sixties lounge lolli-pop, particularly on the choice of cover tunes ("Fever", "Since I Fell For You").
Her original material is more reminiscent of Jimmy Webb than the Beatles, more Bacharach than Jackie Wilson, with occasional near-quotes: "Leave a Light On" edges mighty close to "We Gotta Get Out of This Place." Not that there's anything wrong with that, of course.
But Burkhard sings well and writes in the style, so she may be out front of every body after all yet. Keep an ear out.