Cowboy Corner
Billy Ray Cyrus Makes Kentucky Proud
Flatwoods, Ky. boy Billy Ray Cyrus made the "Bluegrass State" proud on June 15 when he dominated the 32nd Annual TNN Music City News Country Awards by taking home a whopping five trophies. Nominated in six categories, long-legged Neal McCoy was the only artist who could stop Billy Ray as he was named Entertainer of the Year. Billy Ray's awards included Male Artist of the Year, Album of the Year for Cover To Cover, Single and Song of the Year for "It's All The Same To Me," and Video of the Year for "Three Little Words." He could attest that he has the best fans in country music as this is the only fan-nominated and fan-voted country music awards program.
Lorrie Morgan captured her fourth trophy for Female Artist of the Year, while Brooks & Dunn took home their sixth award for Vocal Duo/Group of the Year, and Sawyer Brown was named Vocal Band of the Year for the sixth year. Reba McEntire tearfully accepted this year's Minnie Pearl Award for outstanding humanitarianism. The red-headed superstar stated, "Of all the awards I've received, of all the people who have said, 'Reba, you have done good,' this is the one that means the most to me." And Grand Ole Opry legend Porter Wagoner was shocked as he was named the Living Legend.
The entire list of winners is as follows: Entertainer of the Year: Neal McCoy; Female Artist of the Year: Lorrie Morgan; Male Artist of the Year: Billy Ray Cyrus; Female Star of Tomorrow: Lee Ann Womack; and Male Star of Tomorrow: Trace Adkins.
Vocal Band of the Year: Sawyer Brown; Vocal Duo/Group of the Year: Brooks & Dunn; Album of the Year: Billy Ray Cyrus' Cover To Cover; Single of the Year: Billy Ray Cyrus' "It's All The Same To Me"; Vocal Collaboration of the Year: Anita Cochran and Steve Wariner's "What If I Said"; and Song of the Year: Billy Ray Cyrus' "It's All The Same To Me."
Video of the Year: Billy Ray Cyrus' "Three Little Words"; Comedian of the Year: Gary Chapman; Minnie Pearl Award: Reba McEntire; and Living Legend Award: Porter Wagoner.
Congratulations to Billy Ray and to all the winners!
Helen Carter: 1927 - 1998
Helen Carter Jones, a second-generation member of the country music pioneering family known simply as The Carter Family, passed away at Vanderbilt University Medical Center in Nashville on June 2. The eldest daughter of Mother Maybelle Carter and big sister to June Carter Cash, Helen quit touring in 1995 due to stomach cancer. Just last year, niece Carlene Carter held a benefit concert in her dear aunt's honor at Nashville's Wildhorse Saloon to help offset costly hospital bills incurred from her Aunt Helen's long illness. Brooks & Dunn also held a benefit concert for this legend back in May.
WAMZ Speedway Show: Wet But Successful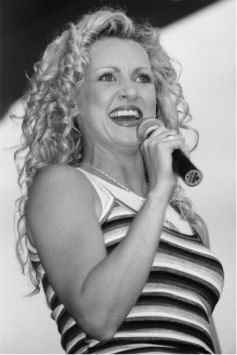 Mila Mason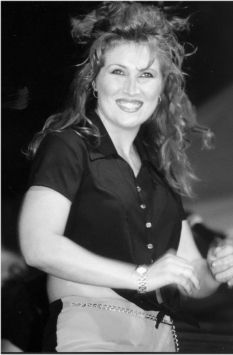 Jo Dee Messina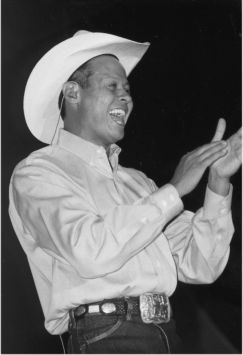 Neal McCoy
The WAMZ concert on June 6 was also a benefit for the Crusade for Children. Entertainers included, from top, Mila Mason, Dee Messian, and Neal McCoy. The show was delayed a bit by rain. Photos are by Letha Marshall
Helen and sisters June and Anita followed in their family's musical footsteps when they debuted as a trio in 1937, later joining The Carter Family. Once The Carter Family disbanded in 1943, the Carter women hit the road as Mother Maybelle and the Carter Sisters. Helen carried on the legend of their famous guitar-picking mother when Mother Maybelle passed away in 1978.
Helen is survived by Glenn Jackson Jones, her husband of 48 years, sons Danny, David, and Kenny Jones, and six grandchildren.
Steve Sanders: 1952 - 1998
The Oak Ridge Boys lost a former member just last month when 45-year-old Steve Sanders died of a self-inflicted gunshot wound to the head at his Cape Coral, Florida home on June 10. Upon receiving this tragic news, The Oaks said, "This is a terrible tragedy. We're all in shock and deeply saddened. Our prayers are with the entire family at this sad time."
Although Steve is best known for his eight-year tenure with The Oaks from 1987 - 1995, during which time he sang lead on #1 hits "Lucky Moon," "Gonna Take A Lot Of River," and "No Matter How High," he began his entertainment career at the ripe old age of five. Known as "Little Stevie Sanders," he began singing gospel music professionally and later moved to acting in a Broadway production of The Yearling, followed by television appearances on Gunsmoke, To Tell The Truth, The Ed Sullivan Show, and the movie Hurry Sundown.
Steve is survived by his second wife, Janet, and two children from his first marriage: Gaylea and Sevren Sanders.
Shania Twain To Roll Into Louisville
Louisville country music fans will never be the same following Shania Twain's July 8 stop at Freedom Hall right here in Derby City on her much-awaited first major tour. Shania promises fans a huge party which will include lots of music, dancing, and even audience participation. Fans can expect brand new hits such as "Don't Be Stupid (You Know I Love You)," "Love Gets Me Every Time," and "You're Still The One," as well as smash hits such as "Any Man Of Mine," "Whose Bed Have Your Boots Been Under," "You Win My Love," and "No One Needs To Know" from her record-breaking multiple-platinum selling second album, The Woman In Me.
The Judds: A Musical Trio?
Although Ashland, Kentucky's Naomi Judd has often referred to her youngest actress daughter Ashley Judd as "The Unsung Judd," she will now have to find a new name for her baby girl. Ashley finally broke the silence and sang with her mother and country music superstar older sister Wynonna during Fan Fair Week at Naomi's 2nd Annual Judd Family and Friends Celebrity Auction to benefit the Naomi Judd Research Fund for the American Liver Foundation. The trio joined harmony on a gospel number that Naomi says they learned in the bathroom.
The Judds welcomed several of their celebrity friends to the event, including Trace Adkins, Troy Aikman, Tom Arnold, Gary Chapman, Linda Davis, Deryl Dodd, Jeff Foxworthy, The Kinleys, Tracy Lawrence, Jo Dee Messina, Stella Parton, Steven Seagal, The Wilkinsons, and Chely Wright. The event raised over $75,000, thanks to fans who paid $6,500 for a day on a movie set with Ashley, $7,500 for a day on the road with Wynonna, and $1,500 for Naomi's long black mink coat, as well as thousands of dollars for memorabilia donated by celebrities such as Dolly Parton, Jay Leno, Kathie Lee Gifford, Lorrie Morgan, Ronald Reagan, Glen Campbell, Kenny Rogers, Travis Tritt, Kathy Mattea, Morgan Freeman, Patty Loveless, Arnold Schwarzenegger, Neil Diamond, Muhammad Ali, Whoopi Goldberg, and Linda Ronstadt.
Naomi is the national spokesperson for the American Liver Foundation and founded The Naomi Judd Research Fund in 1990 when she was diagnosed with chronic hepatitis C. For more information about hepatitis, you can call the American Liver Foundation at 1-888-443-7222.
Doug Stone Riding High
Country crooner Doug Stone is riding high these days for more reason than one. Besides the fact that he has a brand new single titled "Going Out Of My Mind" from the forthcoming album titled Tribute To Tradition, Doug is a brand new papa. Following his Fan Fair Fan Club Breakfast on June 17, Doug and his wife Beth headed to the hospital and welcomed the arrival of their 8 lb, 4 oz baby girl, Baily Rebecca Stone. He says that the little angel is "heaven sent" and that "she is just beautiful like her mother, and that she's already got my heart."
Country Music Marital Highs and Lows
It appears that Alan Jackson and his wife Denise's five-month separation has finally come to an end, on a high note. The happy couple, who are the proud parents of three daughters, plan to renew their wedding vows on their 19th wedding anniversary come December 15.
On a much sourer note, Canadian country music songbird Anne Murray and her husband of 23 years, Bill Langstroth, have separated. The two claim that they remain best friends and that they have no divorce plans scheduled.
Tammy Wynette Lives On
The "First Lady of Country Music," the late Tammy Wynette, lives on thanks to her everlasting music, and thanks to some of the biggest names in all genres of music. Artists such as Trisha Yearwood, Faith Hill, and Wynonna will join the likes of Melissa Etheridge and Elton John for a tribute album to be released in August or September. Elton will have tall boots to fill as he has recorded Tammy's signature tune, "Stand By Your Man." Also included on the album will be Tammy's very last recording, her rendition of The Beach Boys' "In My Room."
Kentucky State Fair Concert Tickets Go On Sale
Tickets for this year's hot Kentucky State Fair concerts will go on sale on Sat. morning, July 11 at the Freedom Hall Box Office at the Kentucky Fair & Exposition Center, as well as all TicketMaster outlets. Although the official concert line-up probably won't be announced until the first week of July, I have a sneaky suspicion that Bryan White, Vince Gill, Patty Loveless, Tim McGraw, LeAnn Rimes, Sawyer Brown, and Wynonna fans will probably be very eager to wait in line to purchase good tickets to see their favorite country artists.
I would suggest that you call the ticket outlet that you plan to purchase tickets at no later than July 10 to confirm ticket sales stipulations at that particular outlet (such as ticket limit, cash, check or charge, or cash only, etc.). For more information, you can call the Kentucky State Fair Hotline at (502) 367-5002, or TicketMaster at (502) 361-3100 or (800) 487-1212.
Well, that's it for this month. Always remember: "Keep your boots shined up and your hat on straight, 'cause country music is comin' your way."