Jerry Cantrell at The Toy Tiger
By Laura Spalding
The Toy Tiger has been home to quite a few big-name metal/hard rock acts here lately. One of these recent sold-out shows was on June 16 and featured Alice in Chains guitarist Jerry Cantrell, who is touring in support of his solo release Boggy Depot.
Besides being an extremely good guitarist, Cantrell has quite an impressive voice, which he proved on this night at the Tiger. He also has a couple of well-known and talented players in his band, including Alice in Chains bandmate and drummer Sean Kinney, plus guitarist Chris DeGarmo from Queensryche.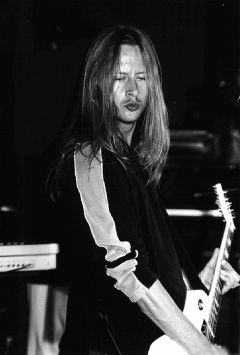 Jerry Cantrell. Photo by Pete Strojny
While Cantrell did quite a bit of material from his solo album, the crowd seemed to respond best to the Alice in Chains tunes that were included in the set, such as the opening tune "No Excuses," from AIC's CD Jar of Flies.
Some other well-known AIC tunes included "Them Bones," and "Got Me Wrong" and the eerie, folky sounding "Brother" from the 1992 EP "Sap."
Cantrell's new material is similar to Alice in Chain but still comes away with its own identity. The radio friendly "Cut You In" got a great response and left the crowd begging for an encore, with which the band was glad to oblige.
The final song of the night was an unexpected cover – Pink Floyd's "Dark Side of the Moon" – which was done very well.
Jerry Cantrell seems to be destined for success whether he goes solo or remains a part of Alice in Chains. Either way-I don't think he'll have any problems playing to sold-out crowds.