Calling All Celts!!!
Drowsy Maggie wakes at the Rudyard Kipling on Friday, July 21, 8:30 to 10:30 to celebrate the return of keyboard/recorder player Richard Johnson from Europe. Having been wed only this past May, DM singer Debbie Singery (f/k/a Webb) will no doubt be in fine voice. Rock has it on good information that Jerry Ford will be offering a new song. All are sufficient reasons to call Ken Pyle (one of Rock's fathers) at the Rud at 636-1311 for reservations. All manner of Celts will enjoy the show. Perhaps fiddler Roz Carothers will dye her hair green again and kick your butt with her fiddle?
Ceili Rain
Skip Cleavinger may be a native of Bowling Green, KY but he got his first bagpipe lessons in Louisville from the hlegendary William H. (Bill) Wallace, may his soul rest in peace. Skip, so legend has it, took to the pipes "like a duck ..." and once played with the precursor to what is now the Louisville Pipe Band, eventually returning periodically on retainer as a piping instructor. After resettling in Bowling Green, he joined the line of the Capitol City Pipe Band, a grade I band based in Washington, D.C. Most recently he has become a member of a Nashville-based septet called Ceili Rain. The group was quite favorably reviewed by Earle Hitchner in the June 10 issue of the Irish Echo newspaper for their club gig at the Town Crier Cafe in Pawling, NY.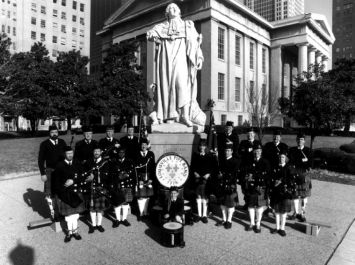 Louisville Pipe Band
Skip could have fronted any Celtic band in the region but has added his prodigious piping and whistle skills to the group, which includes three-time All-Ireland button accordion champion Buddy Connolly, a native of New Jersey, and former Lyle Lovett fiddler Gretchen Priest. Electric guitar, bass and drums complete the sound of a band ready for stadium gigs. Surely Kentucky music festival organizers will bring them to the Bluegrass and the sooner the better.
Guest of the Louisville Irish Fest
This is one of Rock's favorite subjects. Musicians from Columbus / Dayton / Cincinnati have always been strongly represented at LIF, including Silver Arm, Fannigan's Isle, Inisheer, Changeling, Ten Strike, etc. A new configuration has emerged from that scene in the form of The Gabriel Hounds, whose recently released CD, Wild Hunt, was reviewed in Irish Music magazine. Although based in Bray, County Wicklow, the publication increasingly informs its readers of Celtic music around the globe. The disc was described as having "excitement, joy and freshness which is infectious." Kudos to our buckeye buddies, who are making us Yanks proud by the music. May they see River City again soon.
The Rudyard Kipling Session
The first Friday of every month is a nice scene at the Rudyard with old and new celtoids appearing, including an always-strong group from Lexington. In fact, as far as Rock is concerned, if only Dan Cummins and Beverly Buchannan showed up, it would be a full night of music. Mark Cannon of Ten Penny Bit fame always makes the music strong, so that any others, welcome as they are, only serve as frosting on an already wonderful musical cake.
Have You Seen the Thane of Cawdow Recently?
He, along with Macbeth and Macbeth's murderous, upwardly mobile wife, take the stage at this year's Kentucky Shakespeare Festival production at the Zoo, Clifton Center and Central Park. Central Park's July 11, 7:30 p.m., spectacular finale will include The Scottish Society of Louisville in full medieval regalia as well as a parade and concert by the Louisville Pipe Band. All Celts and high school diploma holders will be able to appreciate this cautionary tale of murder and intrigue (actually, Will also wrote for non diploma holders).
Celts in Corydon
The Old State Capitol Music Series, on Fridays at 7:30 p.m., will feature Louisville's own Galloglas along with special bagpiping and stepdancing guests on July 31. Admission is free but you will want to bring your own lawn chair, blanket or fat bum to sit on, since the music is presented from a gazebo on the grounds of the wonderfully preserved, original state capitol of Indiana.
Further the Affiant Sayeth Not