Dio at The Toy Tiger
By Laura Spalding
Ronnie James Dio, the godfather of metal, recently graced Louisville with his presence, playing a sold-out show on June 13 at The Toy Tiger.
Dio and his cohorts - longtime drummer Vinny Appice, guitarist Tracy G, plus a bassist and keyboardist they did not identify - are touring in support of Inferno: Last in Live, a recently released double-CD set that was recorded at various places along the "Angry Machines" World Tour.
Even if you've seen Dio many times, the powerful voice and raging music never cease to amaze. Ronnie James Dio has a one-of-a-kind voice: very strong and clear. No screaming or death growls here, but it fits this style of music well and sounded especially good on this night.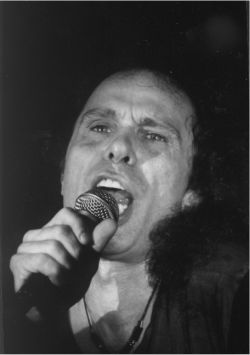 Ronnie James Dio. Photo by Angelina Horan Diebold
Many classic and newer songs were done, including-the opening tune "Straight through the Heart." "Don't talk to Strangers," "Shame on the Night," "Heaven and Hell," "We Rock" and, of course, the definite crowd-pleaser classics, "Rainbow in the Dark" and "Holy Diver" followed. Surprisingly, the old Black Sabbath tune "Mob Rules" was not included in this show.
As always, Dio put on an awesome show, leaving the crowd chanting for more and waiting for the next time that the show comes our way.
Love/Hate, who had a fairly popular tune in the early nineties with "Black Out in the Red Room," opened the show, along with local band Noize Bucket (formerly Dancin' with Manson).
Both did an excellent job of warming up the crowd for Dio.