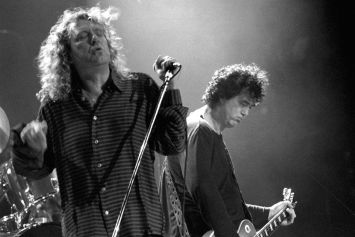 Robert Plant left, and Jimmy Page
Jimmy Page & Robert Plant: Stunning New Album, High-Flying Tour
By R. Hunt Sidway
At first glance, Walking Into Clarksdale, the first full collection of new songs from Jimmy Page and Robert Plant since Led Zeppelin's In Through The Out Door nearly twenty years ago, seems unusually minimalist in its approach. The deceptively simple layout and packaging opens to reveal a sparse recording: guitar, bass and drums, occasionally augmented with keyboards and strings. Indeed, a couple of tracks were recorded live, with Page not even adding his renowned overdubs, just so that spare, open atmosphere could be preserved.
The shimmering opening number, "Shining In The Light," has a similar texture to "Over The Hills And Far Away," and is easily recognized as a Page/Plant song. From there, however, these veteran craftsmen embark on an often unpredictable ride into new musical territory. Low, plaintive shades of blue explode into crescendos of red-hot fury and angst. Drummer Michael Lee and bassist Charlie Jones (who have been with Plant since his solo days and formed the core of the "No Quarter/UnLedded" band) lay down an insistent, urgent groove, whether on the softer phrases or the manic pulses that punctuate the album. (Indeed, Lee and Jones' contribution to the project cannot be overstated; they share in the songwriting credits, and judging from the onstage chemistry, are really close to both Plant and Page.)
Several of the new numbers work especially well in concert, where the band can really play with the dynamics. Songs like "When The World Was Young" and "Heart In Your Hand" ebb and flow, provoking moods from the wild to the wistful, from the somber to the celebratory. Page's guitar work is deft and eclectic throughout, drawing from his vast reservoir of influences to offer up some surprising gems. His sparkling solo in "Blue Train," even with the occasional sloppiness, is delightful, while his Texas-feel riff in "Heart In Your Hand" just makes your heart ache. Flashes of classic Page soloing are few, which only accentuates the stylistic stretches he employs elsewhere. In "When I Was A Child," for instance, Page eschews a traditional guitar lead during the break, preferring instead a delicate reworking of the verse, with the guitar and amp cranked all the way, gently picking and strumming the rich jazz chords, so as to keep the sustained tone just below the point where it would break up. It's an incredibly subtle, beautiful moment, so much so that you might miss it if you're not into the music itself. Engineer Steve Albini (noted for his work with Nirvana, Bush and P. J. Harvey) explores and translates these nuances just as effectively as he does the thunderous power chords elsewhere on the recording.
Lyrically, Robert Plant once again proves himself the poet laureate of the hippie-rock era. To his credit, it doesn't sound at all dated. Many of the themes he works with are quite poignant, laced with regret and longing: "Once I was a soldier, in my castle strong; oh I stood so tall then, I could do no wrong ..." You feel for and with him as he pines for the freedom and confidence of youth in "When I was A Child." Or in "Blue Train," where he laments, "Love's true flame dies, without the warmth of your sun." Elsewhere, he is just simply having a great time, as in "Please Read The Letter," with its Roy Orbison-flavored hook and harmonies.
Then there is the Arabic onslaught of "Most High," a sarcastic attack on Christianity, and a plea to some higher power: "To the light where my spirit was born, bring this wanderer home." For those familiar with the dark rumors which swirled around Led Zeppelin in their hey-day, this will sound like an obvious renewal of that purported deal, with Page and Plant not just getting a new lease on life, but perhaps bartering for a second mortgage on their souls.
"Walking Into Clarksdale," the title track, seems to confront this very issue, speaking of a "stranger at the crossroads, believe I've seen this face before," and the hollow confidence of the tag line, "Oh Momma, don't cry for me." This all combines to form a rich, subtle, atmospheric recording, with a broad range of shadows and light, the hallmark of Page's almost magical composition and production gifts.
Judging from the sell-out crowd at Market Square in Indianapolis on June 9, the magic is still quite potent. So is the music. Roaring through the opening numbers like a freight train, Page, Plant and Jones and Lee really rocked the place. "Night Flight," "Bring It On Home" and "Heartbreaker" were fast, furious, fun, and especially tight. These guys were having a great time, and the crowd instantly responded. Easily working in the new material, Page and Plant continued to develop the musical threads from the album. Recorded in only 36 days, so as to preserve the freshness and spontaneity of the fledgling songs, Walking Into Clarksdale live crackles with excitement. Indeed, as rehearsed as Robert Plant's stage patter may be, he couldn't disguise his pride over the new numbers, even teasing the audience with his introductions. "Do you remember a song of hope?" he innocently asked the expectant crowd, who believed for a moment they would be treated to a rare performance of "Stairway to Heaven."
"Well, this is a new song of hope ..." he continued, as the band launched into "Shining In The Light." Later, Plant very pointedly slowed things down, and having gained the quiet attention of the throng, introduced "Heart In Your Hand" as representing a "very different musical direction for us." Near the end of the evening, "Most High" debuted to a huge ovation, the faithful no doubt glad to hear their heroes on the airwaves with a hit single once again.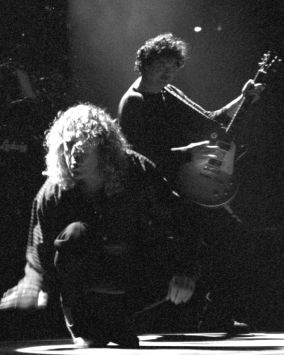 Page was in fine form, even teasing the audience himself at the end of "Babe I'm Gonna Leave You," replacing (as he had done on much of the '95 World Tour) the descending chord arrangement from Led Zeppelin I with the opening bars of "Stairway." Other surprises included "How Many More Times," with a couple of verses from "Down By The Seaside" during the break, and "Going To California," which was met with thousands of bic-lighters, placing Page and Plant at the vortex of a bright, swaying galaxy of heartfelt fans.
Plant's defining moment came during "How Many More Times," when he offered up the blues, a capella no less, the improvisational rivers of thirty-plus years flowing out of him in first a whispering wind, then a wailing torrent, sweeping all away in a vicarious, cathartic epiphany of suffering and deliverance. The light dawned for this reviewer, that here is one of the premier vocal stylists of the modern age, all rock-star posturing aside, no backup, no studio effects, just raw, soulful, heart-rending emotion ... You could have heard a damn pin drop in that huge auditorium!
And, like the proverbial icing on the cake, to everyone's delight and amazement, Jimmy Page "the sorcerer" even conjured up spirits from the past with his trademark violin-bow solo during "How Many More Times", and theramin sonic-wave break in the middle of "Whole Lotta Love." ... Just like old times ...
Of course, a lot of things have changed from the days of Led Zeppelin. This was, amazingly, an "all-ages" show, with parents bringing their kids, some as young as 10, and in attire ranging from grunge to formal-wear. Tour souvenirs now include coffee cups for middle-agers and mouse pads for Generation-X'ers.
But the most telling difference was near the end of the show. As Robert Plant introduced the last song, "Whole Lotta Love," nearly everyone not already standing rose to their feet in unison. As I stood in my section near the back of Market Square Arena, I paused to look around, thinking how the clock had been turned back for so many of us. Just then, I felt a tug on my shirt-tail. I turned to see a woman in her mid-thirties with her date. She abruptly asked me to sit down! At a ROCK CONCERT! WITH JIMMY PAGE AND ROBERT PLANT! It was then I noticed that out of 20,000 people, this small section of fifty or so around me were the only ones still seated. Stunned and angry, I sat down until the closing chords, when I rose again to my feet, cheering for an encore. When Page, Plant, et al finally returned to the stage, I turned to my tormentors behind me and asked, "This is the encore -- Do you mind if I stand now?" They were shocked, and obviously clueless, and I felt like asking to see their tickets, to make sure they were at the right show.
Bold and adventurous in their new album, but savvy enough to give the faithful what they want at their concerts; this is the new, rejuvenated Jimmy Page and Robert Plant. Clean, sober, and full of energy and music, these rock icons remind us of what they have done throughout their career: at Led Zeppelin's best, they created music that transcended the rock genre to qualify as true art. And now, especially, they continue to celebrate that wondrous past, even as they chart a new and vital future course together. New songs of hope indeed.