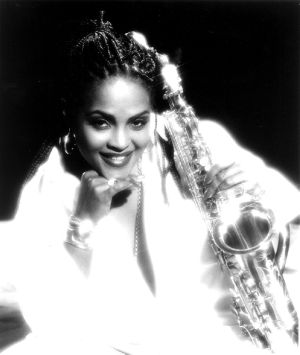 Pamela Williams - Eight Days Of Ecstasy
Eight Days Of Ecstasy (Heads Up)
Pamela Williams
By Keith H. Brown
When I got on the internet to research this album, I punched in the name "Pamela Williams" on a search engine. I received a bunch of unrelated entries. When I clicked on "Pamela Williams, Jazz" dozens of entries popped up. Judging from the music contained on the disc, that's false advertising.
Not that there's anything wrong with the music. It's just that this ain't my definition of jazz. Williams, whose first album, Saxtress, was a minor sensation last year (in terms of sales) is a competent saxophone player, but her work fits in that weird genre of players who look fabulous on stage and often perform with pop acts (her first big break was with Patti Labelle). It's kinda like that sax guy with the long hair and gyrating hips who used to play with Tina Turner. And well, yeah – she's hot, alright. The cover art has no fewer than six shots of Williams half nekkid, showing off her ample physical attributes. Of course, this makes it harder to take the music seriously.
What Eight Days offers is light, quiet storm type music. There are the obligatory covers: an uninspired run through of Al Green's "Still In Love" (complete with vocals) and a particularly lame Natalie Cole tribute, "I've Got Love On My Mind." The originals, which sport goofy titles like "Love In The Afternoon" and "Escape To Paradise" sound like watered down Kenny G. Which is a shame, because Williams does show some jazz chops here and there. She has the potential to make a decent recording if she were to lose the synthesizers and, well, put some clothes on.