Upcoming Live Music
By Paul Moffett
July usually brings hot weather and hot acts to Louisville. This year is no exception; indeed, there may be more hot music than hot weather.
Americana
• Alejandro Escovedo was at the Twice Told in April for $10. This time, it'll cost you $14 and you have to go to the Phoenix Hill Tavern. Of course, you get Steve Forbert as well, so it's really a cheaper ticket. However much the ticket, Escovedo gets big raves for his songwriting, with comparisons to Van Zandt, Waits and Cohen. Guess that makes him a cult figure with an alcohol problem.
Tix and info: 589-4957
• The 5th Annual Master Musicians Festival in Somerset, KY features Mark O'Connor, Psychograss, The Burns Sisters, plus local and regional acts. The Festival runs July 16-18.
Tix and info: 1-888-FUN-JULY
• Columbia, S. C. native Tanya Savory will play at the Vine Gallery on July 24.
Tix and info: 587-0106
Bluegrass
• Bluegrass is best when it happens at an outdoor festival. Check Berk Bryant's column on page 8 for his list of "Bluegrass to Go."
Of particular local note is the Old Joe Clark Festival held over the Fourth of July weekend at Renfro Valley.
Tix and info: 1-800-765-7464
• The Nashville Bluegrass Band will pick a little at the Bluegrass Brewing Company on July 10. This show is just a "comin' home" show of sorts, particularly with the Galoots opening.
Tix and info: 899-7070
Blues
• It's a "Big" Wednesdays month at Stevie Ray's, with Big Joe Turner & his Memphis Blues Caravan on July 1; Big Jack Johnson & the Oilers on the 8th; and Big Al & the Heavyweights on the 29th.
There are also a couple of Monday concerts at SR's: Mike Morgan & the Crawl will play on July 13 and Tommy Castro does the blues on the 2oth
Christian
• You'll have to get up to King's Island for the best collection of Christian acts this year. The Spirit Song Festival, featuring DC Talk, Steven Curtis Chapman, God's Property, Caedmon's Call and the Supertones, will run on July 10 and July 11, from 1 p.m. - 10 p.m.
Tix and info: 800-288-0808
Country
Shania Twain
• Shania Twain, Shania Twain, all the boys go soft in the brain. Well, soft is not what happens and it's another part of the body but that doesn't rhyme. Be that as it may, the country cutey beauty brings her tour to Freedom Hall on July 8. They'll have to turn the AC up for this one. If you don't win tickets, you'll just hafta buy some and at $32.50, $27.50 and $20, winning a pair looks like a great idea.
Tix and info: 561-3100
• Keith Harling will follow his hit "Papa Bear" into Coyote's on July 30 for a free WAMZ Show. You need to pick up a free ticket, however, or else it'll cost you a fiver.
Tix and info: 589-3866
Folk
• It doesn't get any more folk music than at the Kentucky Music Weekend, this year scheduled for July 24 - 26 at the Iroquois Amphitheater. This year, the 23rd for the event, will present folk performers from all around the US. One of the acts will no doubt by Kentucky Standard, Nancy Barker Johnson's group. Other acts will be named by the time of the event.
Jazz
• Jamey Aebersold's Summer Jazz Workshop '98 will be held at U of L in July and on Wednesday, July 8, the instructors will all retire to Masterson's Food and Drink and blow, courtesy of the Louisville Jazz Society. There are three different groups scheduled: check the calendar for the lineup of each group. Suffice it to say that each one is an all-star group.
• The Louisville Jazz Festival is set for July 17-18 at the Water Tower.
Musicals
• Derby Dinner Playhouse in Clarksville is staging "The Sound Of Music" through August 9.
Tix and info: 812-288-8281
• The Broadway smash mega-monster, super-dooper phenom musical Rent is scheduled for sixteen performances at the KCA July 14 through July 26.
Tix and info: 584-7777
Orchestral
Patriotic
• The Louisville Orchestra will kick off the Independence day with a 5th/3rd Band Roarchestra concert "Star Spangled Extravanganza" at the zoo, with the Derby City Strings opening, followed by the Master's Men Choir, followed by the LO doing a lot of patriotic tunes.
Rock
• "Elvis" will be at the 5th/3rd Bank Roarchestra on July 11. Caribe will open, then the Louisville Orchestra will play some popular movie themes and then you get Elvis Wade and the Original Jordanaires with -- guess what -- Elvis songs.
• There may be a Horse with No Name but the band has one: America, and the remaining two members of the original group, Gerry Beckley and Dewey Bunnell), will be at the Louisville Zoo on July 18. They even have a new album, Human Nature, they'll sell you.
R&B
• The last "Roarchestra" show, on July 25, will feature the smooth vocalizing of Peabo Bryson.
Tix and info: 568-1111
Pop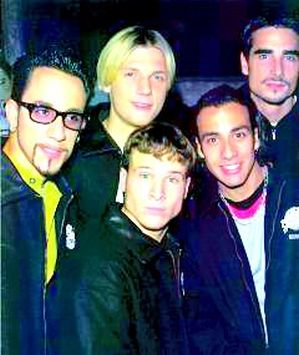 Backstreet Boys
• The Backstreet Boys will bring their internationally famous harmonies to Freedom Hall on July 25. For a couple of these guys, this is just a chance to get close enough to Lexington to run down and see the folks. We won't begrudge them a side journey as long as they sing prettyly.
Tix and info: 361-3100
Rock
• Bonnie Raitt and John Hammond will be at the KCA on July 1 but you're too late -- it's already sold out.
• Stabbing Westward was last in town a couple of years ago, when Wither, Blister, Burn, and Peel was new. Now they have a new CD, Darkest Days, produced by Dave Jerden, producer of Alice in Chain and Jane's Addiction. They're touring with God Lives Underwater, makers of organic electronic music for the space age, and they'll stop at the Thunderdome on July 2 for the kickoff of the July 4 weekend. Tickets are $10 in advance, $12 day of show.
Tix and info: 361-3100
• The 4th of July Weekend is generally the official / unofficial (who decides these things?) kickoff of the summer festival season and that means that the Waterside Festival at the Water Tower is happening. While the folks running that art and music show have decided to focus more on the art and less on the music, there'll still be some local acts to entertain you.
• If the heat isn't just too oppressive, you can catch a twin bill of Sixties acts on July 4 at the New Albany Riverfront Amphitheater. Gary Puckett of Union Gap fan and the Grassroots will perform. Appropriately, the hippie-ish 100 Acre Wood boys will open.
• The Lillith Fair will be at Deer Creek in Indy on July 4. This year the lineup is Sarah McLachlan, Indigo Girls, Natalie Merchant, Sinead O'Connor and Me'Shell Ndegeocello. Tickets are $46.50, $36.50 and $24 on the lawn. Bring your own chair.
Tix and info: 317-239-5151
• If you want to stay inside on the 4th, scoot to the Bluegrass Brewing Company for some Mojo Nixon lunacy. Maybe he'll sing "Debbie Gibson is Pregnant With My Two-Headed Love Child." Or not.
• If by Monday, July 5, you're still in need of some old-time rock 'n' roll, then scoot to the Louisville Speedway for the WQMF Summer Jam '98, featuring Heart, Loverboy, Bad Company and the Georgia Satellites.
Tix and info: 899-7070
• Clutch and Phunk Junkees team up for a July 10 show at the Thunderdome. Clutch has a relatively new album, The Elephant Riders, to promote and since they like KFC chicken, maybe they can go out to the headquarters and get a tour. The Phunk Junkees also have a new CD, Injected, so they want you to come with extra cash, too.
Tix and info: 361-3100
• The winner for the "Absolute Maximum Lou-a-vul" show has to be the Belle of Louisville cruise on July 11 with Steve Ferguson and the Midwest Creole Ensemble. Fergie will actually play before midnight. He has to, the cruise ends at 11:30 p.m. (I didn't think he ever picked up a guitar that early in the evening.) Anyway, all you old rockers, this is your chance to hear him before your regular bedtime. And on the Belle. Couldn't be any better unless the boat were to dock at the ghost of Fontaine Ferry Park.
Tix and info: 361-3100
• Does Richard Thompson fall under the category of Rock or Triple A? A conundrum like that isn't really a problem: all you have to do is go see the guitar god of English folk rock and decide for yourself. Already, LMN writers have begun to barrage the editor with requests to cover the show, if that's any indication. To top it all, cult rocker Paul K will open the evening. Can you stand it? At the Phoenix Hill on July 12.
Tix and info: 489-4957
• About the time you've recovered some sleep form the Thompson show, longtime alterna rockers The Connells hit the Phoenix Hill Tavern, on Tuesday, July 14. They have a new CD, Still Life, so fans should bring extra cash.
Tix and info: 589-4947
•• For the metal heads among you, July is a banquet. On July 17, New York noise rockers Unsane plus Today is the Day make a twosome at the Toy Tiger. Now that Chris Spencer, singer/guitarist for the Unsane, has recovered from emergency surgery resulting from a brawl, the band will be promoting their aptly titled Occupational Hazard. Today Is the Day specializes in titles to offend and, presumably, lyrics to match. Tickets are 8/10 to risk your ears and health.
• On July 21, Little Feat will walk into Coyote's and do those great old and new tunes, courtesy of WQMF. Lexington guitar wizard Kelly Richey and her band will open.
• On July 22, death metal proponents Six Feet Under will be on the Warpath with their coffins at the Toy Tiger. Can't help but wonder why they don't take their own advice . . .
Tix and info: 456-1137
• Despite their name, Megadeath hasn't passed from the scene. They continue with their cryptic writing, which they'll bring to the Brewery on July 24 for an 8 p.m. show. Tickets are a mere $22.50.
Tix and info: 361-3100
• The British Rock Orchestra with Roger Daltry will perform with the Louisville Orchestra on July 24 at Louisville Gardens. The former Who vocalist will sing material by many different British rock musicians, including the Beatles, the Stones, the Who, Pink Floyd and others.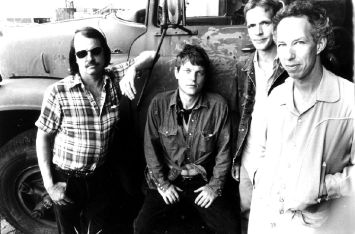 Bodeco
• Ricky Feather has apparently decided that he's over his brush with fame and has reassembled Bodeco. The band will do their first show in a very long time at the Mercury Paw on July 25.
Tix and info: 587-6999
• Crank up the old family tank and aim for Lexington on July 29, when Rickie Lee Jones will be appearing at the Kentucky Theater. It's an 8 o'clock show for all you over-the-hill types, presented by the Troubadour Concert Series.
Tix and info: 606-255-5700
• Big Bad Voodoo Daddy will make their first stop in Louisville at Jillian's on July 26. You say you've never heard of these purveyors of Daddy-o swing? They're big in Chicago and West Lafayette, so once more, Louisville is just behind the times.
Tix and info: 589-9090
World Music
• If you never really noticed the music that your favorite Arabian dancer was moving to, here's your chance to hear some "live." Down from Bloomington, the group is called Salaam (Arabic for "peace") and they'll be performing at the Rudyard Kipling on July 3 at 9:30 p.m. Admission is a mere $5 and you get some dancing along with the music. Please pay attention.
Tix and info: 636-1311