Down On The Corner
• Misha Feigin is off on a six-week tour in Europe, with stops in Zurich Switzerland, Sweden, Germany (Dresden), Copenhagen, Guteborg and Oslo. He says he's learning German to go with his Russian and English. His CD release party was great, with seven additional musicians sitting in.
• Local music business attorney Susan Schneider and husband Marty Whitley have a new baby daughter, Alexandria Susan Whitley, born January 22, 1998.
• Lexington folksinger Michael Johnathon has put together the WoodSongs Old-Time Radio Hour, an Americana music-news-interview program presenting old and new music from an artist's point of view. Johnathan is the host and the show is set for broadcast by the World Radio Syndication network. The first show was taped at the Planent III Recording Studios in Lexington on May 18.
• Oops Dept. In the April issue of Louisville Music News, Clifton Pizza owner Jason Brauner's signature was inadvertently omitted from the Jim Rosen Memorial advertisement. We regret this oversight and send our apologies to Mr. Brauner.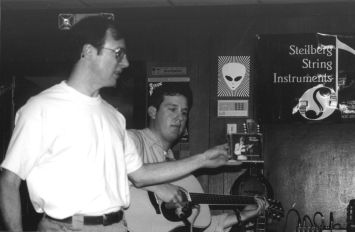 Pickin', Grinnin' and Sellin': Bluegrass musician Bryan Sutton, above, guitarist with Ricky Skaggs & Kentucky Thunder, presented a 2-hour concert at Steilberg String Instruments on May 17. Luthier Jimmy Steilberg, left, plugged Skaggs CD.
• More Oops Dept. Tanya Savory sent a postcard to say "Thanks" for the review and pointed out that her tune "40, 80 or 10" was not on both of her albums as I wrote in the review. She correctly pointed out that I had confused Pam Gadd's version on The Long Road with hers. Sorry, ma'am, just an addled-headed mistake on my part.
• WHKW 98.9 FM The Hawk has been quietly playing some local country music on a half-hour show called "Tracks," hosted by J. P. Mattingly. the show has aired on the first Sunday evening of each month at 10 p.m., following "Crook and Chase." The response has been good enough that the program will go to either weekly or bi-weekly broadcast, beginning in June. They are accepting well-produced, local product from country musicians and songwriters seriously promoting themselves and their product, according to PD Dennis Hill, so tune in to hear what's happening and to get more information.
• Brian Walker of Basics Communication (Star 101, WKMO) in Elizabethtown said that the Swing & Rockabilly Fest they staged in downtown E-town last month was a huge success. The featured act was Bill Haley's Original Comets featuring Al Rappa. Walker said that they had about two thousand people in the parking lot where the event was held and there wasn't a single fight. Cool.
• The Kentucky Opera has scheduled auditions to cast two young girls, aged 6-7, small in size and looking about 4 years old. Auditions will be held Thursday, June 25 3-5 p.m. and 6-8 .m. at the KO offices at 101 S. 8th St. Contact Liz Oberle at 502-561-7934 for info and sign-off.
• A couple of local performers are a chart of sorts. At the Incredibly Small Concert Hall website (www.smallhall.com), a tune from Jeff Poole's Aural Debris CD, "Mister Mole Man," has made to the number 2 spot on the Top 20 Jukebox, while staying on the chart for twelve weeks. 40 Watt Station's "Gotta Get Away" has climbed to the number 7 spot, after 9 weeks on the chart.
Looking Ahead and Far Afield Dept. Several notable tours will be sort of in this area, which is to say Indianapolis at the Deer Creek Music Center. The Lillith Fair with Sarah McLachlan, Indigo Girls, Natalie Merchant, Sinéad O'Connor & Me'ShellNdegeocello makes the Deer Creek stop on July 4. Ozzfest with Ozzy Osbourne, Tool and Megadeath will be there on July 16. The H.O.R.D.E. Festival with Blues Traveler, Ben Harper, Paula Cole, Barenaked Ladies and Alana Davis will be at the DCMC on July 17.
New Releases
• Crown Electric has a new CD on Scott Mulllins' Rollin' & Tumblin' Records.
• Country crooner Mark Brown has released a cassette, Lonely Road, on Charlie Walls' Music Man Records. Many originals, all tunes from Walls' catalog, no doubt.
• PNC Bank has renewed their title sponsorship of the Louisville Theatrical Association's Broadway Series. It'll be the PNC Bank Broadway Series until the 2002/2003 season.
• In case you missed the news, Aerosmith's Steven Tyler banged his knee with a mic stand and tore the anterior cruciate ligament. Several tour dates, including the May 19 show in Louisville, were postponed. Ouch.
• For all you King Crimson fans, a record company called Discipline Global Mobile will release the final live performance of the fourth line-up of KC. That's the one with Adrian Belew, Robert Fripp, Tony Levin and Bill Bruford. The CD is called Absent Lovers and will go on sale June 30.
Codas
• Christopher Scott Hardin, 33, died May 15 in Louisville. He was a professional guitar player.
• Dr. Sam Batt Owens, 70, died in Louisville on April 30. Owens was a composer; pipe organ designer; former associate professor of music and of Southern Singers Men's Choir at Birmingham Southern College in Alabama; former director of Vanderbilt University Choir and Fisk University Choir in Nashville; former director of music for several churches in Birmingham, Ala., Wilmingotn, N.C. and Memphis, Tenn. and former president of of the Association of Anglican Musicians.