Garth Brooks at Freedom Hall
By Michael W. Stout
"The thunder rolls / And the lightnin' strikes / Another love grows cold / On a sleepless night / As the storm blows on / Out of control / Deep in her heart / The thunder rolls." Excerpt from "The Thunder Rolls," written by Pat Alger & Garth Brooks
These lyrics from Garth Brooks' ever-so-popular "The Thunder Rolls" perfectly described the setting as Brooks literally blew into Louisville on a fierce and stormy Wednesday afternoon in preparation of the first of four sold-out shows in Freedom Hall May 20 - 23. Breaking all records here in Derby City, Academy of Country Music Entertainer of the Year Brooks performed to more than 70,000 screaming fans during four consecutive concert performances, along with the reigning ACM and Country Music Association Female Vocalist of the Year Trisha Yearwood.
Known for a stage production full of enough surprises to keep fans of all ages talking for weeks following his show, Brooks left no fan disappointed following his May 20 opening night performance. The entire crowd leaped to its feet as the house lights dimmed and a commander came across the PA system starting the countdown to take-off at five minutes. Freedom Hall soon went pitch-black and the audience thundered with applause as a UFO smoked and roared, proceeding to land on the stage of "planet Garth." Applause nearly broke the sound barrier as this pyro-technic space ship ascended. while a white piano rose from the floor of the stage, through which Garth Brooks himself proceeded to ascend.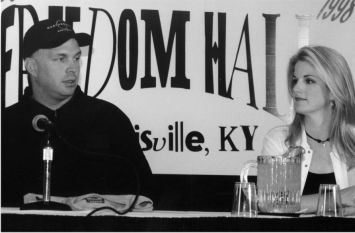 Garth Brooks and Trisha Yearwood fielded questions at a Freedom Hall press conference. Photo by Michael Stout
Brooks immediately leaped from the top of the piano, hitting the floor running tearing through "The Old Stuff," never looking back for the next two-hours and twenty-five minutes (which Brooks guessed was his longest opening night performance ever on his current two-year+ world tour).
With such a thunderous response to his grand entrance, Brooks, who last performed in Louisville at the Kentucky State Fair in 1992, stated, "We waited way too long to come back." And it was obvious that Louisville agreed that it had been way too long, as the crowd never lost its energy throughout Brooks' 23-song set which included crowd-pleasers "Rodeo," "Ain't Going Down (Til' The Sun Comes Up)," "Two Piña Coladas," "Beaches Of Cheyenne," "Papa Loved Mama," "Unanswered Prayers," "The Thunder Rolls," "The Dance," "Two Of A Kind, Workin' On A Full House," and "Friends In Low Places," as well as his encore renditions of Bob Seger's "Night Moves" and Don McClean's "American Pie."
Fans were especially pleased when Trisha Yearwood joined Brooks on stage to perform their recent chart-topping duet, "In Another's Eyes." Gentleman that he is, Brooks kept Yearwood on stage to sing his favorite song of hers, "Walkaway Joe," on which he backed her angelic voice with harmony vocals and acoustic guitar.
Volume was a recurring theme throughout Brooks' performance--not only from the stage, but from the audience. A Garth Brooks fan may wrongfully feel that not only Brooks' desire for audience participation, but his demand of it, is a huge ego trip on the star's part. Not so! This enthusiastic crowd volume is just one reason that Brooks has been recording his concert performances for the past two years for a live album tentatively scheduled to hit store shelves later this year. Brooks informed the excited crowd that his four performances here in Louisville would be the last to be recorded for the album and that three tunes recorded right her in our town, including the crowd-loving "Friends In Low Places," would probably be included on the forth-coming disc.
Two thumbs up and hats off to Garth Brooks for blowing into town, causing an unbelievable storm and frenzy, collecting food for local needy children through his Feed The Children organization, and pleasing over 70,000 die-hard fans for a mere twenty bucks a ticket. Garth Brooks is a true gentleman and Entertainer of the Year in every sense of the word.
Editor's Note: Trisha Yearwood's performance is not reviewed here as the writer was unable to attend Ms. Yearwood's portion of the show due to prior commitments.