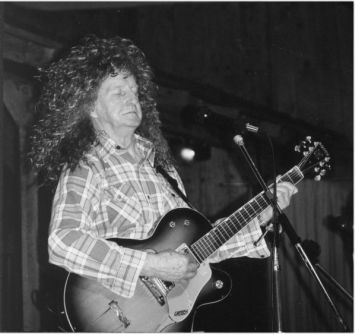 Saturday Night at the Lincoln Jamboree
The Kentucky HeadHunters made a surprise appearance at the Lincoln Jamboree on May 9 and received a rousing welcome. Greg Martin tossed his pretty curls as he played lead guitar on "Dumas Walker" to close out the first set at the popular Hodgenville showcase. Louisville's Rachel Coogle (****) nicely covered LeAnn Rimes' signature song "Blue" and Patsy Cline's classic version of Willie Nelson's "Crazy" during her turn onstage. Bardstown's Dell Shirley (****) sang and played lead guitar for an excellent duet of "Wild Montana Skies" with Jaclyn Shields (****)of Campbellsville. Lest our readers be misled, we confess that it is Shirley, a 32-year veteran of the Jamboree, who wears the big wig to portray Louisville's Greg Martin in a spoof of the HeadHunters. Billed as a "family show since 1954," the Lincoln Jamboree is owned and produced by Joel Ray Sprowls, who kept the show moving with self-effacing humor and a gunnysack of groaners.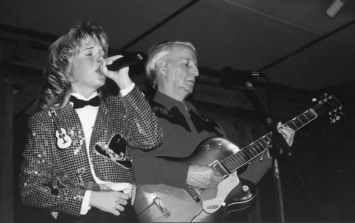 Thursday Night at the Rudyard

Doc Dockery
New Albany's Doc Dockery, pictured ***(above, below, at left, at right***), introduced a selection of his original songs to an attentive audience at The Rudyard Kipling on May 21. Kevin Brodie, Bill Ede, Richard Meredith, and Earl Meyers also presented self-penned tunes. Additional entertainment was provided by The Gentry Cousins, who showcased songs written by Jim Colyer. The evening's MC was Jean Metcalfe.